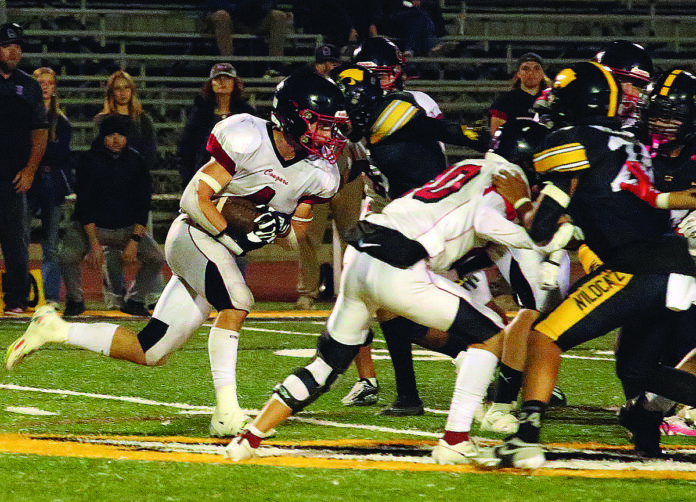 It was a defensive gridlock matchup last week between Watsonville and San Lorenzo Valley high schools as neither team allowed a single point until the fourth quarter.
Seemingly every four plays the defense would force a punt, going back and forth like a ping pong match.
That was until Mickey Ricigliano ran the much anticipated first touchdown for the Cougars en route to a 7-0 victory over the Wildcatz in non-league action Sept. 15.
Watsonville's home fans cheered hard after their football team faced a deficit with 10:27 remaining in the game. But it wasn't enough to get over the hump, even when the 'Catz seemed ready to score at times throughout the evening.
From here on out it will be an uphill climb for Watsonville just to get into playoff contention.
"We're not ready yet, but we're going to have to get ready in a few days," Watsonville head coach Marcus Northcutt said. "We'll work at it and we'll get there."
Just before the start of the season, former Watsonville head coach Joe Gregorio was promoted to principal, leaving Northcutt to take his place.
Gregorio's absence was felt by the entire team, and the sudden change in leadership is what Northcutt believes has caused the disparity in team chemistry.
Junior quarterback Nathaniel Aguilar believes the internal conflicts within the team played a substantial role in their loss to SLV.
The Wildcatz played together with grit on the defensive side of the ball, yet it was another story on offense with missed assignments evident.
"We kept getting brought down by our own teammates, people that don't take it seriously," Aguilar said. "It's just affecting everyone mentally, I could tell a lot of kids weren't in it."
Both teams had a 1-2 overall record going into last week's preseason finale with major ramifications for the rest of the season.
Watsonville (1-3) and SLV (2-2) both opened the 2023 campaign with demoralizing losses, followed by resounding victories, and once again falling short the following week.
Both squads now enter Pacific Coast Athletic League Mission North Division action this week with an even record in league play and a clean slate.
The 'Catz have all of the athletic and talented pieces to construct a winning team but the main problem is staying consistent. Northcutt said it's just a matter of getting players on the same page.
On Watsonville's third play of the game, SLV senior Dom Chechi intercepted a pass from Aguilar to set the tone.
After one half a game of defensive stops, Watsonville junior receiver Patrick Miller-Brown caught a deep pass from Aguilar to open the second half. But the Wildcatz's run attempt was stopped short of the goal line.
With just several minutes remaining, Chechi quelled any hope of a Watsonville comeback story with a stumbling one-handed interception catch while falling into the sideline.
"I don't know how I got that," said Chechi. "It was a dog fight, but we got the win and that's all that matters."
With the win, it was the first time SLV was able to beat Watsonville since 2019.
As the final seconds on the game clock ticked down, disgruntled Wildcatz players began taking their helmets off in frustration as Northcutt spoke with conviction of the importance of sticking through thick and thin together.
During the offseason, Watsonville established a much more complicated offensive system which relies on index cards displayed from the sideline to indicate plays.
Northcutt recognizes the learning curve in which becoming accustomed to the new system will take, and saw plenty of effort from many of his players.
"That's something we can build on, it looks like those guys care," he said. "They want to do good, so if we point them in the right direction we should get there."
After a preseason plagued with internal conflict and on-field inconsistencies, Watsonville hopes PCAL Mission North Division play will bring a change of fortune.
It remains clear that won't happen without the collective cooperation of every teammate to work on the field as a unit rather than individuals.
The Wildcatz begin league play at Santa Cruz High on Friday at 7:30pm and hope to spoil the Cardinals' homecoming celebration.
SLV will host Pajaro Valley High (0-4) in the teams' Santa Lucia Division opener on Saturday at 12:30pm.
"I think offensively we thought we had opportunities and we didn't cash in," Northcutt said. "It was kind of like nails on the chalkboard where we were right there."
Week 4 Scoreboard
Aptos 42, At North Salinas 27: Senior running back Lawrence Ingram IV finished with 134 yards rushing and a pair of touchdowns for the Mariners in their non-league win over the Vikings on Sept. 15.
Senior quarterback Matt Hood had 45 yards rushing on five carries and one touchdown, and he completed a 52-yard touchdown pass to Jordan Torres.
Fellow teammate Wade Ellis had 51 yards on five carries and one TD, while Casey Macconnell had one interception on defense for Aptos (1-3), which snapped a three-game losing streak to start the season.
The Mariners will host Alvarez High for the teams' PCAL Gabilan Division opener on Friday at 7:30pm.
At Monterey 55, Monte Vista Christian 19: Junior quarterback Dominic Pierini recorded three passing touchdowns for the Mustangs in their non-league loss to the Toreadors Sept. 15.
Pierini also tossed three interceptions in the first half and two of those were returned for touchdowns by Monterey's defense.
MVC (3-1) will host Seaside (2-1) in PCAL Mission North Division play on Friday at 7:30pm.
At St. Francis 28, Pajaro Valley 13: Javier Fonseca recorded two touchdown passes and one rushing touchdown for the Sharks in their non-league win over the Grizzlies in non-league action Sept. 16. 
Junior quarterback Miguel Solano connected with receiver Izaak Ocampo for a pair of touchdown passes for the Grizzlies
Solano completed 5-of-9 pass attempts for 100 yards with two touchdowns and one interception, while Ocampo had three receptions for 80 yards and two scores.
The first touchdown was a 35-yard strike in the second quarter, followed by a 44-yard TD pass in the fourth quarter.
The Grizzlies (0-4) will attempt to snap their four-game skid at San Lorenzo Valley High (2-2) in PCAL Santa Lucia Division action Saturday at 12:30pm.
St. Francis (2-2) will begin PCAL Mission North Division play at North Monterey County High on Friday at 7:30pm.
*Additional reporting by sports editor Juan Reyes