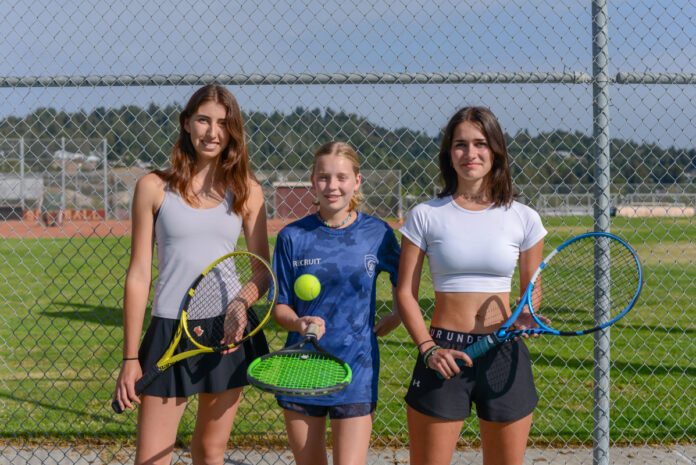 Scotts Valley High girls tennis team—the defending Santa Cruz Coast Athletic League co-champions—was one of the biggest surprises that turned lots of heads during the 2022 season.
The Falcons haven't lost a step going into this season and it showed after winning three of four singles matches to secure a 4-3 win over Santa Cruz High in the teams' league opener Sept. 19.
"Last year was a great year, but as I told the girls, last year was last year," Scotts Valley coach Scott Goodrich said. "It's a new new year and we're just looking forward to having a great season with really, a great group."
In singles action, Francesca Garces of Santa Cruz battled back to defeat Scotts Valley senior Stella Cheney (1-6, 6-4, 10-4) in a third set tiebreaker at the No. 1 spot.
After that it was all Falcons, starting with a victory by sophomore Aila Papadopoulos who beat Sasha Wolfsen (6-1, 6-3) at No. 2.
Scotts Valley junior Sofia Niklaus followed up by defeating Lou Ellis (6-1, 6-0) at No. 3, while fellow Falcons teammate senior Samantha Warner beat Polina Doronkina (6-3, 6-2) in the No. 4 spot.
In doubles action, Scotts Valley's duo of senior Maya Bensen and junior Erin Szymanski defeated Ali Pierson and Clara Weaver (6-1, 6-1) in the No. 1 spot.
Santa Cruz's No. 2 doubles team of Camille Lambert and Maddie McGrath defeated Scotts Valley sophomore duo of Maya Wexler and Riya Kuriakose in two sets (6-4, 7-5).
The Cardinals' combo of Arielle Ferrell and Kira McGlashun won (6-1, 6-3) against Falcons senior Kendal Wright and freshman Georgia Chetcuti in the No. 3 spot.
Goodrich is entering his fourth season with the Falcons' program and he knows the SCCAL is a tough league to compete in. As of now, he would consider themselves one of the favorites to repeat as champion, but there are others such as Aptos and Santa Cruz that might say otherwise.
"It's going to be a really exciting season and we're looking forward to the challenge," he said.
Cheney—who plays for the girls lacrosse team—is one of three team captains and was assigned as the No. 1 singles player for the Falcons.
"Stella is a great team leader who is respected by all her teammates," Goodrich said.
The four-year varsity player said the tennis program has been flourishing as of lately because this year's roster is the largest she's seen since joining the team.
"It's a lot of underclassmen, so once we graduate I think the program will still be strong," Chaney said.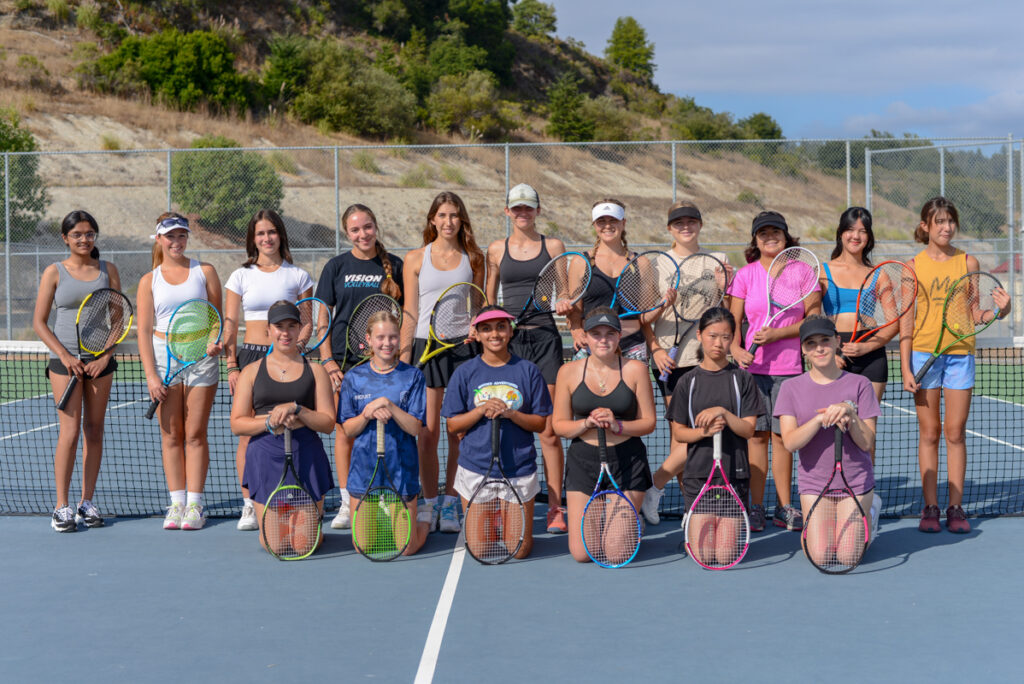 Bensen, also a team captain and four year varsity player, played at the No. 1 doubles to begin the season and has some experience playing in singles matches, as well.
"We have a really great group this year and definitely looking forward to getting as far as we can, trying to secure the league title and just send more people to [Central Coast Section playoffs] if possible," she said.
Warner was named team captain and is returning for her third year on the varsity team. She started the season at the No. 4 singles spot but she can also play at No. 1 doubles if need be.
She said Scotts Valley's roster is deep this season because their success from last season attracted more new players.
"So many kids are like, 'Hey, they have a great program.' So, they're coming and joining which is only going to strengthen it more," Warner said.
Wright made her return to the Falcons after sitting out last season, while Niklaus is going into year three on the Falcons playing singles at the No. 3 spot.
Niklaus—a standout on the girls lacrosse team—was part of the SCCAL championship doubles team that qualified for the Central Coast Section playoffs and won their opening match.
"Most athletic player on the team," Goodrich said.
Szymanski, who also plays lacrosse, is in year three on the program and will team up with Bensen at the No. 1 doubles, but don't be surprised if she sees action in singles play. Junior Isabella Padilla is also expected to make an impact this season.
Papadopoulos, a first year player for Scotts Valley, made her way to the No. 2 singles spot and stays busy throughout the day as a member of the JV volleyball team, as well.
Scotts Valley is stacked with a talented group of underclassmen, such as sophomore Riya Kuriakose, a second year player who began the season playing at No. 2 doubles. She won some big matches as a freshman that contributed to the Falcons' league title run.
Fellow teammate sophomore Maya Wexler is also a second year player that began the season at No. 2 doubles.
The up-and-coming freshmen are led by Jewya Perez, Montserrat Burgos, Katy Dinwiddie, Carmen Pitterling, Zicheng Zeng, Raquel Sullivan, Alina Charley and Chetcuti, who started at No. 3 doubles in Tuesday's league opener against Santa Cruz.
Scotts Valley (3-0, 1-0) continues league play with a home match against Aptos on Thursday.
"What we focus on here is improving each day, learning each day, growing as a team," Goodrich said. "We don't focus on winning, winning is a byproduct of all those things. Last year, all of that kind of came together for us and we did have really good success with the wins."
Scotts Valley will host San Lorenzo Valley High in SCCAL action Sept. 26 at 4:30pm.