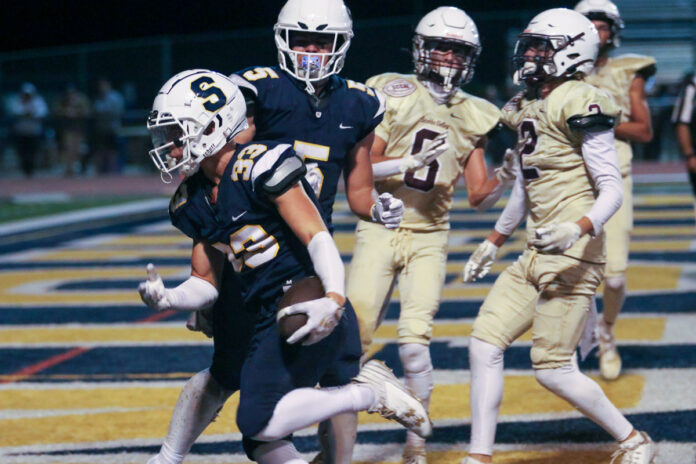 Scotts Valley High senior Quinn Turowski and his teammates waited nearly an entire year for a chance of redemption against Soquel High after losing its league opener and a shot at a perfect season in 2022.
However, it was the same result for the Falcons as the Knights played spoiler once again following a 21-7 win in Thursday night's non-league contest.
"We're definitely gonna use it as fuel," he said. "We just gotta, once again, learn from this and just get better, and just take this as a learning opportunity."
Soquel (3-1) won the battle in the trenches which helped pave the way for an offensive attack that wore down Scotts Valley's defensive unit.
"We just gotta be more physical, they just kept running the ball down us," Turowski said. "We got to wrap up tackle, we got to get tackles, all hats on the ball…A lot of mental mistakes."
It wasn't just the Falcons making mistakes as both teams got off to shaky starts including a fumble lost by Soquel when the ball hit senior Jordan McCord in the back of the leg during a punt return.
Scotts Valley smelled the blood in the water as Lucas Ringel hit Brady Seichen for a big gain to set the Falcons up in the red zone at Soquel's 10-yard line.
However, they failed to convert after Turowski missed a 36-yard field goal and a chance to take the lead.
Instead, it was McCord who made up for his turnover with a 4-yard TD run that gave the Knights a 7-0 lead going into halftime.
"I think we had to get going, we just got off to a slow start," McCord said.
Soquel senior Cade Peterson recorded two of the team's six sacks and held Scotts Valley's passing attack to a bare minimum.
"Our linemen upfront did well and we were playing a good zone and we shut down the passer," McCord said. "All credit to our big guys upfront, they were making big plays tonight stopping that run."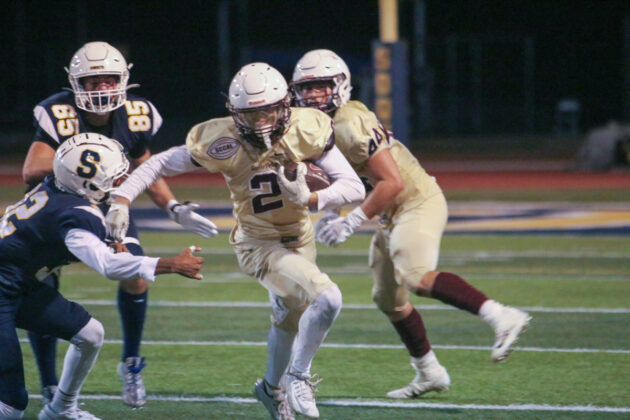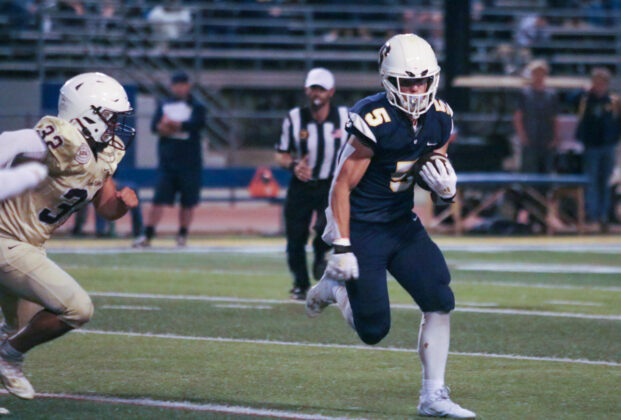 Walters said there was no doubt Soquel controlled the line of scrimmage. Yet, there were still plenty of opportunities for the Falcons only to watch them slip away including not being able to score on their red zone trip in the opening quarter.
The mistakes continued in the third quarter. Walters was forced to call a timeout on the team's first play from scrimmage because junior receiver Jacob Womack wasn't on the field when he was supposed to.
But the timeout wasn't totally wasted as Turowski took it the distance for a 75-yard touchdown on a halfback toss from Ringel that tied the game at 7-all.
And just when the Falcons thought they'd gain the momentum, the Knights stole it right back with a pair of long drives that ate up the game clock and Scotts Valley's defense.
Senior running back Cruz Ferris did most of the ground work, finishing with more than 150 yards rushing. Justice Grauel knocked down the door for a 6-yard TD, while quarterback Sam Whelan snuck his way into the end zone from 2 yards out for the score for a 21-7 lead with 10:02 left in the game.
"We came out more aggressive in the trenches running the ball and Cruz [Ferris], he went crazy today," McCord said. "We picked it up and we were just more aggressive in that second half."
The Falcons had a little bit of life left when Ringel hit Seichen again for a big gain down to Soquel's 29-yard line. On the ensuing play, Troy Vienna recovered a fumble for Soquel to seal the deal.
Thursday night's game was the final dress rehearsal before Scotts Valley enters Pacific Coast Athletic League Mission North Division play next week.
The Falcons (3-1) will host St. Francis (1-2) of Watsonville on Sept. 30 at 2pm.
"My hat's off to them, they played well," Walters said. "We just had some bad things like we should have scored that first quarter when we were on Soquel's 5-yard line. It was just a hard fought game and we're not gonna gauge success in our season on this game. It's a non league game. The kids wanted to win it, but those things happen."
San Lorenzo Valley at Watsonville, Friday at 7:30pm: The Cougars (1-2) will try to get back on the winning track against a Wildcatz (1-2) team that is coming off last week's crushing 51-3 loss to Menlo School.