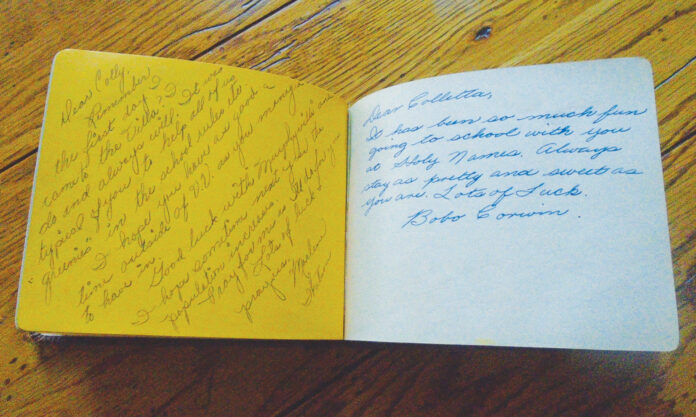 The Next-Door Neighborhood website, daily, has someone asking for cardboard moving boxes or having used moving boxes to give away. I smile reading those ads, remembering my own little cardboard box that I had for 40 years.
Life, to me as a very young child, was likened to a series of small earthquakes; once the dust had settled, I would steel myself and move on as if nothing had happened.
Before I had reached the tender age of 6, I had unpacked my cardboard box in three different houses that belonged to as many aunts who were willing to take on a little girl. I do remember each one saying, "we'll see how it goes," and when the move didn't work out, well, I packed my cardboard box and moved on to the next aunt's house.
Those moves for me became, in my mind, an adventure, and once the final move happened, my cardboard box lived on the top shelf of my bedroom closet in a Catholic boarding school and was taken down only when I would add another small treasure to its contents.
Five books were in that box, added to between the ages of 7 and 10 years. The most precious to me were "Andersen's" and "Grimms'" fairy tales, mailed to me at Christmastime from my father, from where I never knew until years later. Inside of each book was a small label… University of Washington Bookstore, where my father was studying Japanese language, to prepare himself as an interpreter for the U.S. Military.
In that cardboard box were no birthday cards nor letters.
When I was 14 and in ninth grade, I added an autograph book that was so popular among students. "Never lose your enthusiasm," wrote Sister Gabriel. And other schoolmates wrote, "In your golden chain of friendships, remember me as a link" and "Apple pie without cheese is like a kiss without a squeeze." Innocent, lovely young girls, ready to enter high school for four more years of schooling.
During my school years, I added only one addition; my mother sent a rhinestone necklace with matching earrings to me for my 16th birthday. They immediately went into that cardboard box…where was I to wear them!
When I left Washington, I moved to be with my mom in Watsonville. And then when she passed a few years later, I opened her cedar chest, where she had kept remnants from her past, much like my cardboard box.
So many years later and newly married, my hubby was helping me move from my apartment into his home, when he lifted my cardboard box down from the closet shelf. "Do you want this old box?" he asked. "That box is me," I replied, and no more was said.
Two years went by and for business reasons, another move was necessary, from San Jose to Santa Barbara, and once again hubby Norm lifted my cardboard box down from the garage shelf.
"Colly," Hubby Norm said, "it's time you understand; you have me, the past is past, put this all behind you. Those people did their best, but now you have me. You do not have to keep everything that is precious to you in a cardboard box. Let's pick one or two things from the box and put them on a shelf where you can enjoy seeing them."
Today, I have a wall of photos of my family, past and present, that I walk past every day, remembering the good times. My five books along with my autograph book sit amongst my others where I often pick one up and leaf through its pages. The cardboard box is gone, and my memory bank is full, thanks to my sweet and wise Hubby, Norm.