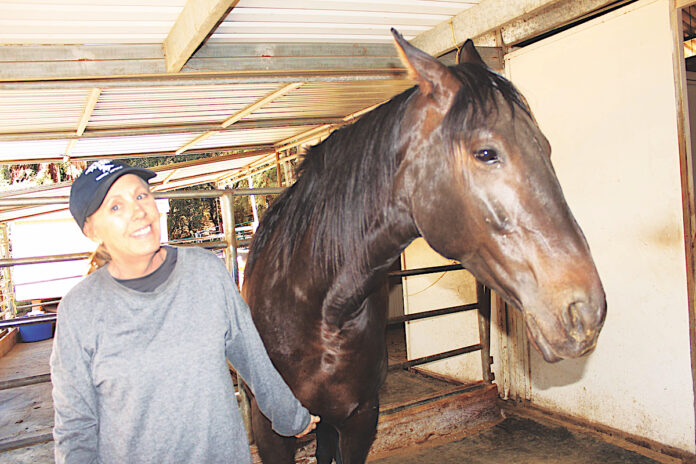 When art enthusiasts assemble at Canham Farm Horse Rescue and Rehabilitation Center in Scotts Valley for a Plein Air Painting Workshop, alongside instructor Elvira Rascov on the evening of Oct. 1, organizers predict it will generate more than a few dabs of creativity.
Julia Hyde, the British-Irish founder of the rescue, says while the event is technically a fundraiser, it's more about shining a light on how they're improving equine lives.
"It's not really to make any money," she said. "It's really to bring the community in and show what we are doing."
Plein Air (meaning "outdoors" in French) refers to painting in exterior settings. The style was popularized by impressionists like Pierre-Auguste Renoir and Claude Monet, and often focuses on dreamy renderings of water, clouds and light.
Hyde says the workshop will be a great way for locals to interact with the amazing animals they take care of within the context of the rural redwood setting.
"It doesn't matter how good you are at painting, everyone is welcome," she said, adding she'll probably join in, despite her lack of formal training. "A stick horse is about my limit."
Hyde had ponies as a child and was raised by a father who liked horse racing.
She first got into rescuing horses when an acquaintance couldn't take care of hers anymore.
Soon enough, she was running a full-fledged horse rescue operation and received official charity status in 2017.
Each horse follows its unique path to the center—and out of it.
The dusty enclave boasts a stable of fascinating personalities.
Sunset is the half-Arabian, half-saddlebred, who has become somewhat of a mascot around the property.
"He's hysterical," she said. "He really is."
He once figured out how to let himself out of his enclosure. The first thing he did was head over to a pony's pen.
"And he lets her out, too," Hyde recalled. "He's a character."
Maya, a mustang mare, was rounded-up at five months of age.
Zizi—a Connemara pony, they think—was found with a ladder on her head at San Martine orchard and seized by animal control authorities.
"She has residual trauma," said volunteer Jackie Foley, who's been riding horses in Scotts Valley since 1974. "Every horse has their own thing."
Many of the animals come from government agencies. For example, Cleo and Ruby Tuesday arrived pregnant after being collected by the U.S. Forest Service.
"They were a dollar each—and I could have had 25," Hyde said. "They were so scared."
Ranchers and gas producers find wild horses to be an inconvenience, she notes.
"They take up grazing land from Big Ag and Big Oil—all the fracking," she said. "They don't want these guys in the way."
The pair both had babies on-site, which have since been adopted out.
It takes time for the team to build trust with the animals.
"These horses start at various levels," Foley said. "They have to be assessed to see what they're afraid of."
It can take weeks for a horse to become comfortable with humans, she notes, comparing it to the relationship dog owners form with their pets.
"The best way to bond with your dog is to walk with your dog," she said. "It's communicating with the horse."
Eventually—sometimes after years of persistent effort—it's time for the rescues to be adopted.
This can involve multiple interviews and site visits.
"Our primary goal is to rehome them, to get them to the right family," Foley said. "We hope the right people find the horse that's right for them."
The organization also has a Horses Helping Humans program, which assists adults and children with autism and other developmental disabilities, Hyde explains.
"We also open up to people who maybe need some emotional help," she said. "Horses are really good with that."
For those who can't attend the in-person painting workshop, the center will also host a similar virtual event, on Sept. 29, with conservationist John Muir Laws.
Hyde says these majestic creatures—who've gone to war with us and built our critical infrastructure—have a lot to share.
"There's no past, present and future for them," she said. "It's just the moment. And I think we can all learn something from that."
The $45 Plein Air Painting Workshop is set for Oct. 1, from 4pm-sunset, at Canham Farm Horse Rescue and Rehabilitation Center at 333 Canham Rd., Scotts Valley. Visit elviragallery.com for more information.