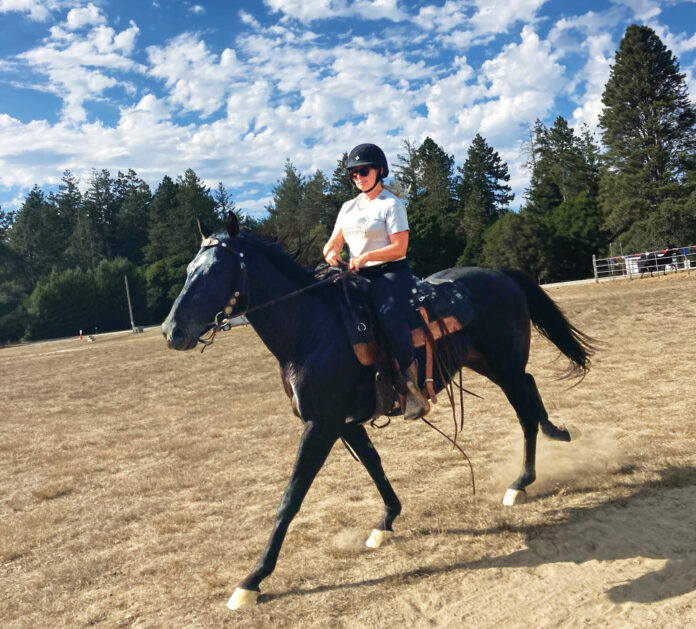 Santa Cruz County Horsemen's Association hosted an open house Saturday at its Graham Hill Road location featuring horseback acrobatics and archery, costumes and a parade with around 20 different breeds.
It was a chance for people from across the region to get a glimpse of the vibrant horse culture that exists in Scotts Valley and the San Lorenzo Valley, while members basked in the powerful glow of their longstanding community.
Michael Riese, 46, was there with his 9-year-old daughter Kiera, who was leading her 18-year-old male quarter horse Joker around the property.
"The event has been amazing," he said. "It's great to see all the new faces coming out."
Sandy Loskutoff, 66, came up from Santa Cruz. She was flanked by 18-year-old Kentucky Mountain Saddle Horse Armani, who calls Felton home.
"They walk faster than a normal horse," Loskutoff said. "We did a parade, so we all lined up in different breeds."
Aptos resident Sue Glass, 58, came with Bowie, a 14-year-old Tennessee Walking Horse she got from Castlewood Ranch, who was originally rescued in Texas. Glass has been a member for seven years.
"This is my usual camping spot under the tree," she said. "We ride through Henry Cowell (Redwoods State Park) for days on end."
Glass explains that they will ride for hours at a time, as far south as Lake San Antonio, in South Monterey County, right up to Point Reyes National Seashore—although a more typical range would be from Henry Cowell to Wilder Ranch. She said she loves the community aspect and was impressed by how many people came out to the event.
"We wouldn't normally see each other," said Glass, reflecting on the daily grind that otherwise keeps them apart. "It's kind of like a big family here." And Bowie "thoroughly" enjoyed the gathering, she added.
Plenty of boys and girls across the country dream of an enchanted upbringing with horses. Santa Cruz County is one of those places where this life is possible.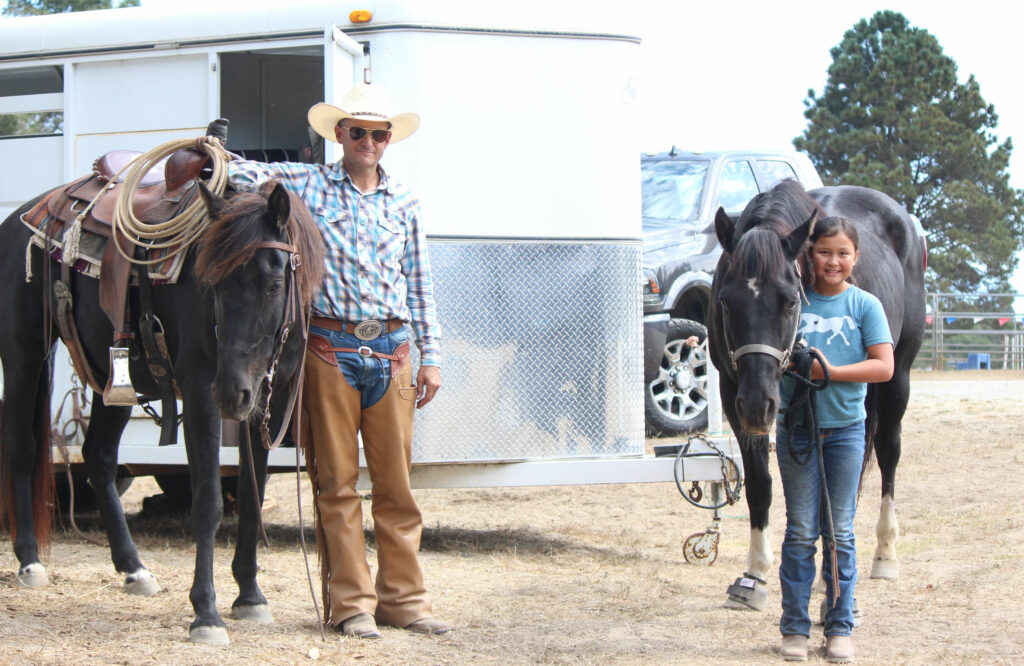 Kiera said it helped that her dad always liked horses.
"I've been riding for eight years," she said, motioning to the miniature pony a few yards away. "I was on that one. That's Mo'Biscuit."
They found him at Bear Creek Stables. Her family leased the pony for her, as she began to learn the ropes, literally.
"For my birthday, when I turned 8, my dad bought him," she said. "I used to jump."
Now she rides Joker, who is much larger.
"We both have a very special bond," she said. "And he won't let me get hurt."
Kathie Day, from Bonny Doon, was also pleased with the turnout.
"It was nice," she said. "It was a lot of non-horse people, which was really awesome."
Day jokes that with the many children falling in love with equines, it would also mark the end of vacations for those families, too.
To her, the best part of the event was the horseback archery, a relatively new trend.
"We can do this on horseback?" she said the presentation from Adam Sewell made her think. "That's something you don't see every day."
Scotts Valley resident Teralyn Arthur, 37, has been involved in the Horsemen's Association since she was in elementary school.
"We'd come here for 4-H and Pony Club," she said. "The history of this place is huge for the horse community."
Now she owns eight horses (ages 4 to 30) and runs her own private ranch off of Glenwood Drive.
"They've dumped so much money into the horse club," she said. "They did a really good job updating everything."
She'll sometimes bring students to the Graham Hill Road property to ride.
"I like to use the obstacle course and the arenas," she said. "It's by no means a dying sport."
Nevertheless, with costs rising it can be hard for ranch owners to keep up with the various expenses involved, she laments.
Debra Means, 65, of Corralitos was hanging out with Peppy Longstocking, a half-horse, half-donkey. Her donkey stood just a few yards away, as the heat of the day slowly began to dissipate.
The event was a great opportunity to explain to the public "why we are crazy enough to have horses in our lives," Means said. "It was just about turning people on to horses."
And donkeys sure can teach one a lot—patience in particular, she opines.
It wasn't a bad way for Laura Azzaro, a former SCCHA board member, to spend her birthday.
"We represent a very big, integrated group of people," she said, noting the Horsemen's Association played a pivotal role, along with hikers and State Parks workers, in building trails in the area. "We all worked together."
Sara Willcox, a 14-year-old Santa Cruz resident, was particularly impressed by the vaulting on display. Willcox has quite the knack for horseback acrobatics herself, according to Azzaro.
"They surprised me," Willcox said of the performances, adding that there is nothing quite like the connection you develop with your animal. "It's nice to do that non-verbally."
Azzaro explains you have to earn that trust.
"Horses don't just give that to you," she said. "It really is a partnership."