After nearly 31 years behind the microphone at KSCO, Ben Lomond resident and local celebrity Rosemary Chalmers is reinventing herself.
As the long-time host of "Good Morning Monterey Bay," the UK-born Chalmers found her home at 1080 AM in the 1990s—first as the station receptionist, then as the "Traffic Babe," and finally as the reassuring and knowledgeable voice that brought locals information on weather, traffic, local events and more each weekday morning.
"It was a very good, fun and local—that's the key—program. Being here in the valley, I've always gotten the impression that the area was the red-headed stepchild; no one was paying any attention to us, and what we wanted didn't matter. But really, it mattered to me, and it was important. I tried to do my best to champion things in the valley on air, and give them some coverage, and talk to politicians about what was happening in the area," Chalmers said. "I love being up here, and I loved being a broadcaster. At KSCO, I had free rein to talk about whatever I wanted to, with whomever I wanted to, and I always appreciated that."
That free rein, however, ended on Dec. 30. Chalmers and her fellow broadcasters found themselves celebrating the end of 2022 by getting pink slips; KSCO's operator and owner, Michael Zwerling, had been trying to sell the station for months, but by the beginning of December, the writing was on the wall.
By the end of the month, it was curtains for the station.
"We were all given notice via a mass email; it was a bit of a shocker. We knew it was a possibility, but we didn't think it was going to go down that way," said Chalmers, who, in addition to being on-air talent, was also Zwerling's assistant, the program director and the news director. "When I left on Dec. 30, Michael Zwerling told me to have a nice weekend."
Chalmers isn't one to remain down when she's hit. The UK native picked herself up, and announced to her fellow broadcasters that she was moving the entire program online to SantaCruzVoice.com.
"We're going to stay local and stay live, and have solid programming. On KSCO, we would talk to a variety of local leaders, and we plan to continue those conversations in our new format. The whole morning show will feature the same talent from the station: the food guy, the space guy, the gardening guy and the movie guy. The Good News feature will also continue," Chalmers said. "We're plagued with bad news all the time, so having a couple of Good News stories each morning can really positively impact our listeners. KSCO was a conservative station, but this platform will be everything, because our listeners are everything."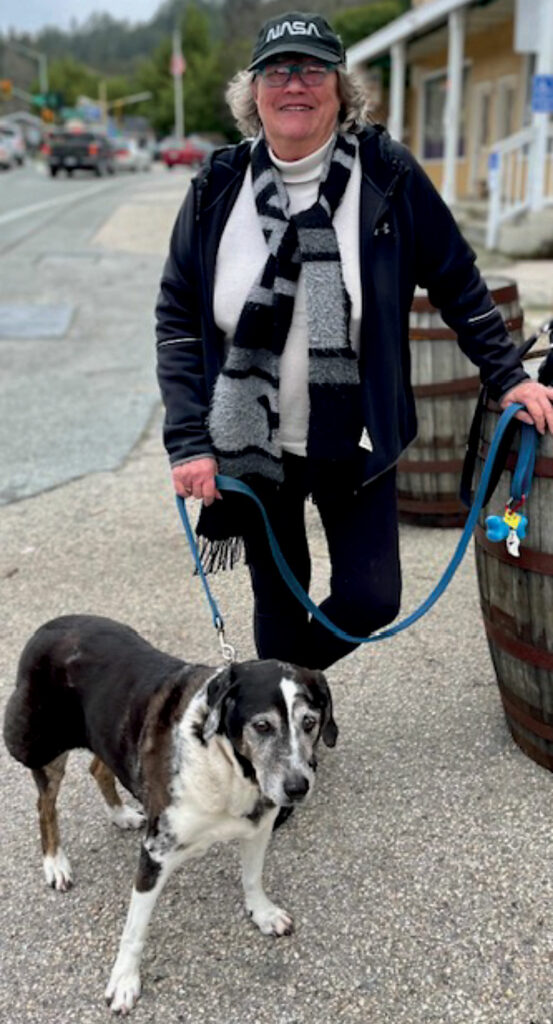 The importance of local radio, said Chalmers, became glaringly evident during disasters that rocked the valley during her tenure with the station: earthquakes, mudslides, road closures, floods, power outages, the murder of Sgt. Damon Gutzwiller, and the CZU Fires of August 2020.
"Whatever the issue was, we were able to drop format and cover what needed to be covered. None of that came home as much as during the CZU Fires," said Chalmers, who was evacuated from her home and lived at the radio station until the orders were lifted.
While she could have hung her NASA cap with any number of friends, Chalmers felt it was critical to have a broadcaster positioned at the station to keep up with breaking updates and alerts.
"I knew what to do, which buttons to push, and what really came through wasn't just the coverage, but it was the people who called in off the air. They just wanted to talk to someone; they wanted the comfort of knowing that someone was there to listen to their concerns. It was a very moving and meaningful time," said Chalmers, who kept her faithful dog, Hula, by her side throughout the ordeal.
Now, Chalmers, Hula and the rest of her dedicated listeners and advertisers are on a new path for the new year, and there's a sense of electricity around the idea.
"We are aiming to start broadcasting by the end of January. We're going to bring local and national news, and we'll be able to take calls. It won't just be people pontificating—we want our listeners to engage with us. As we expand out, hopefully we'll be able to add some live, local music and covering local sports. It's a whole new world, and we're excited to be a part of it," Chalmers said.
To get in on the fun, visit SantaCruzVoice.com.