Pro-Palestinian activists assembled outside the secretive Lockheed Martin compound in the Santa Cruz Mountains, Nov. 10, the day after a similar demonstration had blocked the entrance to the University of California Santa Cruz campus.
The contingent was much smaller than the massive mobilizations in support of Gazan citizens seen around the world in recent days—as about 25 people turned up—but this was on purpose.
In the lead up to the event, one organizer chose not to give the address of the facility or even say what time it was occurring, during an interview on KSQD's Talk of the Bay radio show.
The group was being careful, as instead of preaching to the often already-converted attendees at one of the country's most left-leaning institutions, this time, they were taking aim at the seat of military-industrial might itself.
"Lockheed Martin is the biggest 'defense contractor' in the U.S.," said 35-year-old Yulia Gilich, an organizer with Palestine Solidarity Central Coast, a coalition formed after the Hamas attacks of Oct. 7, which sparked Israel's bombing campaign. "It's a war profiteer. It produces weapons that are then sold to Israel."
As casualties mount from Israel's air strikes and ground incursion into Gaza, the tide of public opinion in the United States has begun to shift away from the Benjamin Netanyahu government view, or at least is becoming more nuanced.
Gilich, an Israeli, said she's aware the grounds of a weapons manufacturer aren't exactly the most fertile terrain for their message, but added it was still worth planting some seeds.
"I would love for the workers of Lockheed to turn against their leadership," she said. "I don't know how realistic that goal is, but I don't think that's unachievable."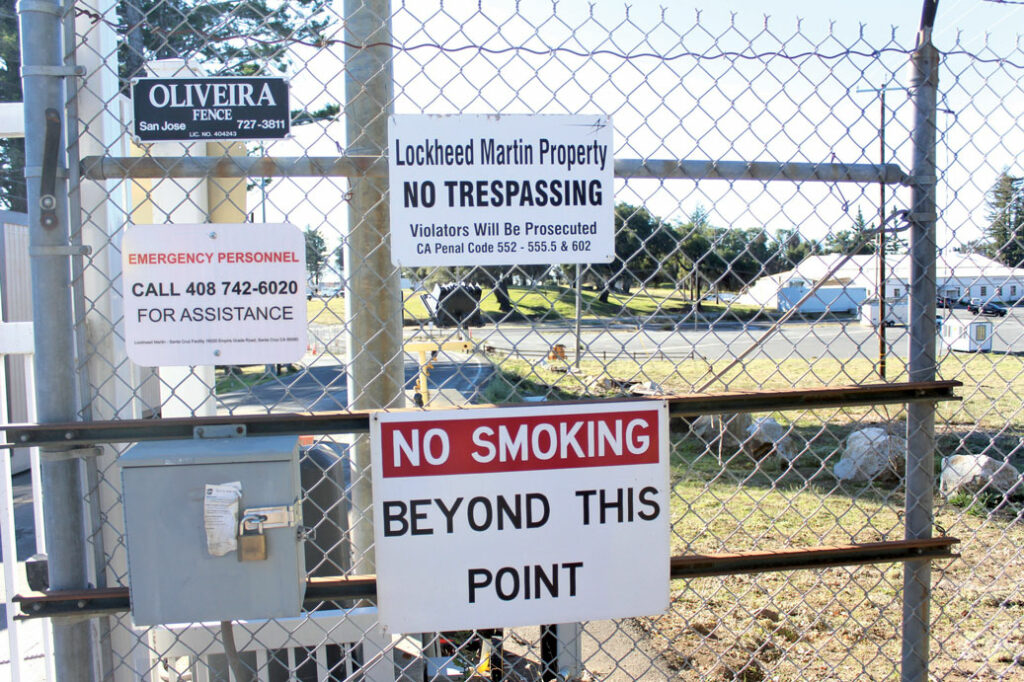 Throughout the morning, protesters were extremely well-behaved, shouting chants like "Not another nickel, not another dime / No more money for Lockheed's crimes!" and "Stop killing children!" while dutifully clearing a path for vehicles entering and exiting the site.
Gilich successfully placed a flyer under the wipers of one Lockheed-authorized Acura SUV upon its arrival.
When asked about their protest tactics, she confirmed they were being cautious, given that they were going up against a company that literally makes money producing lethal weaponry.
"We want to keep our people safe," she said, adding, "We want Lockheed Martin to shut down."
The company had already built up distrust by lying to them that very day, Gilich said.
She claims a guard reported there were only a couple people working, so there was no point in holding a demonstration. However, several more people were clearly visible, inside the gate, as the protest unfolded.
"I think I don't trust guards with weapons," she said.
Other signs of nervousness included Gilich dissuading one older protester from talking to the media, at first (she said she worried the woman might go off-message), and the young demonstrator who requested some pictures be deleted.
A site employee declined to comment for the story, but gave a friendly "shaka" hand-sign characteristic of the surf community that resides in the region as he turned and walked back toward Lockheed's buildings.
A Lockheed Martin spokesperson told the Press Banner it didn't have a problem with the demonstration at its gate.
"Lockheed Martin's core values are to do what's right, respect others and perform with excellence," company representative Dana Casey said. "These values provide clear, unambiguous and uncompromising standards for how we treat each other with understanding and compassion. We respect the right to peaceful protest and we are honored to partner with the U.S. military and our international partners to deliver strategic deterrence and security solutions."
Protest organizers said one motivation for the event was to make Santa Cruz County residents aware of the facility's existence.
Members of the public, visiting neighboring properties, seemed amused by the rare spectacle in the mountains and happily took leaflets. Rolly Henn was one of them.
The Watsonville resident, a superintendent with Fuse Architecture and Construction, was heading to a Mormon property to work on new bathrooms and a communal building, as part of a post-CZU Lightning Complex fire rebuild.
"It's a long way up here to be protesting," he said. "It's kinda interesting."
Henn said he was under the impression that Lockheed was already planning on closing the outpost.
"But who knows?" he added.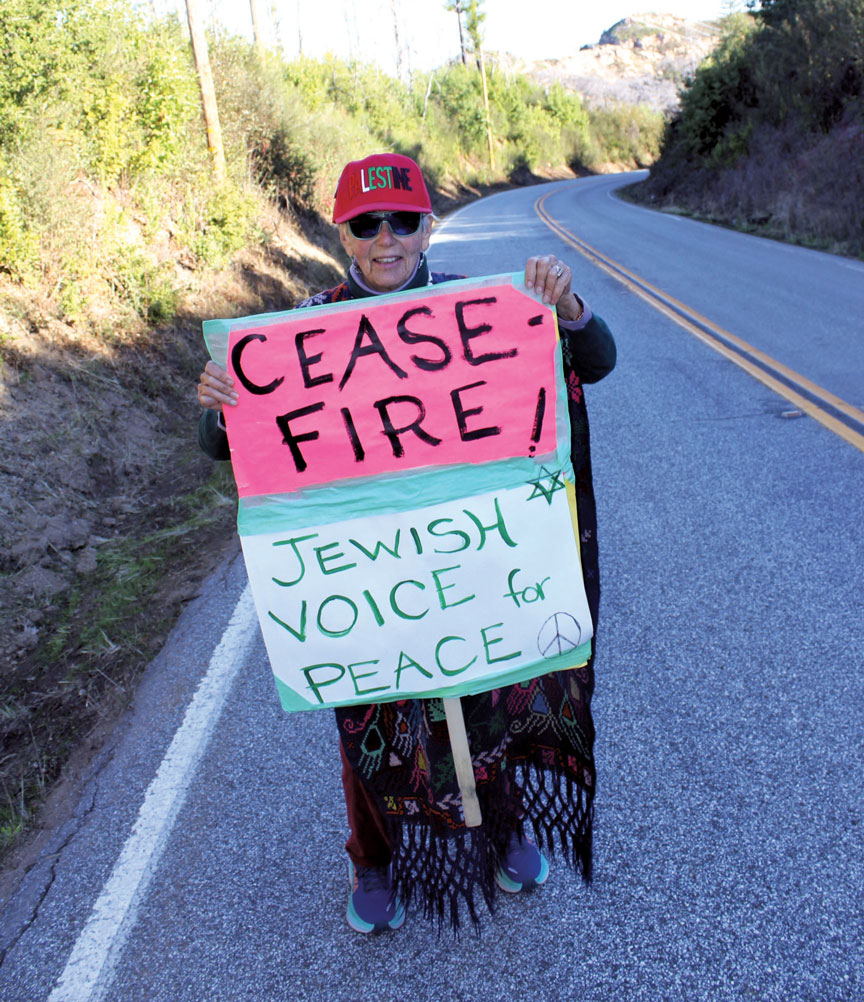 Eighty-year-old Joyphyl Taub Greenleaf, identifying herself as a "Jewish grandmother," said the situation in Gaza reminds her of the Vietnam War and Apartheid in South Africa.
"We have another tragedy taking place in Israel-Palestine, where innocent people on both sides are being killed," she said. "War is never the solution, and we need the United Nations to take a leadership role in protecting the people of Gaza, the West Bank and Israel."
Scotts Valley resident Laura Chatham, 67, said she feels strongly that Israel's current actions are the wrong way to deal with the threat of terrorism in the Holy Land.
"We have to stop it," said Chatham, an Ashkenazi Jew. "They're killing children."
She too had heard Lockheed might be shuttering the local branch, but added she wasn't convinced that would really happen.
"We have this military-industrial complex," she said. "We don't really know what they're doing up here."
Sophia Azeb, a Palestinian who teaches decolonization and Black studies at UCSC, was heartened to see Jewish voices sharing their opposition to Israeli bombs in Gaza.
"As locals, I think it's incumbent upon us to stand against a corporation that's participating in war crimes by supplying weapons abroad," she said. "It's also distressing to think that our economy is so dependent on war."