Mario Ibarra and Raffaele Cristallo, co-owners of the beloved Ben Lomond restaurant, Casa Nostra, opened a new location in Scotts Valley this week.
After nine delicious years off Highway 9 and months of hard work converting their new location, their dishes will be available for pick-up and delivery on Mount Hermon Road beginning Feb. 16.
Saying residents are all too eager for a taste would be an understatement. Multiple passersby popped their heads into the new eatery to share their enthusiasm while Ibarra or Cristallo prepared for their opening
"This is fantastic! Scotts Valley needs Casa Nostra," one person said. "Once you open back up, you'll be packed."
Added another: "When will you finally be open?" 
Ibarra answered: "Everyone wants to know!"
In mid-2020 the partners began considering expansion in Scotts Valley, a brazen move for a restaurant during a pandemic, but one that Cristallo says he had confidence in. The only question was where.
"We didn't really know Scotts Valley… I don't know if we got lucky, but this location is really the best," he said. "I drive by and notice it right away. It feels so good to be right in the middle of everything… Maybe our move was fast, but we've always had the idea of coming to Scotts Valley. It's a great city. The one thing missing in Scotts Valley is a little bit of the homey feeling. We can add that."
Although the co-owners are still "learning all the streets and our way around," according to Cristallo, they already know the new location is perfect. Ibarra has high hopes for the spot.
"We don't get many customers from Santa Cruz in Ben Lomond. This is different," he said. "Our new location is so accessible, so we hope to really expand our customer base."
Ibarra and Cristallo still have a few more adjustments before opening. Ibarra finally received the go-ahead from the county last week. The duo also plans to set up dividers throughout the space before opening for indoor dining to create a more intimate and cozy atmosphere.
In addition to physical expansion, the co-owners plan to add another menu in both locations.
"We have a new taproom menu, it's a little more casual, burgers, chicken wings," Cristallo said.
They're also working to create a more casual outdoor area in Ben Lomond and plan the same for Scotts Valley.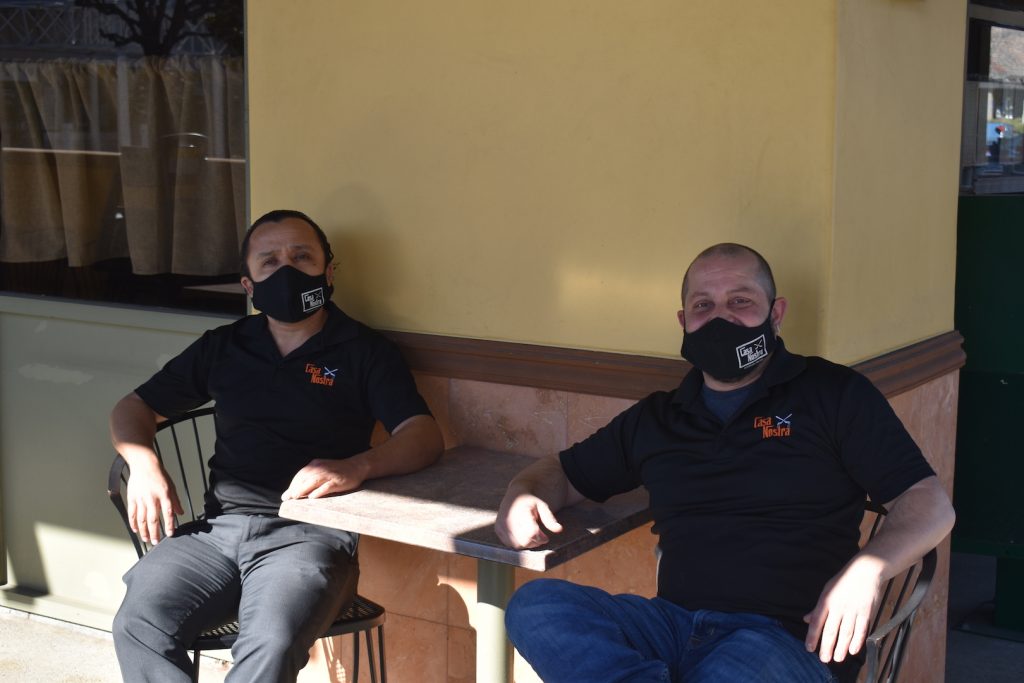 "If you want a burger, chicken wings, or a beer, you can sit out there and enjoy yourself. People need variety. I even get tired of Italian food sometimes," Cristallo joked.
As far as their favorite dishes, both owners struggle to pick. Ibarra recommended the Linguine Ai Frutti Di Mare, with mussels, clams, calamari, salmon, shrimp and fresh tomato.
"It's like picking between your own kids," Cristallo struggled. "We're lucky enough that when the chef makes a new special, it's our job to try it, for quality control."
The new location will also bring longtime chef, Juan de la Cruz, in as another Casa Nostra partner. Ibarra said de la Cruz has been working with the restaurant for roughly nine years.
"He's very responsible and one of us. Why not give him the opportunity to be a part of this project?" Ibarra asked.
Cristallo added: "He's a great guy, loyal, consistent, and motivated."
Ultimately, Ibarra and Cristallo credit their success to the supportive community and hard work.
"The community over there is really supportive and they're keeping us afloat," Ibarra said.
Order online at https://www.toasttab.com/casa-nostra2/v3. Read more at http://ristorantecasanostra.com/.