San Lorenzo Valley High School's JV and varsity baseball teams hit a home run on Saturday, April 15, as they held their semi-annual calamari feed and fundraiser in Ben Lomond.
Coaching staff and players were joined by parents, alumni and supporters for the event, with 240 people attending to help raise funds for the program.
Head Varsity Coach Shane "Sutty" Sutcliffe was thrilled with the turnout, especially since the event had been put on ice since 2019 due to the pandemic. The reincarnation of the feed brought in alumni from around the country, many of whom Sutcliffe hadn't seen since his own years on the varsity team.
"There is a lot of history in this program, and this event is a tradition," said Sutcliffe, SLVHS Class of '93.
He remarked on the success of the baseball program in past years; in 1990, the SLVHS varsity team was 25-1, and was ranked 25th in the nation. The Cougars were undefeated Santa Cruz Coast Athletic League champions, ascending to No. 3 in the state, and were revered by the entire Central Coast Section.
Sutcliffe says that the team's success opened the door for him to play in 1991 against Alex Rodriguez—who was ranked No. 1 out of the top 50 high school baseball players since 1965—at the Top 25 Best in the U.S. Tournament.
"My heroes that are here tonight gave me the opportunity to play in that tournament in Los Angeles, and that was a real honor," said Sutcliffe, who met Reggie Jackson at that event. (Jackson played 21 seasons in Major League Baseball for the Kansas City / Oakland Athletics, Baltimore Orioles, New York Yankees and California Angels; he was inducted into the National Baseball Hall of Fame in 1993.)
Sutcliffe also played against A.J. Hinch in those tourneys—Hinch played catcher for the Oakland Athletics, Kansas City Royals, Detroit Tigers and Philadelphia Phillies—and says those memories will last a lifetime.
"It's great for all the young kids here to learn about the history of the program and what it used to be," he said. "These kids right here have the opportunity to bring it back. Over the years we've had a few successes, but it's been more family-based. I think that's the best part of the Valley: sports bring our families together, and we work together to improve our program and support our players."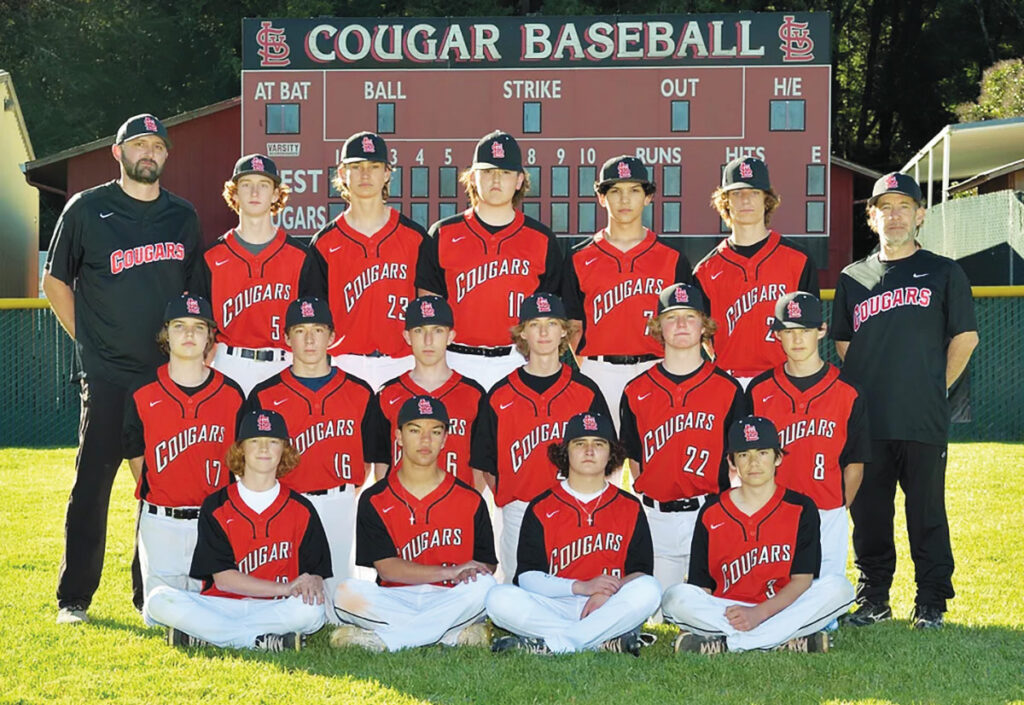 That support was on full display with over 50 volunteers working at the event, along with an impressive silent auction, a DJ spinning country tunes and walls full of photos and memorabilia from the SLVHS baseball archives.
Bob Wunar, parent of senior Artem Wunar (.282 average, .391 on base percentage) is a big proponent of sports in general, but he loves watching his kid on the diamond.
"Sutty has built a great culture that's positive and supportive for the players. It's all about the team and camaraderie, and with SLV having such a small pool to draw from, they create the best team they can with the players they have," Wunar said. "I've always told Artem that the coaches are there to help him, and he should listen to every word of advice they give him. That's really paid off in his athletic career."
JV player Marlon Braun has been playing third base and outfield for two years and is impressed by the teamwork of his fellow players; he has seen improvement in his own play due to that support from his team and coaching staff. Other JV players agreed—it's all about the camaraderie and coaching.
Sutcliffe couldn't be more pleased with the support that the community has contributed to the program. Over the years, improvements have included a new scoreboard; new benches in the dugouts; a new locker room, covered bullpens and a new infield.
"Every penny that the community gives us goes right back into the program to help our kids have a great experience. People care, and so they give," he said. "As a former player myself, I want these kids to feel pride in their school."
His experience as a coach and his raft of connections has allowed him to foster some great success stories for the SLV community: Tyler Gilbert was drafted by the Phillies in 2015 and played for the Arizona Cardinals in the 2021-22 season, and Tanner Murray was a fourth round draft pick by the Tampa Bay Rays in 2020.
Sutcliffe believes in his players and is willing to help them get to whatever level they seek in sports. "I try to make the calls to help them play on if they want to. If they want to dream, I'll dream with them."