There's no such thing as time off for San Lorenzo Valley High senior Jaden Hunter. The third-year starting quarterback, who was also on the baseball team, had a short break in between the offseason and jumped right into football conditioning in July.
On top of that, he also holds two jobs and then there's school work.
"But there's no place I'd rather be than out here on the field," he said.
Hunter and the rest of the SLV football team are coming off a Covid-19 shortened season that didn't begin until spring 2021. They finished 3-2 overall in the Santa Cruz Coast Athletic League "B" Division, including a forfeit loss against Aptos High due to not having enough healthy players on the roster.
Hunter said he's excited to finally get a full season under his belt and hopefully get a chance to play in front of a home crowd. He's also stoked to finally get a chance to play under the lights for the first time in almost two years.
"We didn't even get one night game last year," he said.
It's the little things that matter, right?
Cougars head coach Andrew Milich was named the new head coach of the varsity team in June and he is entering his fifth year on the program. He's replacing Dave Poetzinger, who stepped down after he spent the past eight seasons as the skipper and 28 years with the program.
Milich will be the school's third coach since 1988, following long tenures by Doug Morris ('88-2012) and Poetzinger (2013-20). He expects to return eight players from last year's squad and is pleased to see 20 players moving up from the junior-varsity squad.
He knows most of the team is made up of young players but he believes they'll get in the right shape and mindset once the season kicks off at home against George Washington High on Aug. 28 at 2pm.
"This is a great group of kids, they're passionate and they want to do their best," Milich said. "They're believing in what they're doing, they're believing in themselves."
Hunter said he's thrilled to play for the new coaching staff that was brought onboard this season. He mentioned the coaches have been pushing the team and doing a lot for them to get on the right track.
"I'm just excited to go out there and work hard during the season and score some touchdowns," he said.
Milich spent four years as an assistant, coaching the offensive line and spending time with the defensive line.
Milich was also a 6-foot-6, 300-pound two-way lineman who was instrumental on the 1999 squad that won the first of three Central Coast Section titles in a four-year span.
Hunter said he likes what he's seen from this year's offensive line, calling them the "Big Dogs," and one of the strongest groups on the team. He's taken notice of the extra effort and feels confident enough to put them in front of anyone, trusting them with everything they have.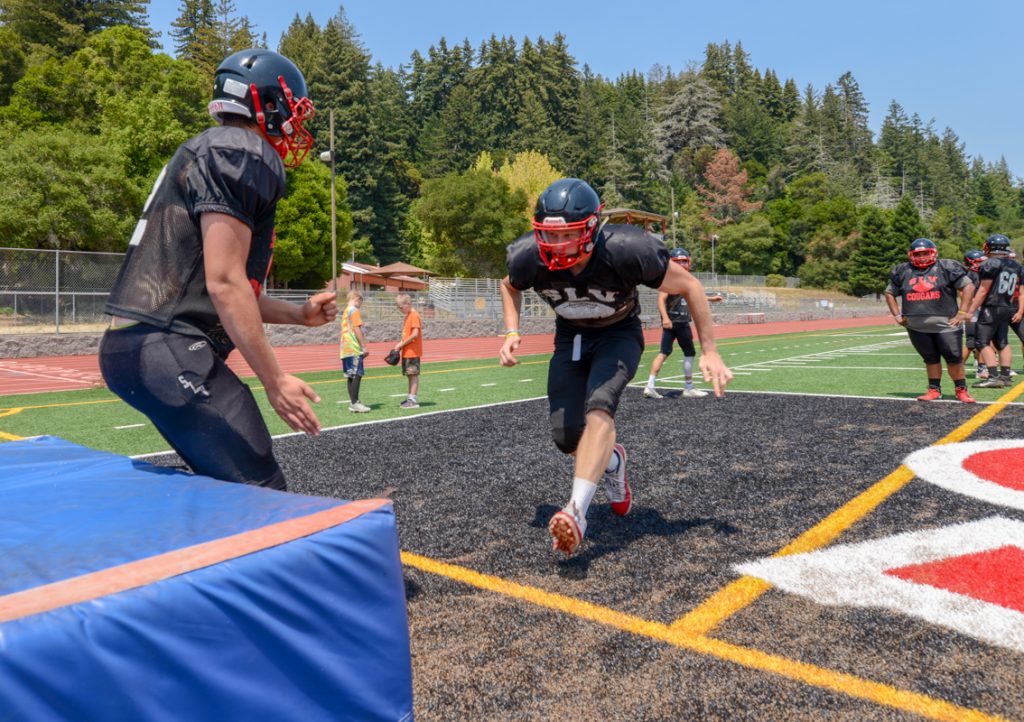 "They're the ones that I see working the absolute hardest everytime, in the weightroom or on the field," Hunter said. "My hat tips off to them. I always see that and it makes me excited."
Michael Lang, a senior two-way lineman, will be another one of the leaders expected to take the younger players under his wing. Joining him on the line is Riley Nelson, who will play the left tackle position and weak side defensive end. 
Sophomores Niko Iles and Cade Petersen are expected to make a big splash playing at the linebacker and defensive end positions, respectively.
Lang said he took advantage of his time off during the Covid-19 pandemic by working out the entire time, mentality preparing himself for a new season and being ready to play.
"Pretty much the whole entire time I was thinking we're having a season and it's going to happen," he said. "Not thinking otherwise, a good train of thought."
Hunter said just about the entire team hit the weightroom during the summer. He mentioned they did it for two reasons: 1. to get stronger and 2. build back a brotherhood they've been yearning for in the past.
"That's what I was trying to focus on this year with my teammates," he said. "I wanted us to be a way tighter group and be a family."
Lang said he feels this year's squad is connected and has built a strong bond up to this point.
"I'm not sure what it is exactly but it sort of just happened. We all just connected with each other, we're all really good friends," he said.
On top of building a good relationship, they also constructed a list of five goals that they hope to achieve within the season. Most of them are common but the most important one to Hunter is to "finish the game," especially when most of them are decided in the third and fourth quarters.
"If you're not finishing then, then you're not going to win most of the games," he said.
The Cougars will return to the Pacific Coast Athletic League to compete in the Cypress Division. They'll face familiar foes such as North Monterey County High, Watsonville High, Pacific Grove High, King City High and rival Scotts Valley High in the season finale.
SLV will also square off against the newcomers of the league, Rancho San Juan High out of Salinas.
Milich said this year's group is dedicated and he knows they will hold each other accountable, which is important for a team that he believes has been an underdog for several years.
"They really want to strive, they want to move forward and they want to hang another banner in their gym," he said. "With our lack of numbers it's hard to build a personnel, it's hard to build that, but they're reaching out to each other and they're trying to build a sense of community about football."
SLV football schedule
George Washington High, 8/28 at 2pm
At Los Altos High, 9/3 at 7pm
At Richmond High, 9/10 at 7pm
Arroyo High, 9/18 at 2pm
North Monterey County High*, 9/25 at 2pm
At Watsonville High*, 10/1 at 7pm
Rancho San Juan High*, 10/9 at 7:30pm
At Pacific Grove High*, 10/15 at 7pm
King City High*, 10/30 at 2pm
At Scotts Valley High*, 11/6 at 2pm
*PCAL-Cypress division play