County officials warn of debris flows and high winds
SANTA CRUZ COUNTY—Cal Fire CZU announced Monday morning that many evacuation warnings were updated to orders for swaths of the San Lorenzo Valley, including most of Boulder Creek and various areas of Ben Lomond and Felton that just a few months ago were scorched by the CZU August Lightning Complex fires.
About 5,000 residents are impacted by the newest orders, according to the Santa Cruz County Sheriff's Office.
In a press release, Cal Fire said that the "atmospheric river" is expected to bring 8-12 inches of rain to the Santa Cruz Mountains. These incoming heavy rains have officials worried of a possible debris flow, in which heavy rainfall unable to soak into the fire-damaged soil will instead flow downhill, taking rocks, trees and other items with it. Flows can reach speeds of 30 mph and destroy the homes and other structures that lie below.
After the first storm on Tuesday night, Santa Cruz County officials reported no debris flows, but Cal Fire CZU cautioned travelers in the area towards downed trees and other unreported road hazards. As of 9am Wednesday morning, only 60 households lost power in Felton.
The areas under an evacuation order are below:
Boulder Creek
Zones:
Boulder Creek Fire District Zones: BOU-E021A, BOU-E020, BOU-E017,
BOU-E016, BOU-E010, BOU-E006, BOU-E001A, BOU-E002, BOU-E033A,
BOU-E038A, BOU-E031B, BOU-E030, BOU-E018A, BOU-E014, BOUE009, BOU-E003, BOU-E001B, BOU-E015A, BOU-E039A, BOU-E040A
Ben Lomond
Zones: Ben Lomond Fire District Zones: BEN-E001D, BEN-E002A, BEN-E002D,
BEN-E004B, BEN-E001B
Felton
Felton Fire District Zones: FEL-E002A, FEL-E003B, FEL-E003C, FEL-E004A
Santa Cruz Mountains
Santa Cruz County Fire Dept. Zones: CRZ-E001B, CRZ-E001D, CRZE002B, CRZ-E003B, CRZ-E003D, CRZ-E006B, CRZ-E006C, CRZ-E007A, CRZ-E017A, CRZ-E017C
To view the interactive evacuation map, visit community.zonehaven.com.
On Tuesday evening, after knocking on all doors in the evacuation zone, Chief Deputy Chris Clark reported 261 households decided to shelter-in-place.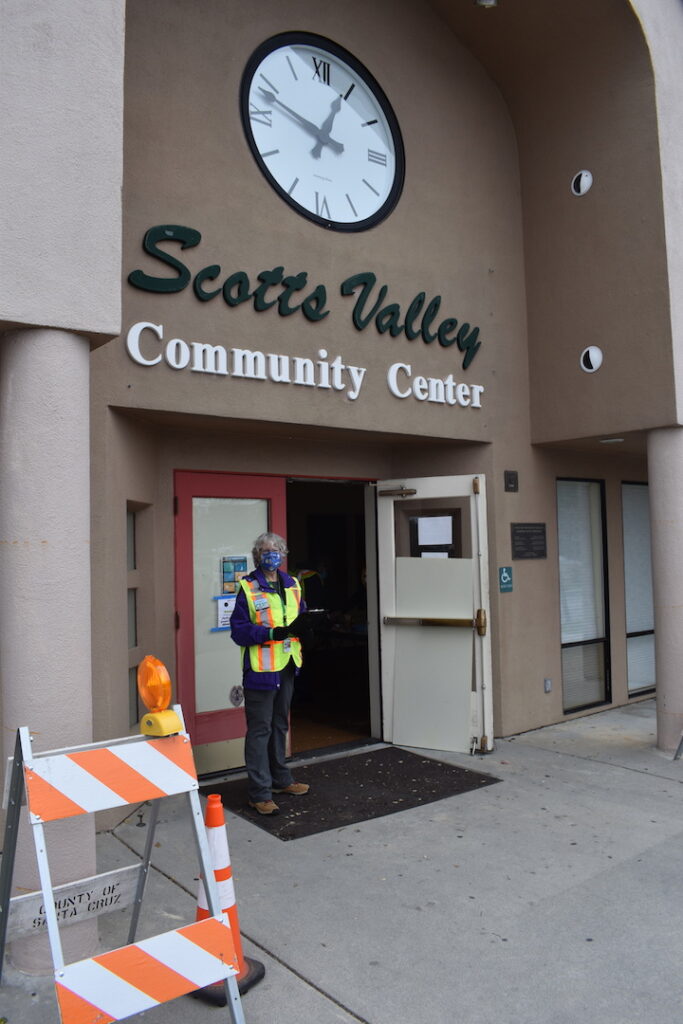 Temporary shelters are open at San Lorenzo Valley High School and the Scotts Valley Community Center. Red Cross assistance, refreshments, charging stations, bathrooms and pet food will be available at both sites. San Lorenzo High School has been the most utilized shelter, with more than 500 evacuees served.
County officials predicted the storm would hit the afternoon of Jan. 26 and intensify throughout the night.
"I couldn't stress more the need to follow the evacuation order," Clark said. "We want to give you as much time as possible to make preparations to leave."
Clark expects rain to more than meet the trigger threshold for flows, 0.30 inches of precipitation in 15 minutes, 0.50 inches of precipitation in 30 minutes, and/or 0.70 inches in an hour.
The Sheriff's Office will maintain a presence throughout the event, until it becomes dangerous to do so. Overnight on Tuesday, 13 deputies will monitor the situation. Afterward, teams of 10 deputies will switch every 12 hours to help residents and suppress looting.
In addition to debris flow concerns, Clark warned of high winds.
"We're going to see a really high degree of wind, potentially gusting to 50-60 mph," he said. "[The wind] just last week caused a huge disruption. This will be very much the same."
The predicted winds will cause challenges for emergency responders and evacuees. Loss of electricity due to downed power lines will disrupt communications between evacuees and responders. Fallen trees may block roads, impeding access.
"Winds play a big factor in our ability to communicate with the public. [Residents] need to heed orders now because we will not be able to message later on due to impacts of the storm," Cal Fire Chief Ian Larkin said.
Santa Cruz County Public Works Director Matt Machado hopes crews can clean up wind damage by this weekend.
"We have staged some equipment in the mountains, so we can respond to immediate issues as needed," he said. PG&E has also established a basecamp at the Graham Hill showgrounds.
However, their timeline won't solidify until the storm passes, as new road blocks may impede progress. Until staff clear roads, the Public Works Department will continuously update the road closure map.
Much like cleanup attempts, county officials are unsure when evacuation orders will lift. "It could be this weekend or it could be later," Clark said.
Check evacuation orders and zones at community.zonehaven.com. Sign up for Code Red, a reverse 911 system, at scr911.org. Current County road closures are available at sccroadclosure.org.