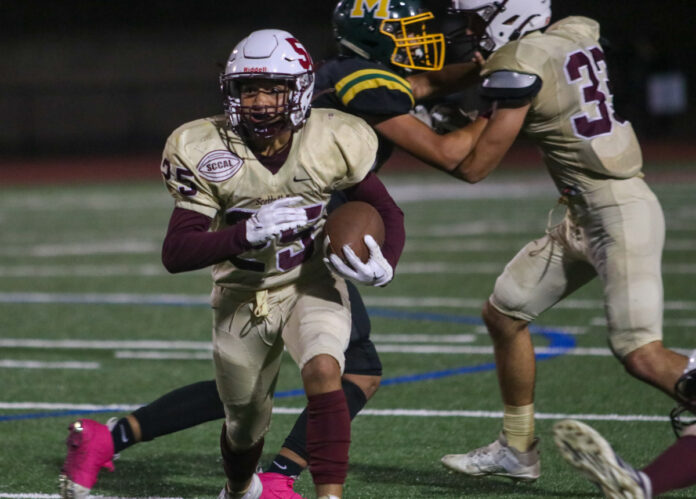 It was a rare home game under the lights for the Scotts Valley High football team, which was looking to bounce back after two consecutive losses to begin Pacific Coast Athletic League Mission Division play.
But despite the loud generators and cold foggy night, the packed crowd provided an electric atmosphere on Oct. 14 that helped the Falcons convincingly defeat Carmel High, 41-20, to enter the win column in league play.
Scotts Valley fans were also excited to celebrate homecoming festivities and finally see some football on home grounds, as the Falcons have been on road in five of their past six games.
With the win, Scotts Valley improved to 5-2 and is now 1-2 in PCAL Mission Division play.
After two losses to start league play, Scotts Valley coach Louie Walters said the team felt an urgency coming into the game but knew what had to be done in order to come out victorious.
"We did feel some urgency but we know we have to be able to finish ball games in order to come out with the win," he said.
Junior running back Quinn Turowski said winning in front of the home crowd on homecoming night made the win even more special.
"Winning tonight at home felt amazing, this is our environment, this is our town, seeing everyone come out tonight was a great sight to see," he said.
Turowski gave props to his offensive line for the successful rushing performance.
"Our line came up big for us," he said. "Everyone showed heart and effort on the field. Definitely motivated us."
Turowski said they came into this week hungry and knew they needed to win in order to have a chance at qualifying for the Central Coast Section playoffs.
The Falcons started the scoring parade early with a 20-yard touchdown run by sophomore running back Eli Velez to take a 7-0 lead.
Shortly later, Turowski punched in a big 40-yard touchdown that extended their lead to 14-0 with 7:31 left in the first quarter.
Walters said Turowski's breakout run was big for the team and really opened up the run game.
"Quinn had a great game, he's a tough runner and always plays hard, his big run in the first quarter really got our guys confident and opened up our run game," Walters said.
Carmel struck back on their following possession with a 2-yard touchdown run to cut the deficit to 14-7.
But Scotts Valley answered right back with their third touchdown of the opening stanza, driving down the field for a 20-yard touchdown run by junior Lukas Murphy to extend their lead to 21-7.
The Padres were looking to cut the lead as they drove down the field fast in their opening possession to start the second quarter. However, they came up empty by missing a 25-yard field goal attempt.
Meanwhile, the Falcons looked smooth and confident as they easily made their way down the field. That was until an interception stalled the long drive with 5:47 left in the second.
Scotts Valley's defense stepped up and made up for the mishap by recording a turnover of their own. They forced a fumble to get the ball back with a little less than four minutes left in the half.
They cashed in on the turnover with a 5-yard touchdown run by sophomore Jess Ringel to give the Falcons a commanding 28-7 lead going into halftime.
Carmel started the second half with a six-minute drive and scored on a 6-yard touchdown pass to cut their deficit to 28-14.
The Padres would not have to wait long to get back on offense as they forced a fumble on the ensuing kickoff to get the ball back with 5:24 in the 3rd quarter.
They also continued to drain the clock and successfully did so as they punched in a 3-yard touchdown run during the final seconds of the third quarter, slicing the Falcons' lead to 28-20.
Scotts Valley did not have possession in the third quarter and Walters said key penalties, along with youth on the team was the problem.
"We had a couple bad penalties that kept their drives long… the youth of our team definitely showed," he said.
The Falcons got their hands on the ball to start the fourth quarter and made sure to make the most of the long awaited drive.
They capped it off with a 5-yard touchdown run by Jess Ringel to extend their commanding lead to 35-20 with 7:31 left in the game.
Carmel's offense, desperate for a score, was aggressive on the next drive. Yet, it was the Falcons' defense that came up big and forced a turnover on downs.
The Falcons sealed the win in the last minute of the game with a 5-yard touchdown run by Brady Siechan.
"We needed to finish and that's what we did tonight," Walters said.
Despite a slow start to league play, Walters said he's confident in the team and they're on the right path to keep their CCS playoffs hopes alive.
"Our team works hard, we are going to get better every day and every game," he said. "We are 5-2 right now, three games left, every game is a big game, we win those then we go to playoffs and control our own destiny."
The Falcons (5-2, 1-2) will be traveling to Watsonville next to face off against Monte Vista Christian 3-4 (1-2) in league play on Oct. 21 at 7:30pm.