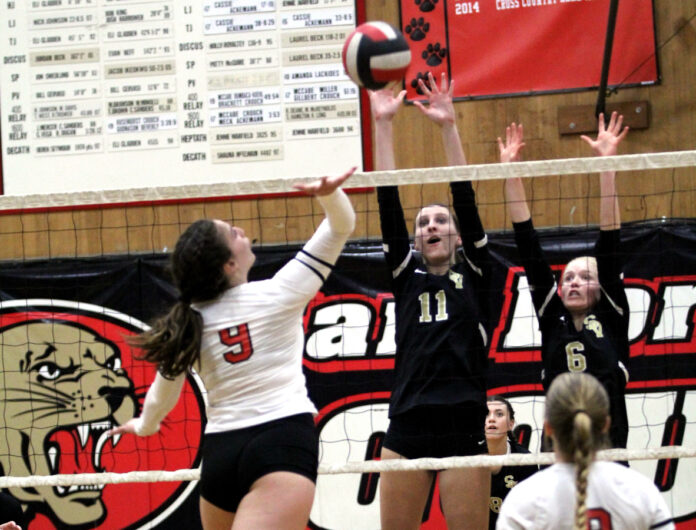 Scotts Valley High girls volleyball team has been a group of keeping streaks alive—both good and bad—over the course of the 2023 season.
The Falcons seem to be back on the winning track following a three-set sweep (25-17, 25-20, 25-3) over San Lorenzo Valley High in Santa Cruz Coast Athletic League play Sept. 26.
Junior outside hitter Ava Morrison finished with a team-best 10 ace serves and six kills for Scotts Valley (11-6), which improved to 3-3 in league play. They sit fourth in the SCCAL standings behind Aptos, Harbor and Santa Cruz high schools.
Senior middle Grace Emanuelson said she was beyond proud of what they accomplished during the Harbor High School Invitational on Sept. 22-23.
"We played the best we ever have before, even when we were tired after playing three days in a row," she said. "Our energy and effort stayed very consistent throughout the day which was so great. I'm very excited for our next league games because we have grown so much after this weekend."
The Falcons lost a tough tourney opening match in four sets against Branham High, but then they won three straight starting with Morro Bay, followed by Santa Catalina and finally the consolation championship victory over Sobrato High.
"I could not be more proud of our Falcon volleyball team," said Scotts Valley coach Margaret Anderson.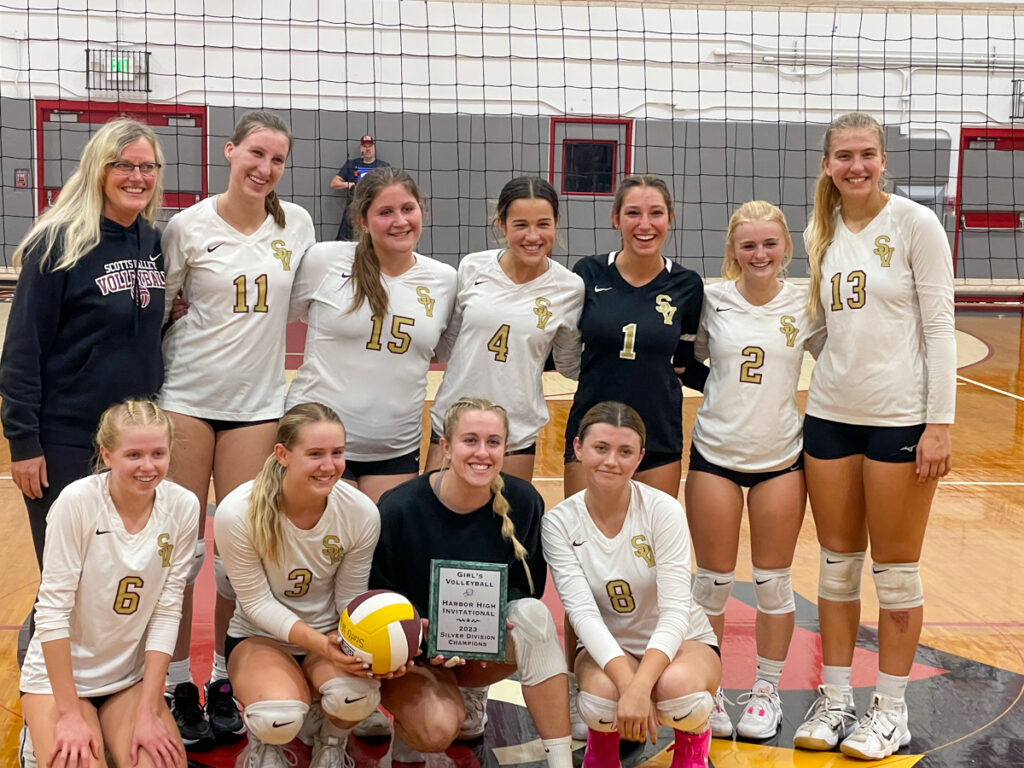 Setters Paige Bariteau and Brooklyn Gunderson are the quarterbacks of the team that make the kills happen, while the hitters are crushing spikes from all positions on the net.
Emanuelson, junior outside hitter Ava Morrison, senior opposite Sydney Barnes, senior opposite Lunden Maeda and senior opposite Emma Howell are all making an impact on the court.
Scotts Valley's middle blockers senior Natalia Cash and sophomore Hayden Smith continue to be a force by shutting down opponents, while libero Bella Alvarez went on serving streaks that gave the back row confidence.
"Our team stayed in the zone and kept the pedal to the metal to take home this trophy," Anderson said. "We are proving to ourselves that we are a talented team that can compete with strong teams."
Scotts Valley continues SCCAL play at Santa Cruz on Oct. 3 at 7pm.
Prep football
SLV falls to Pajaro Valley: Junior quarterback Jack Dagen had one passing touchdown for the Cougars in their 18-7 loss to the Grizzlies in Pacific Coast Athletic League San Lucia Division action Sept. 23.
Dagen tossed a 26-yard strike to junior receiver Winston Wells who was wide open for the catch and sprinted into the end zone to score for SLV (2-3, 0-1), which plays at Stevenson School on Sept. 30 at 2pm.
Girls tennis
Scotts Valley bounces back: The Falcons brought out the brooms in their 7-0 sweeping victory over the Cougars in SCCAL action on Tuesday afternoon in Scotts Valley.
In singles action, senior Stella Cheney defeated SLV's Alyssa Struthers in straight sets (6-0, 6-2) at top spot.
Falcons senior Samantha Warner beat Abi Krepelha in two sets (6-0, 6-1) at the No. 2 spot, and senior Maya Bensen won (6-2, 6-1) her No. 3 match over Kaitlyn Houston. Scotts Valley senior Kendal Wright won her No. 4 singles match by default.
In doubles play, the Scotts Valley duo of juniors Erin Syzmanski and Sofia Niklaus defeated Hannah Morley and Gabby Jubinveille in straight sets (6-0, 6-0).
The most competitive match of the day was between the Falcons duo of Riya Kuriakose and Maya Wexler who beat Claire Hamilton and Alla Rolen in two sets (6-4, 6-2).
The Cougars forfeited the No. 3 doubles match.
Scotts Valley went into Tuesday's match fresh off a loss to last season's SCCAL co-champion Aptos High. The Mariners edged the Falcons, 4-3, in league play action on Sept. 21.
Cheney defeated Aptos' Holly Hegna—the defending league singles champion—in straight sets (6-2, 6-4) at No. 1. In the No. 2 spot, Aptos' Tiana Smith battled back to beat Scotts Valley sophomore Aila Papadopoulos that went to a third set tiebreaker (5-7, 6-3, 1-0 [10-4]).
Falcons sophomore Sofia Niklaus defeated Coral Collins in two sets (6-1, 7-5) at No. 3, and Aptos' Aviana Andrews beat junior Erin Szymanski in straight sets (6-4, 6-3) at No. 4.
In doubles play, Scotts Valley senior duo of Maya Bensen and Samantha Warner beat Finn Ganauer-Pilcher and Gia Arista 6-1, 6-1 at the top spot. Aptos' Isabella and Natalia Calderon defeated sophomore duo Maya Wexler and Riya Kuriakose at No. 2.
Natalie Victory and Neci Hoetner edged Scotts Valley senior Kendal Wright and freshman Montserrat Burgos in dramatic fashion (6-3, 5-7, 1-0 [10-4]).
Scotts Valley (4-1, 2-1) played at Soquel on Thursday at 4:30 pm. Final results for this match were not available prior to this publication's deadline.
Contact sports editor Juan Reyes at [email protected] with any news tips or story ideas.