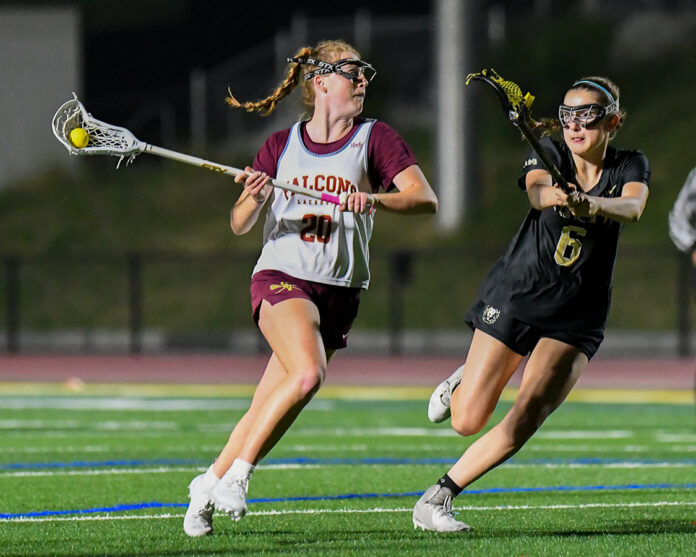 Scotts Valley High girls' lacrosse team recently finished the regular season in spectacular fashion by going undefeated and winning the Pacific Coast Athletic League title outright for the first time in the program's history.
The No. 3 seed Falcons (16-0, 9-0) earned a well deserved postseason berth and their season continued after a 16-13 win over No. 6 Mitty High in the Central Coast Section quarterfinals on May 12.
Scotts Valley senior Siena Wong and her fellow teammates have been motivated by one thing and one thing only this year.
"We don't want to lose, I think It's really simple," Wong said. "We just want to keep going. Because otherwise, this would have been our last game as a team and just did not want that to happen today."
Scotts Valley coach Colleen Niklaus was proud of how the players rallied together around the defenders who allowed the Monarchs to go on a late 4-0 run, but they didn't hang their heads low.
"They stuck in there, kept trying," she said.
Wong said gaining possession was everything in last week's quarterfinals victory and winning the draw is really where it all starts.
"So getting those draws, those 50/50 balls, were probably the most important aspect of the game," she said.
However, it wasn't an easy battle because Wong mentioned Mitty was extremely athletic and their stick skills were excellent.
"Once they had control of the ball, it's difficult to get it back," Wong said. "It's really a fight the entire game."
Scotts Valley senior goalie Olivia Tinetti made incredible saves throughout the evening, including two late ones in the second half that helped them hang on for the win.
"Tinetti was money in the goal," Niklaus said.
Scotts Valley sophomore Taylor Santos finished with six goals, including four in the second half, yet she described the entire evening as intense.
"It was good that we held on to that, very nerve racking," she said.
Santos was held to just two goals in the first half due to Mitty's defensive unit face guarding her throughout the match and keeping an eye on her no matter what's going on offensively.
She managed to steal the ball just before halftime and bull rushed her way to the critical scoring area to blast a shot from 8-meters out for the score.
"I just got mad, wanted to score," she said.
The Falcons built a 14-7 lead in the second half, but the Monarchs hung in the entire way by continuing to chip away at the deficit.
Wong said fatigue began to set in when Mitty went on a 4-0 scoring run at the end of the match, keeping them well within reach.
Wong—who scored five goals in the first half—was heavily guarded by Mitty senior Brooke Decker, making it more difficult to sneak into the critical scoring area.
Wong was also getting over an injury that held her back from going full speed in the second half. However, she was able to score the game-sealing goal that gave the Falcons a 16-13 lead en route to victory.
Niklaus said the first half was full of 50/50 balls, but the game started to shift in their direction in the second half as the Falcons took control.
"But when they got those four goals off fastbreak oh my goodness," she said.
Santos believes they let off the gas pedal, but it also came with a bit of sloppiness, including not being able to clear the ball out on defense and add more points to the scoreboard.
The Falcons missed a pair of opportunities to put the ball into the net after a couple of shots bounced off the crossbar, allowing the Monarchs to stay in the game.
"I wish we had a bigger lead and then we could have played more confidently," Santos said. "We should have played more collected."
It was the second time Scotts Valley beat Mitty this season. Santos mentioned it's difficult to beat the same team twice in one year, especially because they know each other's tendencies.
Last season the Falcons lost in the CCS quarterfinals in double overtime to Los Gatos High, which Wong said they took pretty hard.
The big four in Wong, Santos, Ellie Raffo and Sofia Niklaus made it a point to get into tip top shape to make it further this season.
Santos said they'll use the momentum from last week's win and carry it to the next round, which is going to be a harder test for them.
The Falcons will play No. 2 Sacred Heart Prep—ranked No. 2 in the CCS and third in the state—in Atherton on Wednesday at 5:30pm.
"I'm really impressed that we made it this far," Wong said. "Whatever team we end up playing, I think it's gonna be really fun. Even if we win or lose, it'll be a really good learning experience for us."