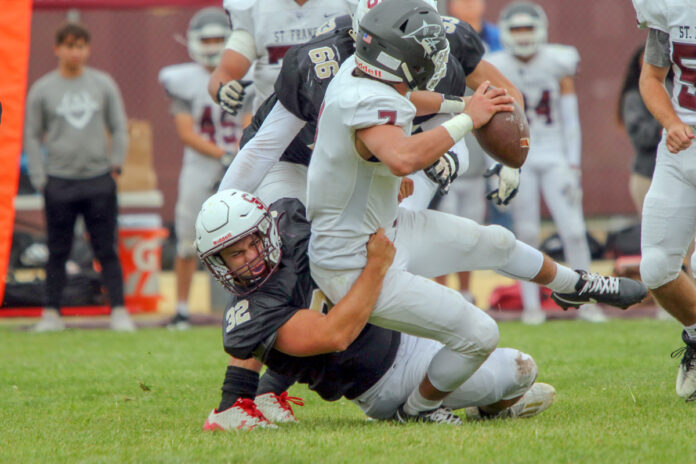 Scotts Valley High junior Eli Velez looked nearly unstoppable for the Falcons football team in their 28-0 win over St. Francis High in Pacific Coast Athletic League Mission North Division play Sept. 30.
The standout running back finished with 154 yards rushing on 14 carries and a pair of touchdowns for Scotts Valley, which returned to the field after an extended bye week that lasted 16 days.
Scotts Valley junior quarterback Lucas Ringel completed 6-of-8 pass attempts for 84 yards and two touchdowns. One of those TD passes was a 50-yard strike to senior receiver Brady Siechen.
Scotts Valley's defense held senior running back Gavin Valencia to a team-best 50 yards rushing on 17 carries for the Sharks (2-4), who dropped to 0-2 in league play this season.
Next up, the Falcons (4-1, 1-0) will play at Watsonville High (2-3, 1-0) in league action on Friday at 7:30pm.
At Stevenson 20, San Lorenzo Valley 6: The Cougars dropped to 0-2 in PCAL Mission North Division play following a loss to the Pirates on Sept. 30.
SLV (2-4, 0-2) will play at Greenfield (4-1, 1-0) on Friday at 7:30pm.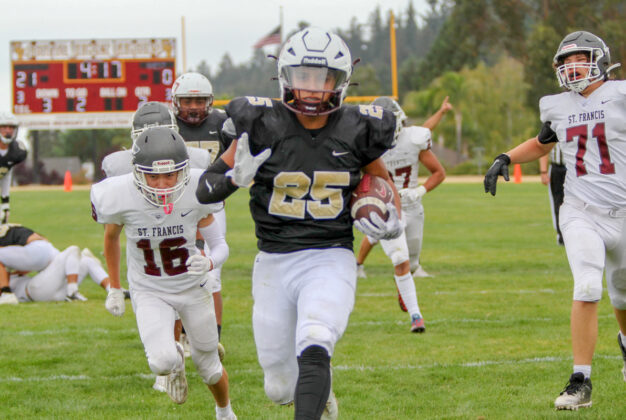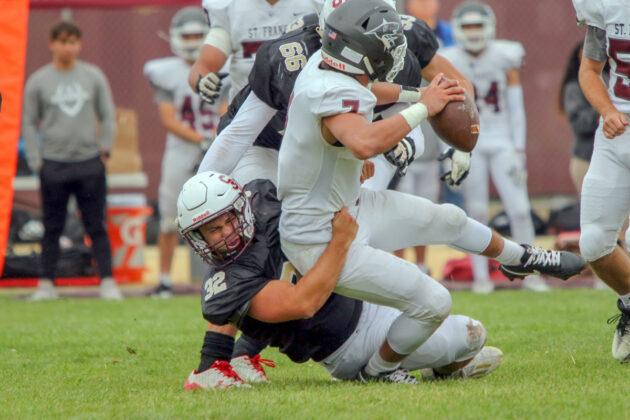 Girls tennis
Scotts Valley edges Soquel in league battle: The Falcons went on the road to steal one from the Knights in Santa Cruz Coast Athletic League action Sept. 28
Scotts Valley won three of four singles matches and captured a dramatic win at No. 3 doubles to claim the team victory.
In the deciding match of the afternoon, Scotts Valley's tandem of senior Kendal Wright and Montserrat Burgos won (6-4, 7-6, [8-6]) to help the Falcons clinch a win in league play.
In singles play, Soquel senior Isla Garcia Mcdougall defeated senior Stella Cheney in two sets (6-2, 6-4).
After that, it was all Falcons as sophomore Aila Papadopoulos defeated Avery Amsden in straight sets (6-2, 6-1) in the No. 2 court, while junior Sofia Niklaus beat Elle Woods in two sets (6-1, 6-0) at the No. 3 spot.
Scotts Valley senior Samantha Warner capped it off with a win (6-1, 6-0) over Addie Somerville at No. 4.
In No. 1 doubles action, Soquel's Mia Gonswiesle and Mikalya Freiberg defeated senior Maya Bensen and junior Erin Szymanski (6-3, 4-6, 1-0 [10-8]) that went to a third-set tiebreaker.
The Knights' No. 2 doubles team of Lucy Federspiel and Aijla Hymes followed up with a win (6-4, 3-6, 1-0 [10-5]) over sophomore's Riya Kuriakose and Maya Wexlerwith that also went to a third set tiebreaker.
Scotts Valley (5-1, 3-1) had a pair of SCCAL matches starting with Harbor on Tuesday, followed by the start of the second round of league play against Santa Cruz on Thursday. Results for both matches were not available prior to this publication's deadline.
Athletic directors and coaches are encouraged to contact Sports Editor Juan Reyes at [email protected] with results, news tips and story ideas.