Scotts Valley sophomore Ashlyn Boothby is no stranger when it comes to running on the 3-mile course at Pinto County Lake in Watsonville.
It's where the Falcons won one of their league meets earlier this season. It's also the place where she won her first Santa Cruz Coast Athletic League Cross Country championship title.
Boothby was nothing short of amazing on Nov. 4 as she zipped her way past the field with nobody behind her in sight to repeat as individual champion, winning the girls' league final in 17 minutes. She set a personal best by knocking 31 seconds off her winning time as a freshman on March 25.
"That was really special. It was fun to get back out here on this course and get a PR from last year," she said. "The team is so deep this year. I was really happy how everyone did. It's just an awesome experience."
Boothby, who spent last weekend practicing the course, said her strategy was to relax on the hills and take advantage of the downhills instead of using them as recovery, pushing herself the entire race.
"The whole time I was just thinking make it hurt," she said. "If it burns it could always be burning more. I was just 'Make it hurt, make it hurt.'"
Boothby's older sister, Amber, a junior who won the individual title two years ago as a freshman, finished second in 18:25. Her goal was to hit below 18:30 but mainly she wanted to run well for the team.
"Just have a positive attitude," she said.
Amber had been out for three weeks in October and was barely getting back into her groove after a race against San Lorenzo Valley on Oct. 29. She said getting a warm up prior to Thursday's league finals was much needed.
The Falcons had five runners finish in the top 10 to help them capture a league title with a score of 24. Aptos (35) took second, followed by Soquel (91), SLV (98) and Santa Cruz (101).
Also scoring for the Falcons was junior Rafaela Putnam (19:44; sixth), sophomore Dresden Brabo (19:51; seventh) and senior Megan Wu (19:54; eighth).
"We were all just going in with the mindset of 'give it all we got' because we wanted to get that title," Amber said.
A trio Aptos High runners recorded an impressive top-5 finish in Thursday's Santa Cruz Coast Athletic League Championships.
Brooke Willoughby (18:42) took third, followed by sophomore Rachel Hoops (19:04) and senior Annie Eikemeyer (19:42) who rounded out the top five.
"I'm glad I finished, I'm ok with placing third," Willoughby said. "We all put in our best effort. I'm really proud of my teammates."
The top three teams qualified for the Central Coast Section Championships, which will be held Nov. 13 at Crystal Springs Cross Country Course in Belmont.
Santa Cruz freshman Hadley Dobkin (19:56; ninth), SLV junior Colleen Murata (20:08; 13th) and Harbor sophomore Olivia Chen (19:57; 11th) qualified for CCS as individuals.
"I'm definitely looking forward to CCS, hoping to really push myself to my limits then," Ashlyn said. "We'll see what happens. I'm very excited for both me and the team, especially. I'm very pleased with how deep our team is this year and we're going to freaking dominate it out there."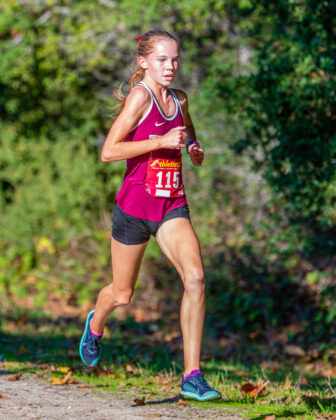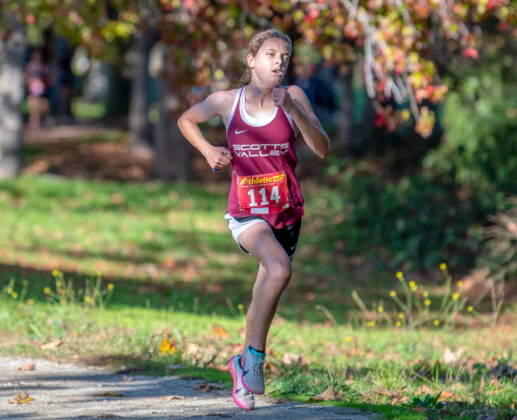 TOP FINISHERS
SCCAL Girls' Cross Country Championships
Individual
1. Ashlyn Boothby, Scotts Valley, So.,17:00;
2. Amber Boothby, Scotts Valley, Jr., 18:25;
3. Brooke Willoughby (18:42), Aptos, Jr., 18:42;
4. Rachel Hoops, Aptos, So., 19:04;
5. Annie Eikemeyer, Aptos, Sr., 19:42
Team
1. Scotts Valley, 24;
2. Aptos, 35;
3. Soquel, 91;
4. San Lorenzo Valley, 98;
5. Santa Cruz, 101
Up Next
CCS Cross Country Championships
Where: Crystal Springs Cross Country Course, Belmont
When: Nov. 13 at 10am.