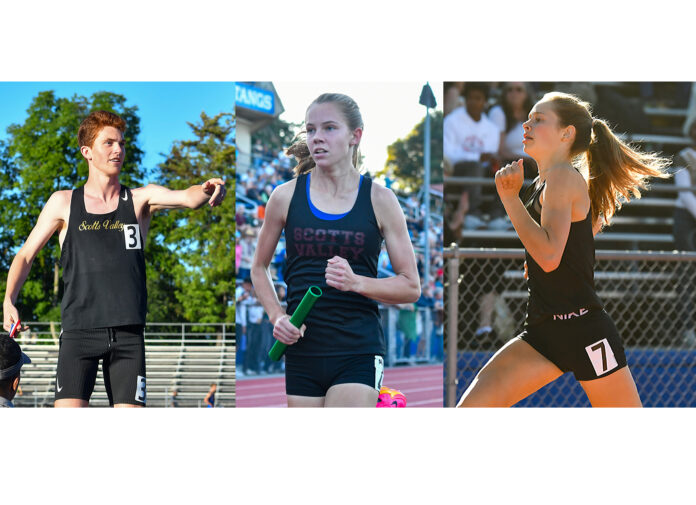 A trio of Scotts Valley High track and field athletes extended their season after putting on quite the performance at last week's Central Coast Section Finals at Gilroy High School.
Falcons senior Mason Lantz, junior Ashlyn Boothby and freshman Ava Decleve all qualified for the CIF State Track and Field Championships at Veterans Memorial Stadium at Buchanan High School in Clovis on May 26-27.
Lantz, who took second in the 800 meters in 1 minute, 55.16 seconds, had a feeling he had set a personal record, but he was on top of the world when he found out his mark was good enough to earn him a trip to the state championships.
After the race, he sat down and glanced at his mom who put up two fingers to gesture that he had just finished second, earning him a trip to compete at the state championship.
"I'm looking over at my mom and all of a sudden she goes, 'Two'," he said. "It went my way and I'm glad it did."
Lantz went into last week's CCS finals ranked No. 3, yet he was well aware of Bellarmine senior Tommy Snycerski and Menlo senior Justin Pretre who were No. 4 and 5 seeds, respectively. Both opponents finished less than a quarter of a second behind Lantz in the semifinals.
"I knew I was gonna have to fight for it," he said.
Pretre (1:55.68) took fifth, while Snycerski did not race in the finals.
"All my respect to the other guys, they've done so well," he said. "Trent [Nosky] coming off an injury, it's more than impressive."
Lantz edged Santa Cruz Coast Athletic League rival Aptos High senior Tent Nosky (1:55.18), who won the 800 at the league championships on May 5. They ran in the same heat in the CCS semifinals, so Lantz knew he had a chance if he stuck with the front pack.
With about 300 meters to go, he kicked it into high gear to edge out Nosky.
"[Nosky's] been so supportive," Lantz said. "We're from different schools, but we're both from SCCAL."
Decleve took third in the 400 in 56.27 seconds just behind Christopher High senior Melia Middleton (55.92) in second and Mountain View sophomore Hannah Rutherford, who won in 54.81.
Decleve was still in disbelief after the race, especially going into it as the lone freshman competing for a spot at the CIF State Championships. Her goal was to start faster and to hang with the front of the pack for most of the race.
Decleve's strategy worked and now she's on her way to Clovis.
"I already qualified for CCS finals," she said. "So being able to run here with all these amazing runners around me…it's incredible. Amazing experience."
Prior to the race, Decleve walked around with her usual bubbly attitude as she smiled back to the crowd who cheered for her as she walked to the starting line.
"I try not to put too much pressure on myself," she said. "I try to enjoy the experience more. Hopefully, I'll be back, but you never know."
San Lorenzo Valley High senior Kaitlin Seigle (2:15.41) took fifth in the 800 and senior Mia Hamilton took fourth in the long jump with a jump of 17 feet, 5 inches. Fellow teammate senior Colleen Murata (5:12.87) took 12th in the 1,600.
Boothby defended her 1,600 meters title by winning the race in 4:52.27 ahead of Palo Alto sophomore Kinga Czajokowska (4:53.59) and Los Altos junior Jasleen Sidhu (4:54.55).
Boothby, who for the most part coasted her way to victory, didn't want to do all the work of leading the entire way with the possibility of being outkicked at the end.
"I was trying to let other people take the lead the first lap, but the pack was kind of tight," she said. "So after the first lap, I just took it and went with it."
Winning back-to-back titles was important but the main thing for her in last week's CCS finals was to have fun. She was thrilled to be able to race in the 4×800 relay one last time with her teammates this season.
But the season is still not over for Boothby, who is heading back to big dance in Clovis. She said it's special to have the chance to race against a talented field of runners and is hoping to use that as fuel to run the best race of her career.
"I don't really know what to expect place wise. Obviously I want to do the best I can but don't really know what to expect," she said. "But, the main goal is to have fun and I'm really pushing for a PR."