An assemblage of wet clods soared past the edge of a riverside home, landing with a thud in the front yard. Jan. 27 was the first day volunteers had begun work clearing out the mud left behind by three deluges at Mark Whitcomb's Felton Grove house.
"The first flood we had two-and-a-half feet of water in the house and maybe four inches of mud," he said. "The second storm we had four-and-a-half feet of water with two feet of mud. And then the third storm we had about two-and-a-half feet of water with four inches of mud."
The 56-year-old River Road resident was already huffing-and-puffing a half-hour into the cleanup, and very glad for the army of workers there to assist with disaster relief.
"I just told them, 'Hey, just work at your own pace,'" Whitcomb said. "I feel guilty, because I haven't done it for anyone else. But next time there's a flood, I'll probably volunteer. I didn't know people did that—but I'm totally stoked they're out here."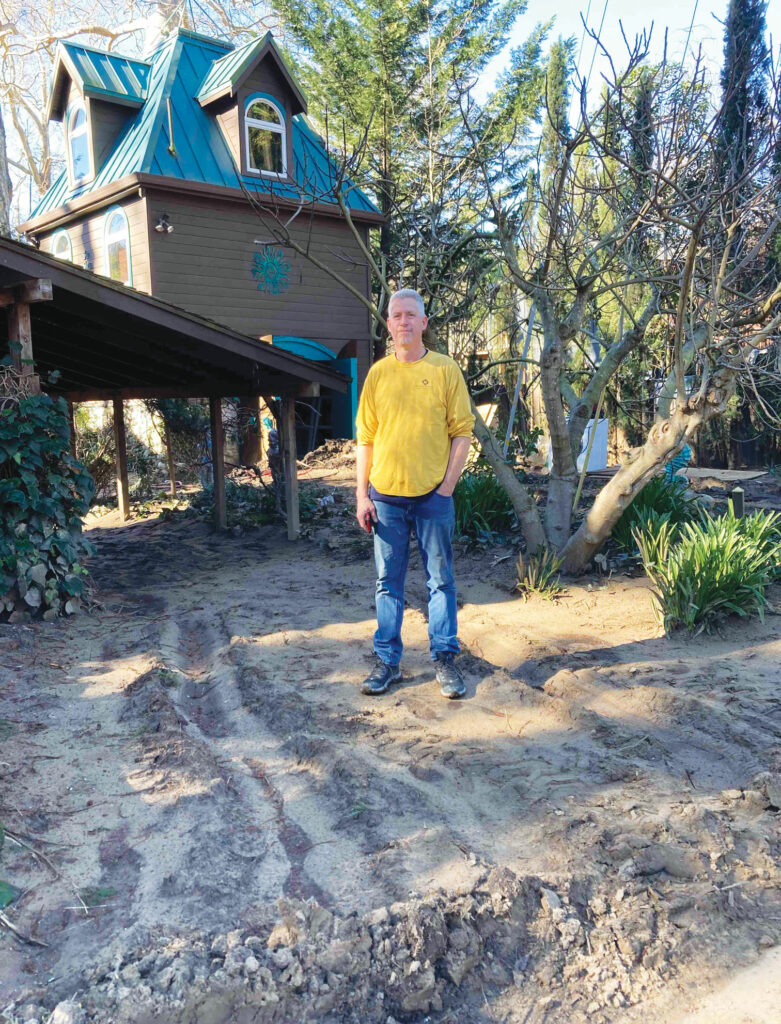 Around 9:45am, Jack McGrogan, 66, of Live Oak had arrived at Covered Bridge Park to sign-in for a day of clearing debris and mud.
"It's just an opportunity to volunteer and help people who are impacted," said McGrogan, who wore a black Anti Social Social Club hoodie and jeans. "It's a beautiful day. You get to meet some nice people."
Near a picnic table with water, personal protective equipment and paperwork, stood Santiago Melgoza, a 40-year-old police sergeant from Gonzales.
"It's my day off," he said, explaining he'd been trying to find something to do while his kids were in class. "By the time they're out of school, I'll be back home."
He'd tried to find a volunteer opportunity in Monterey County, but he says the Volunteer Center of Santa Cruz County made it easy to sign-up online for the San Lorenzo Valley assistance mission.
"I've never been here," he said. "It's nice."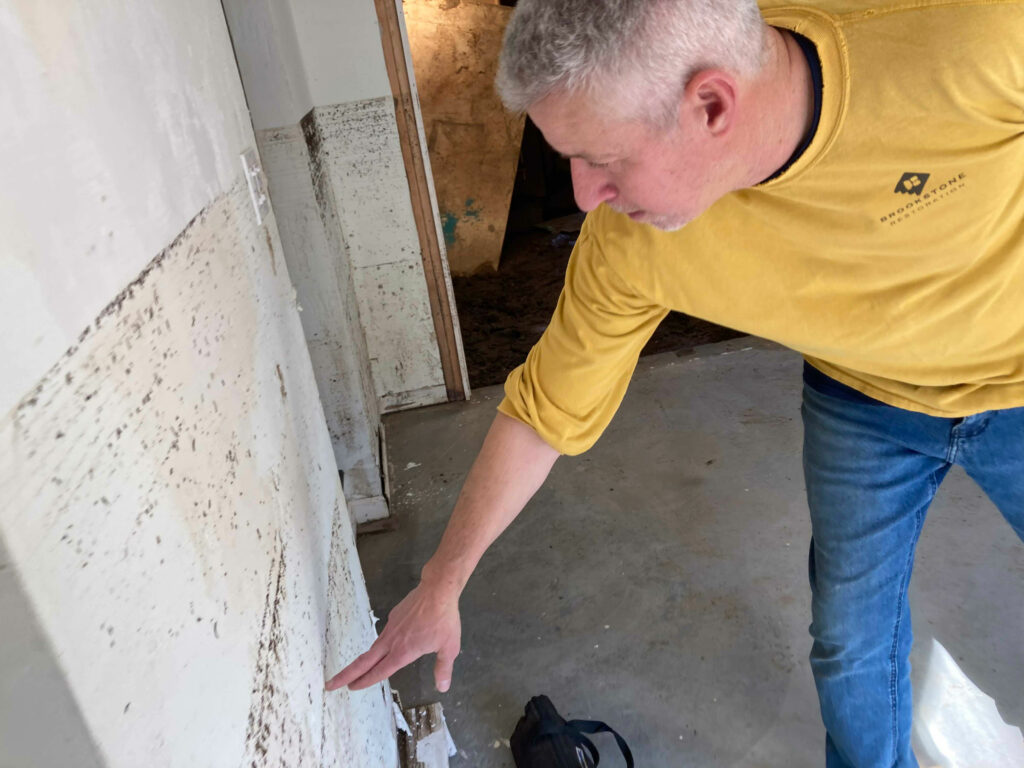 Christina Thurston, 39, the Volunteer Center's volunteer engagement director, gave participants the rundown on safety and organization.
"Everyone should wear gloves," she said. "The mud is mixed with who-knows-what from who-knows-where, so it's definitely more dirty than usual dirt in your backyards," she said. "We also have just these nitrile gloves, too, to keep your hands cleaner."
Bonny Doon resident Jo Mackenzie, 58, volunteers at nonprofit Community Bridges' location just across the river, and she's been hearing plenty about the flood damage.
"I'm in Felton every week," she said. "I was quite aware of this neighborhood being flooded out and that they needed more hands on deck."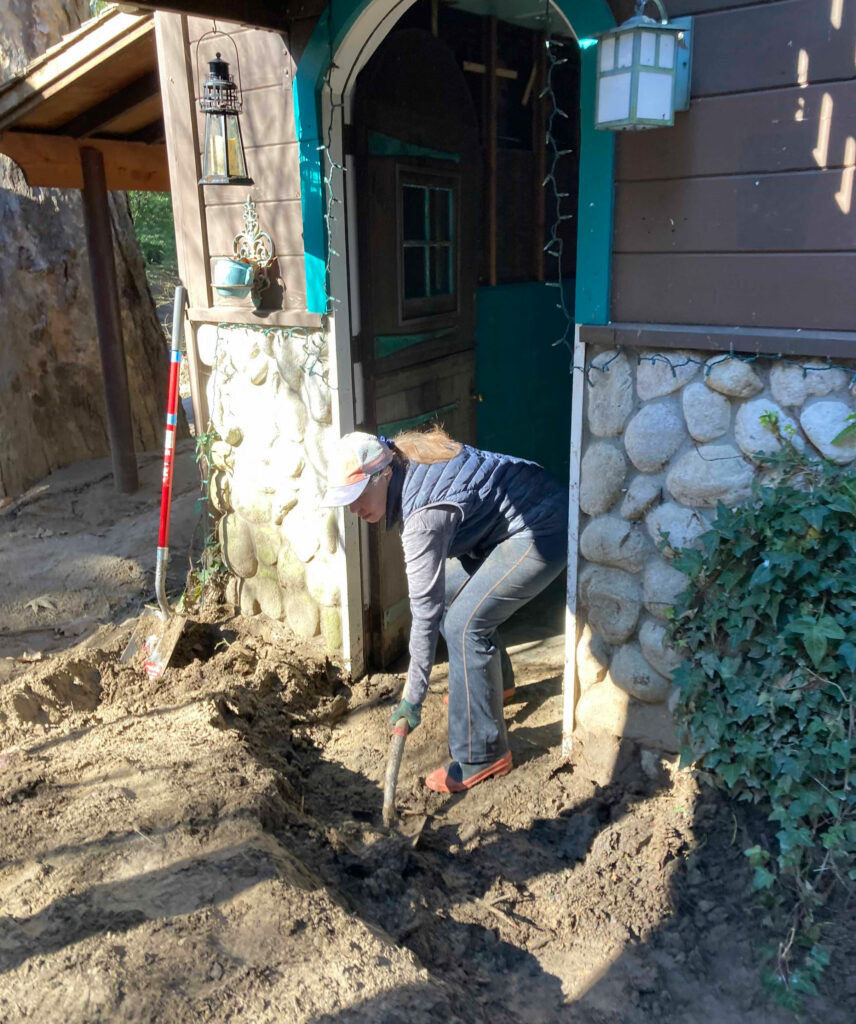 Mackenzie also has a friend who lives in Felton Grove, which has given her an idea of the potential impact of volunteers' actions.
"To actually have people help you clean up—particularly if you're not able to do it yourself—I imagine it would be really helpful," she said. "It would help you get back on track."
Thurston told the volunteers that with the help of an AmeriCorps crew—whose members had been in the area for a couple weeks already—they might be able to complete initial debris removal for five homes by the end of the day.
Rune Taylor, 19, was one of those AmeriCorps members. The El Paso, Texas, resident is part of its National Civilian Community Corps, a U.S. government service program for 18 to 26 year olds.
Her training started on Oct. 12 and lasted a month. She was first sent to California's Lake County and was based on the McLaughlin Natural Reserve to help on a wildfire-related project. Then the team headed to Joshua Tree for their next assignment—conservation work.
When the San Lorenzo River exceeded its banks, the Volunteer Center sent an email to California Volunteers, the office managing the NCCC crew, with a request for emergency labor.
Taylor's contingent joined another AmeriCorps team attached to the American Red Cross, which arrived in Felton to handle more of the acute disaster-response duties.
Their work in the San Lorenzo Valley is more satisfying, in a way, because—unlike habitat restoration or vegetation management as part of wildfire mitigation plans—helping flood victims has an immediate payoff, according to Taylor.
"People are gracious," she said. "We're seeing how people are directly affected by a disaster."
The teenager said it's given her a real sense of how she can make a difference in people's lives through her efforts.
"I've realized that I can directly affect people and actually do something," she said. "And that's a great thing to be part of."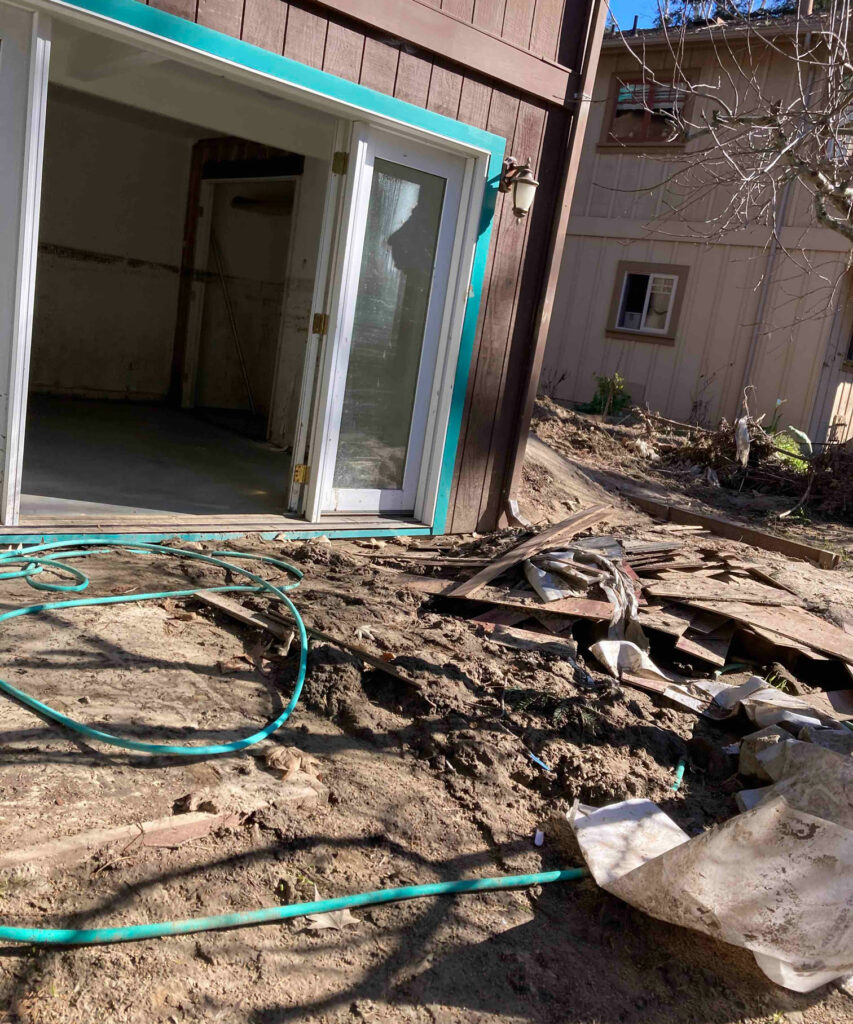 But the residents don't just sit back and watch them toil away, Taylor notes.
"A lot of them will work with us as we're mucking out the mud," she said. "There's a lot of progress seen."
Melissa Foley, 44, president of the Felton Grove Road Association, said the floods likely caused around $100,000 worth of damage. But beyond the financial impact, it's a big headache.
"If you continue down this road you'll see the giant mountain of mud," she said, explaining they have to let the sediment dry before they can pay someone to haul it away. "The County considers it to be hazardous waste."
The group's secretary, Virginia Wright, got the ball rolling with the Volunteer Center, which Foley is thankful for.
"People are so grateful to have them," she said. "They've done so much work. It's impressive."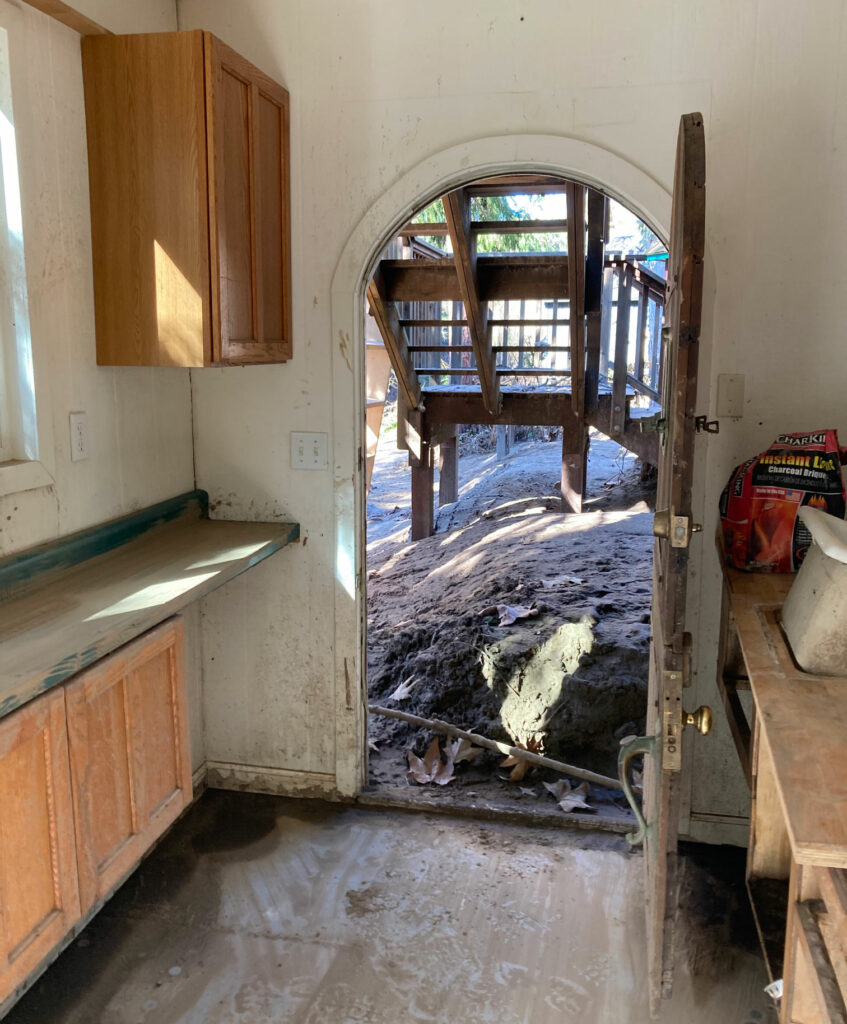 For locals, it's about much more than getting some shoveling for free, she notes.
"For a lot of people, it's that ability to feel like things are more normal—and getting out of this 'flood recovery,'" she said. "I think that does make a big difference for people."
It's not that neighborhood residents were unaware of the flood risk.
"Theoretically we are prepared for this," she said, noting it's the first time they've tapped into the Volunteer Center's network. "We generally just recover ourselves. But having three floods in two weeks was a little more than people could bear, emotionally and physically. So, it's really been great."
While the Volunteer Center was wrapping up Phase 1 of its disaster response—and the AmeriCorps members headed back to Joshua Tree to pick up where they left off in SoCal— Thurston said they were about to pull the trigger on Phase 2.
And that work, she said—replacing flooring, hanging drywall and completing other long-term projects—will continue for quite some time yet.
Homeowners whose residence was damaged in the recent storms and could benefit from volunteer assistance can contact Crisis Cleanup at 1-844-965-1386.