The Felton Branch Library reopened some of its indoor services Tuesday.
"I really enjoy being able to browse," said 71-year-old Waldo Burford, a retired biology teacher who took in Devi Pride's post-fire rebirth photoset outside the library on May 8. "That sense of the library is never going to be replaced by the internet."
So-called "active browsing" was introduced at La Selva Beach Branch Library on May 4. The Live Oak Branch was also set to reopen Tuesday, with Scotts Valley Branch set to open up May 17. (The Aptos and Downtown branches aren't expected to open until June).
Burford said he can't wait to go through gardening, photography and investing magazines in person, once again.
"I'm a year behind," he said. "To subscribe to all of those is just cost prohibitive."
Having grown up in "God-forsaken" San Bernardino, he remembers how the local newspaper was at the heart of the community. Libraries serve a similar function, and provide a way to learn from periodicals you might not otherwise come across, he said.
"It provides an intellectual hub where people can hopefully start to go soon," he said, adding the tactile experience offered by brick-and-mortar locations is a valuable one. "You can put your hands on the books."
People will still be time-limited, as fears about catching Covid-19 persist, for now. And actually reading and studying in the library won't be allowed, quite yet, but up to 45 minutes of computer use a day will be, as will free wireless printing and outdoor Wi-Fi use.
Fifth District Supervisor Bruce McPherson said the Felton Branch Library is a testament to a community that knows how to overcome obstacles. The facility was one of his top priorities when he was elected nine years ago, and he said it feels great to see it finally opening its doors.
"People worked so long and so hard for so many years," he said, tipping his hat to Nancy Gerdt and Michele Mosher for bringing the monument to literacy to life. "It's above and beyond my expectations."
Felton resident Kristin Brown, 50, made it just under the wire, arriving at the library just before it closed Wednesday at 6pm.
"I'm just so used to the Grab & Go," she said, operating the self-checkout like a machine. "I'm so grateful they were able to find ways for us to still get books."
It was only the second day of the new phase of the new library, and Brown was dipping a toe into the waters of newfound literary freedom. With an 8-year-old girl at home during the pandemic, she'd tested the limits of the abridged library services.
"I'm picking books for somebody else, trying to keep my daughter entertained," she said, recalling the pitfalls of selecting reading options through a screen. "You're guessing."
Her daughter's between picture books and chapter books, so it was a challenge, particularly since borrowers are only allowed to take out 15 items at a time.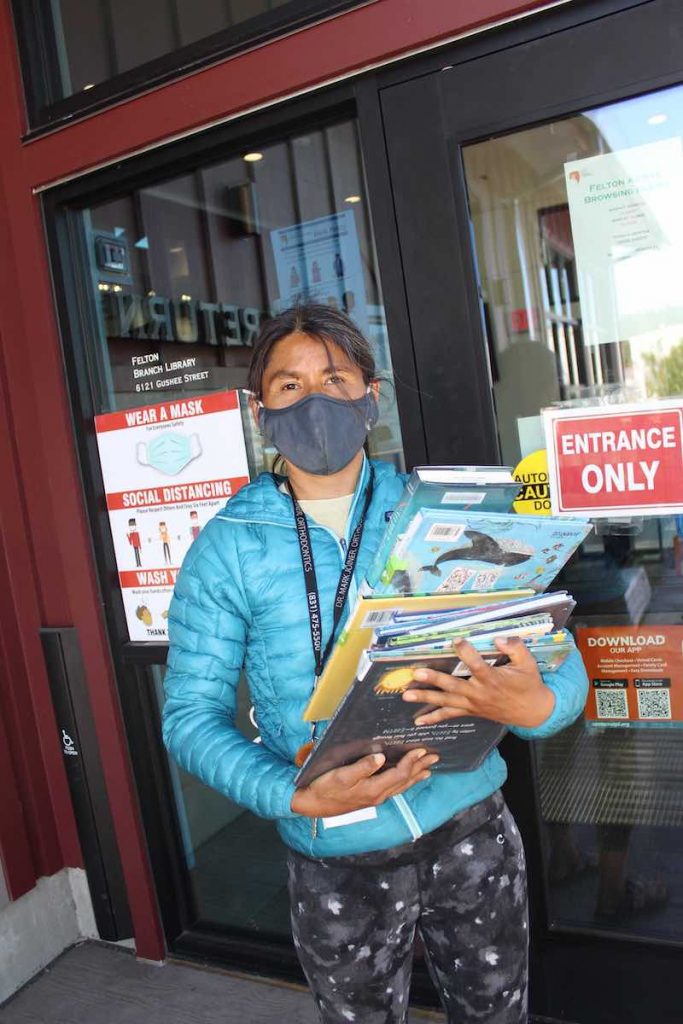 "It's a brand new library and—except for the Grab & Go—I never got to see it," she said, turning to head home with a jubilant, "Hooray!"
Lisset Orozco, 44, another Felton mother, learned of the news from her 12-year-old daughter.
"She told me, 'Mom the library is finally open—can we go?'" she said, recalling how the same child had been asking for months why Disneyland and fitness centers were allowed to open when the library wasn't. "She's a critical little thinker."
Orozco says Felton Branch Library has a nice selection of both English and Spanish books, and hopes her 14-year-old daughter will find something she'll enjoy getting lost in, too.
"I got so excited, look how many books I took," she said, hoisting up a hefty stack that included "El Gran Libro del Mar" by Yuval Zommer and "See You in the Cosmos" by Jack Cheng. "The library is a great resource for parents and kids."
Orozco said getting to venture inside the library was joyous.
"I never find things like I just got," she said. "You just find more diversity at the library."