Reagen Stanger entered the world during the most challenging time her family has known. Born on Sept. 2, 2020, the now 6-month-old baby took her first breath as the CZU August Lightning Complex fires forced mass evacuations locally and Covid-19 cases raged around the state. While the fires have been extinguished and Covid vaccines are becoming more plentiful, Reagen's parents still find themselves fighting forces they never imagined they would contend with.
Ross Stanger and Valorie Torres, Reagen's parents, knew via genetic testing that their daughter would be born with Down syndrome. After her birth, doctors discovered that the infant also had cystic fibrosis. The two genetic anomalies are almost never seen together, which makes Reagen a very special baby.
Down syndrome comes with an array of mental, physical and emotional delays, along with other health issues. During one of Torres' prenatal doctor's visits, the family learned that Reagen would require open heart surgery shortly after birth because of this condition.
On March 2, Reagen's stitches, which run almost the length of her tiny torso, were removed.
"We're definitely moving in the right direction," Torres said.
Cystic fibrosis (CF) is a genetic defect that attacks the lungs and pancreas. If a healthy person catches a common cold, they would become slightly sick and recover. For Reagen, a common cold could be a "death sentence," Torres said.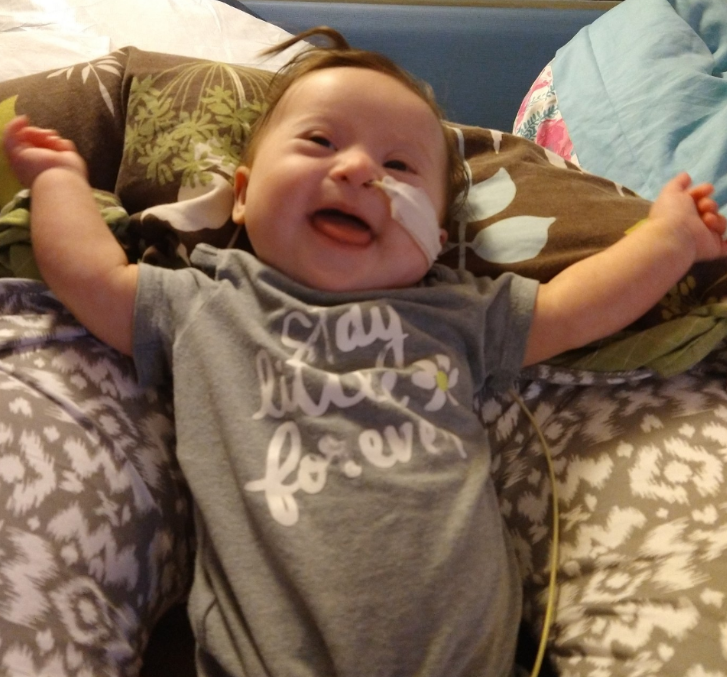 Equally difficult for Stanger and Torres is having to deny their 9-year-old daughter, Teagan, the chance to spend time with her baby sister. Because of Covid-19, Teagan wasn't allowed to visit her in the hospital. Reagen has spent four of the last six months at Stanford. The infant has four breathing treatments a day, and after each breathing treatment she receives CPT (chest physiotherapy), percussion of the chest that helps loosen up the mucus in her lungs to help her breathe.
Of course, none of this is easy or inexpensive. The couple is living off unemployment at the moment, as Stanger had to leave his part-time job at a local gas station to take care of Teagen while Torres stays at Stanford with Reagen. Their insurance covers some costs associated with Reagen's treatment and Stanford social workers are helping the family find foundations and grants that might give them more financial aid.
"Right now, it's a waiting game," Torres said.
Her friends have also stepped in to help. They established a GoFundMe account to help cover some of the costs associated with Reagen's care, and to help the family make ends meet. In its first few weeks it has helped raise roughly $2,600.
"I'm grateful for everyone's generosity," Torres said.
The combination of Reagen's health issues would be stressful for parents under normal circumstances, but add in a highly contagious virus like Covid-19, and the risks facing the infant are monumental. Torres said she understands the position of adults who don't want to wear masks, but she finds their actions intolerable given her family's circumstances.
"I'm afraid Teagen is never going to have a life outside of her home, and I am afraid that my newborn won't get to experience anything because of her illnesses in this pandemic," she said. "I'm worried about my family having a roof over our head without either Ross or I being able to work. It's just a vicious cycle, and I wish everyone would just do as they are told so we can go back to normal."
As for Reagen's prognosis, the family moves forward a little bit every day. Cystic fibrosis is a progressive genetic disease for which there is no cure, and while Down syndrome presents complications, it is no longer viewed as debilitating.
Anyone wishing to offer support is encouraged to search "Help for Reagen and Family" on the GoFundMe website or visit bit.ly/3r8MZpf.