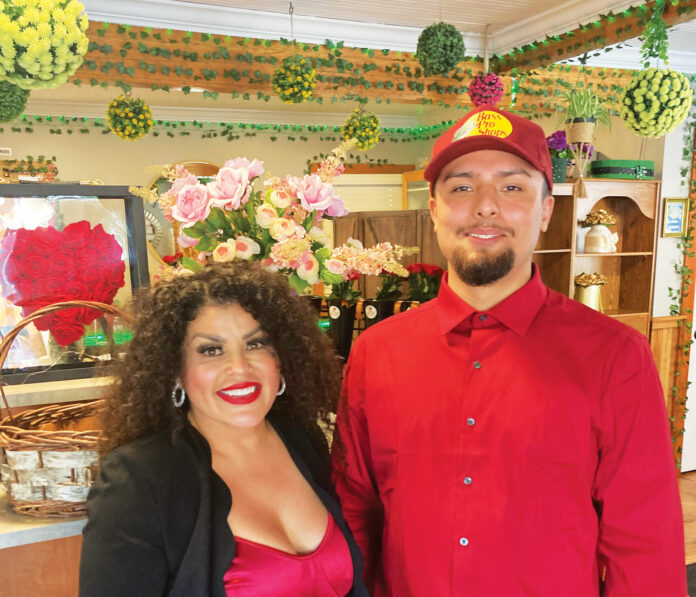 When Bakersfield resident Maria Rios started laying the groundwork for a Santa Cruz County expansion of her flower company, she booked a room at Masood's Lodge in Boulder Creek so she could teach Watsonville-based Jorge Cervantes and his mom the tricks of the trade.
At the time, they were targeting a location in the South County, but after a chance encounter with Masood Madani, Rios' plans changed.
The resort proprietor initially came up to her while she was fiddling with flowers along the riverbank, thinking she was part of a wedding party at the lodge. They got to talking over multiple visits and he convinced her to set up shop in a building he owns across from the convenience store in Ben Lomond that bears his name.
"I was at the right place at the right time," said Rios, 44, during the Sept. 9 grand opening of Pretty Petals Arrangements. "I fell in love with the people here."
Rios launched the business about a year ago, after carpal tunnel syndrome sidelined her career trajectory as the owner of a landscaping business. While mulling how she could provide for her six children, on a trip to Mexico, she was inspired by the flower sellers there.
Within a year of opening her own business, she was ready to hand over the Bakersfield operation to one of her daughters.
"It went great," Rios said, as San Jose DJ Candente dished up cumbia as street tacos were prepared for ribbon-cutting attendees. "It went better than I ever expected."
Cervantes, 21, went to Cabrillo College to become a firefighter. Then, the Covid-19 pandemic made him question his future. He changed his major from fire technology to agriculture and decided to take a job with System USA Inc., working on greenhouses.
Cervantes was looking at pursuing opportunities in the cannabis cultivation industry, but after meeting Rios he became convinced of the merits of importing and marketing flowers.
"It feels amazing to have people come in with a smile on their face," he said. "They want something here locally that's going to stay here."
Rios notes they will deliver to customers across the San Lorenzo Valley, where she's currently in the process of moving. Customers can call Pretty Petals at 831-289-3017 for more information.
"I want to bring my style as well into it, but get to know the community," she said. "I think people here value family, and I do as well."
Massage therapist September Miller also has a room in the building—another match brokered by Madani.