Over the years, the keys to a successful entry into the world of work have changed significantly.
Henry T. Holmes, from New York, quit school and worked as a store clerk, before heading to San Francisco aboard a ship in 1849, helping start California's first telegraph company and becoming an owner of Thomas Bull's lime works here.
Oscar E. Chase, whose mom arrived in the area by ox-team, found Los Gatos public education and a Santa Cruz Business College course were the tickets to getting a job as a bookkeeper for the S. H. Chase Lumber Company of Boulder Creek in the 1890s.
In 1986 the Fine Arts & Practical Arts Fair was introduced at San Lorenzo Valley High School, while Typing, Computers, Electronics, Accounting and Record-Keeping classes were offered through the Business department—at a time where the majority of the school didn't even have a digital grading system and students copied Miami Vice style.
But now, the San Lorenzo Valley Unified School District is entering a new phase of practical learning, as it begins construction on a pair of buildings to teach advanced robotics and agricultural skills in an effort to give students a leg up in fast-growing fields.
The Career Technical Education structures will be the first new builds using Measure S money on the campus, and it comes as district officials are working with the Santa Cruz County Regional Transportation Commission on plans to improve traffic flow in the area.
"As a school district it is important to have a broad course of study for students that include academics and career technical education classes," Superintendent Chris Schiermeyer said in an interview with the Press Banner. "Our goal is to prepare students for post-secondary education, and this may include college as well as career-oriented training and opportunities."
One building will be home to the school's AgriScience Pathway, while the other is for its Software and Systems Development Pathway.
SLVUSD has formed two advisory boards made up of industry experts to help guide the curriculum in both areas.
"Each building will have three classroom spaces, two traditional classrooms and a Makerspace classroom that will be between the classrooms for hands-on project-based learning for students," Schiermeyer said. "The project also includes a shade structure, a greenhouse, as well as outdoor learning spaces."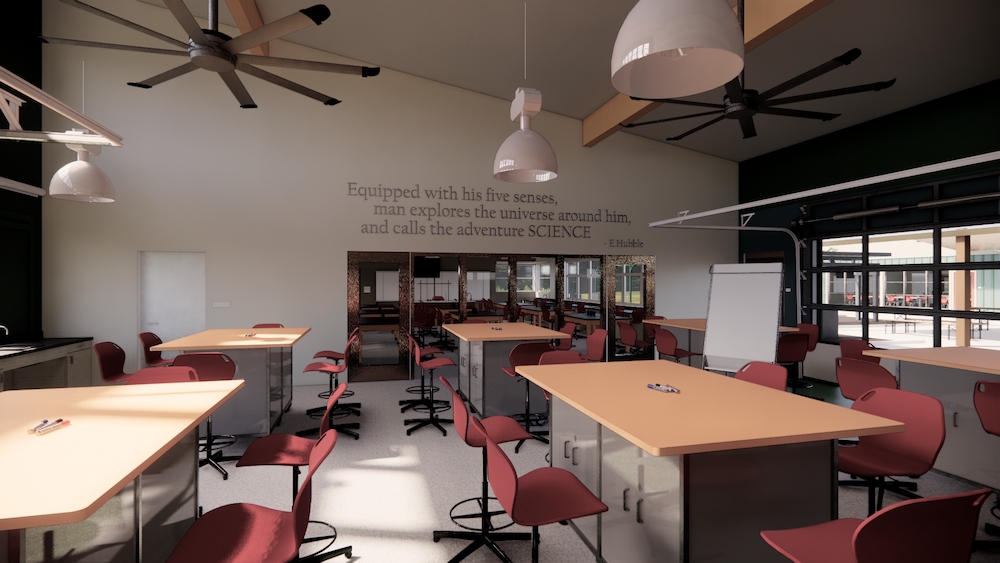 The total price tag is estimated at $8.3 million, with $3 million of that coming from a state grant meant to support this kind of applied education, and $5.3 million from the Measure S bond measure.
The construction, which is being helmed by Castroville-based Ausonio, Inc., began last month and is expected to be completed in August 2023.
At the official groundbreaking ceremony, April 27, Schiermeyer explained how the students will progress through various classes, which will include a range of studies, such as biology.
"The students go from AgriBio to Aquaculture to Aquaponics—and Aquaponics is up on the hill back there," he said. "On this side is our Software and Systems Development Pathway … The middle will be a Makerspace classroom. That allows for the robotics and the interacting of technology they're using when they develop coding skills and those programming skills."
Between the two will be a walkway where students can intermingle, which makes sense since these days agriculture is heavily dependent on technology, he added.
"So, it's really important that they're connected with each other," he said. "We're really excited."
SLVUSD board president Mark Becker, who works at construction giant Stantec, said the CTE expansion is part of putting students first.
"That's always our guiding principle," he said. "We also have to balance money issues, and this is one where we got a $3 million matching grant. It's a big deal. We might not have been able to get to that decision without having that."