The end of the month seemed to approach faster than usual for Shirli McLaughlin. The 76-year-old Felton resident, a longtime Ben Lomond shopkeeper, was told her current rental was being sold.
"It's an important word, 'home'—don't you think?" she asked rhetorically, May 27. "That, and 'safe.'"
McLaughlin's sentiment hits hard. Especially as renters across Santa Cruz County and beyond are facing similar situations: The housing market pits them against many others trying to find a place to call "home." Even if it's just a room in a shared house, San Lorenzo Valley seniors encounter additional challenges hitting those in similar situations countrywide.
It was frightening when McLaughlin's landlord told her she'd have to hunt for a new domicile a couple of months ago.
"'Oh no! I love my little place because it's safe and really quiet,'" she said, recounting her initial reaction. "I thought. 'Why me?'"
'It's an important word, 'home'—don't you thinks?'

—Shirli McLaughlin, owner of The Third Hand Store in Ben Lomond
Next year will be the 50th anniversary of her pre-loved clothing business, the Third Hand Store, located across from Ben Lomond Market. Looking for an apartment has added undue stress when she'd instead focus on suggesting wardrobe options for patrons.
"I love having this little store," she said. "It's very social. People come in just for company, and we talk about books. Back in the day, Ben Lomond was so cool. They had the dam down here, and they made a big swimming hole."
McLaughlin's been in the same house for 20 years, but she knew she wouldn't have the same housing security when the owner died. She remembers that the building where her store is located was on the market initially for around $30,000. Now homes in the area routinely list for more than $1 million. Figuring out where to go next—and what to do with the stuff she's accumulated as a professional "thrifter"—has been overwhelming.
At first, McLaughlin's efforts to locate a new home were "fruitless," she said. Friends came to her aid, and there were a few possibilities. Unfortunately, they all had too many stairs, roommates (which she says would disturb her sleep), or were located in a remote part of the county where she wouldn't feel safe. Meanwhile, she's had to sort through all the scam ads.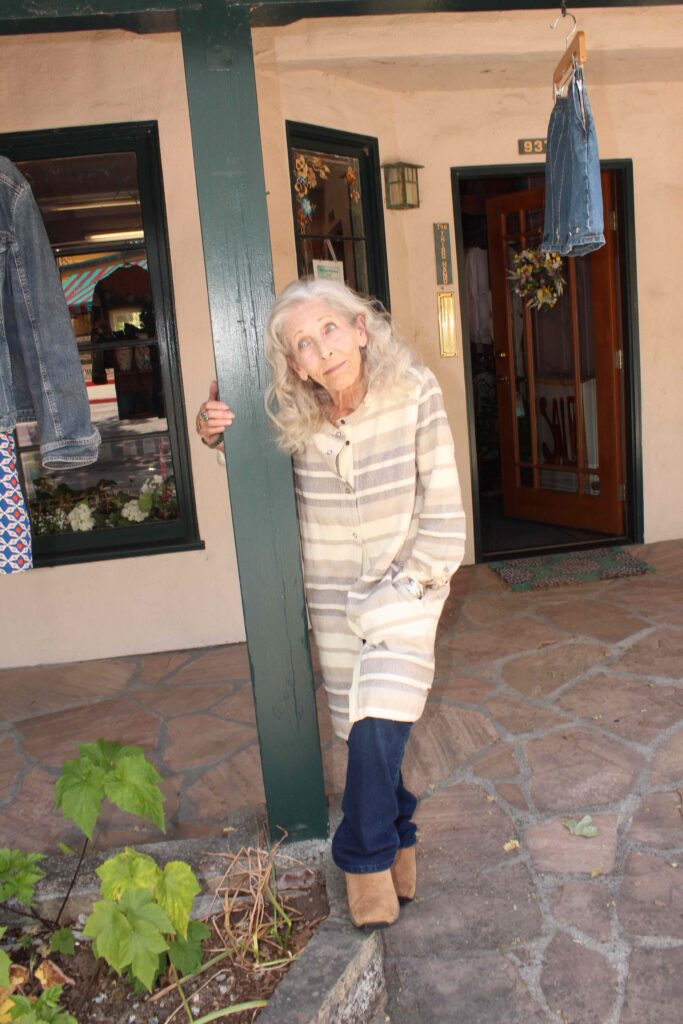 Did she face competition?
"Oh, heck yeah," she said. "And people who can afford to pay a lot more than I can pay. I just want a small place."
Valley Churches United Operations director Linda Meyer said the loss of 900 plus homes in the CZU Lightning Complex fires exacerbated the rental crunch for everyone, but especially seniors. The failure to build adequate levels of housing to accommodate post-secondary students in the county is another underlying factor.
Plus, most of the seniors the food pantry serves are on Social Security or other fixed incomes, so most apartments that do come up are out of their price range.
"I don't even know that they'd be able to find any in the San Lorenzo Valley," Meyer said. "A number of our seniors have moved out of the area."
Valley Churches United has been inundated with inquiries about rental assistance—five in the previous week alone. Meyer hopes the free ingredients they provide will at least free up some money that can then go towards rent.
In addition to the competition and the rising costs, many landlords primarily post listings on Facebook Marketplace or similar online classified services, so many seniors must educate themselves on using social media platforms before applying. By then, it might be too late.
McLaughlin's found a friend who's letting her stay on their land—a cabin down in Aptos—for the time being. She's worried about the walk from her vehicle to the front door—a bad fall took her out of commission for a couple of months last winter.
Back at the thrift store, customer and friend Vicki Coffis, 74, said she hopes McLaughlin can find something more suitable nearby.
"She's a fixture in the Valley," Coffis said. "She deserves to continue her business—and have a place to live."