According to U.S. Census data, just half of the marriages occurring from 1970 to 1984 for both men and women reached their 25th anniversary.
Scotts Valley residents Darrell and Sue Yeaney have overcome those unfavorable odds—easily.
They met at Westminster College in Pennsylvania in the fall of 1949, married in a gothic chapel on campus three years later and have been together ever since. That's a marriage that's 70 years strong.
"We're drawn together," said Darrell, who is 90. "We're pulled together."
This past weekend, the couple hosted about 40 guests at the Vista Del Lago Mobile Home Park Community Center where they live for a family reunion. They're planning a smaller gathering of close relatives to celebrate their platinum anniversary this weekend. Attendees would do well to inquire about the tips they've used to stay together throughout the ups and the downs.
"Obviously there are differences in the relationship and times of friction," Darrell said. "They've never overcome the commitment we have to each other."
The couple's origin story, known well throughout the family, centers around a workplace mistake that ultimately turned into something beautiful. His daughter Jenny, 61, explained that her father was supposed to be covering her mom's shift at a campus job. But he never showed up.
"That's a story my dad loves to tell," she said.
When asked, Darrell quickly fessed up to this long-ago flub.
"I slept in," he said. "That was my mistake."
Later, he was walking with a friend who pointed out the co-worker, now 93.
"I had never met [Sue] before," he said. "I knelt down on the sidewalk on the quadrangle, and, when she approached, I apologized."
Jenny, who lives in Felton, says her mom supported her father as he completed his theological studies. They didn't exactly have a lot of money, but it was their commitment to each other—and to broader societal issues—that kept them together, she said.
"It worked for them as they moved forward through their lives," she said. "They were kind of on the same path there."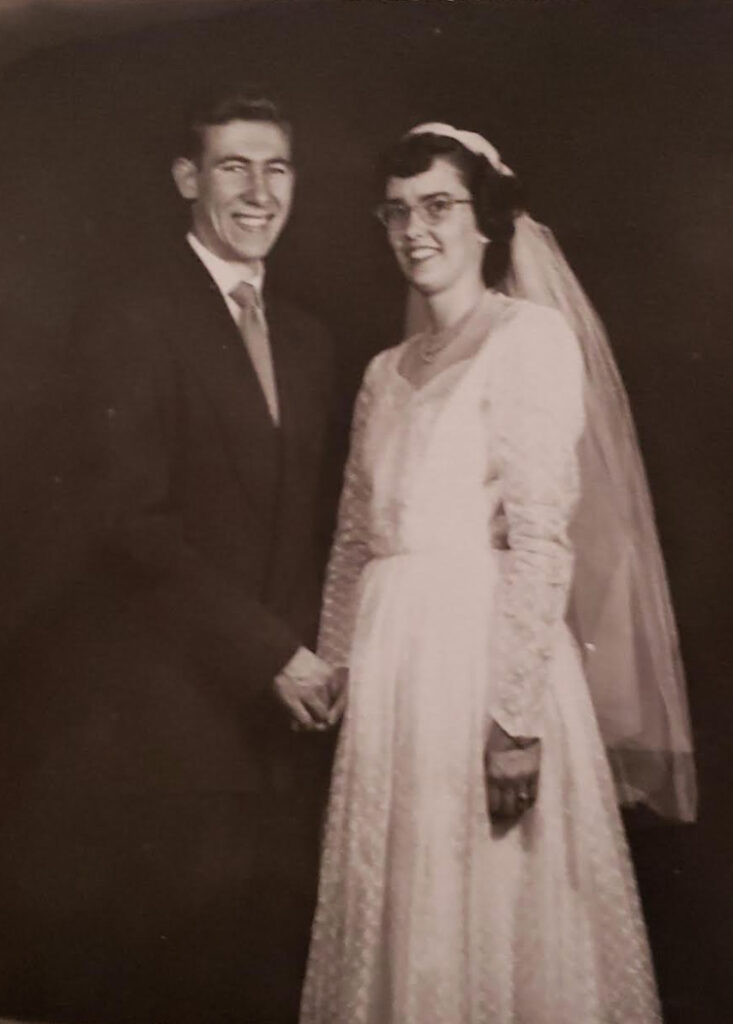 Darrell became a Presbyterian minister in Manhattan, Kansas, and was asked to do some spiritual work at the state college in town. He had gotten a taste of political activism, but began to see the need to get involved in the push for racial justice for Black Americans.
"We became aware that the town of Manhattan, Kansas, was 'redlined,'" he said, referring to the bureaucratic way Black people were prevented from living north of the railroad tracks by the college. "There were some faculty actually working at the university (who) could not live near the university."
He began trying to convince neighbors near the school to let Black people move into the area—and, crucially, to pledge not to move out when they did.
After the family moved to Emporia, Kansas, the activism heated up.
In 1964, Darrell agreed to join a contingent of church leaders heading to Canton, Mississippi, to monitor the first Black vote. He remembers watching as residents tried to physically prevent Black people from participating in the democratic process.
"It was pretty crazy," he said. "I was taking pictures with my camera of the arrest that was taking place."
Soon, he was the one with a rifle pressed into his back.
"They put us in a poultry truck," he said, describing how he was hauled off to jail along with Black residents. "It was a totally different world."
Municipal records from the day show an "Officer Albert" arrested 29 people in two separate groups, including Darrell.
When Sue heard the news, she sprang into action trying to figure out how to get her husband out of jail.
"Mom, she was active with the League of Women Voters at the time," her son Tim, 63, said. "She was furiously making phone calls."
Not scared off by the experience, Darrell went back to Mississippi to help run a vacation Bible school. This time he brought his family. Darrell instructed on leadership and Black history, with Sue also assuming teaching duties. In fact, he even invited his parents who then believed Black people were simply trying to "upset the whole apple cart of the society."
"It was a complete education for them, and they came back totally converted so to speak," he said. "That was one of the great moments in my life."
He added: "[Sue] gave me that kind of support over our entire married life. There is this presence that draws us together time, after time, after time."
Darrell and Sue also became active in raising awareness about the Israeli-Palestinian conflict, bringing people to the region to expose the reality of the situation.
Darrell says he's been on more than 10 trips to that troubled section of the Middle East.
Jenny says it's an example of how well her parents have always worked as a team.
"My mom was the organizer, no doubt about it," she said. "My dad was the social go-getter person. Mom kept it all together."
After they moved to Santa Cruz County, Sue founded the I-You Venture, which recruited volunteers to visit folks in nursing homes and now falls under the banner of the Family Service Agency of the Central Coast.
This time, it was Darrell supporting his wife's project. Tim notes that, for her advocacy, his mom even received a Congressional Medal of Honor from Leon Panetta, the former Secretary of Defense, CIA Director and White House Chief of Staff.
Jenny says her parents set a great example by how they chose to act out their love for one another.
"I'm so inspired by what they've accomplished in their lives, and how they've persevered through challenging times," Jenny said. "And I'm inspired by the number of hearts they've touched over the years."