On Sunday, residents and visitors from further afield fanned out across Santa Cruz County for the final day of Open Studios Art Tour 2023, where people get to peek inside spaces integral to creation.
For Gina Firpo, a 31-year resident of the San Lorenzo Valley who started painting commercially during the pandemic, it was a chance to dip her toes into the event's waters for the first time.
"I started taking pictures of places I walked, and then I would just paint what I saw," she said at her Felton home after morning rains. "Everyone started wanting my paintings."
Firpo was one of the 65 new artists—of more than 300—participating in the Arts Council Santa Cruz County-produced Open Studios during the 37th edition.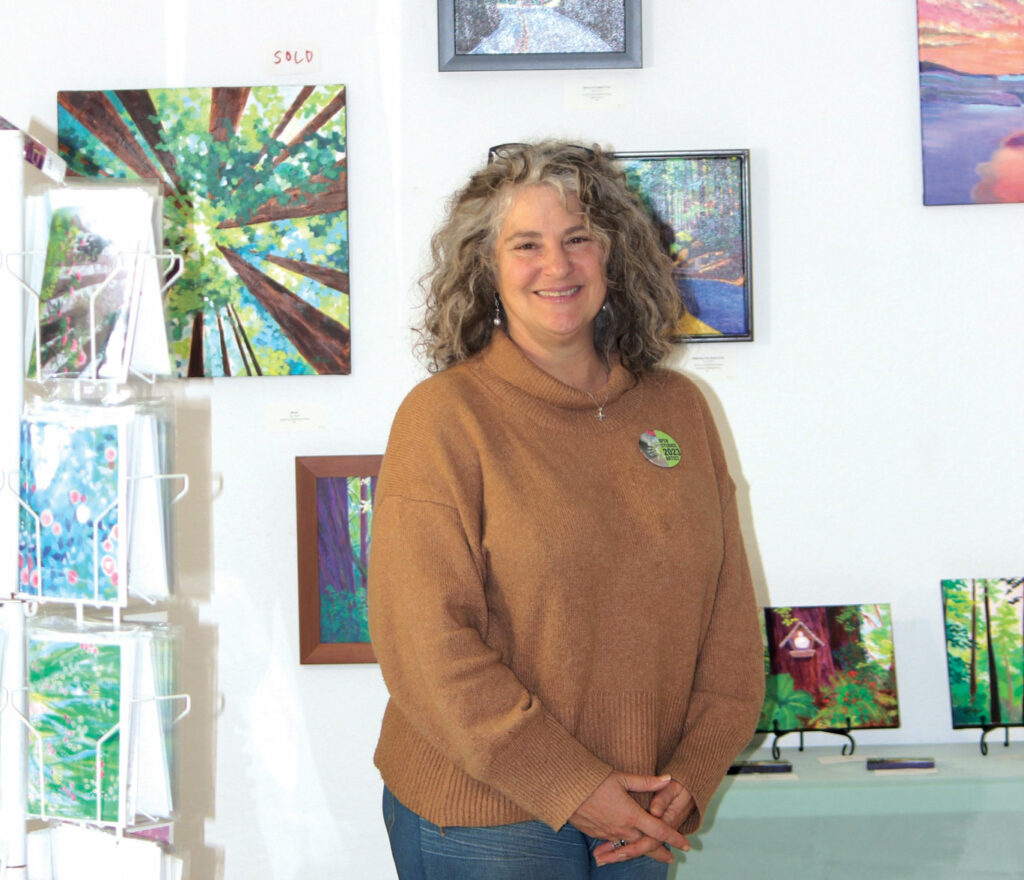 Pati Murray, a Seascape resident who works in Felton, wandered in.
"I have this in a print," she comments, looking at one bright green image depicting trees. "It's in my living room. It's lovely. I actually have it in a window and the light reflects through."
Firpo was tickled to meet a customer who's purchased a product she'd placed for sale in the White Raven coffee shop.
That's just what it's been like these past couple weekends, she notes.
"It's been so much fun; I've gotten to meet neighbors and people from out of town," she said. "They came out seeking me here. So, that just blows my mind."
It may be her inaugural time exhibiting, but she's taken part in the tour for decades as a viewer.
Murray loves it too.
"I come to this event every year," she said. "You can meet the artist. You can see the process. Now I have a personal association with that art piece that I bought."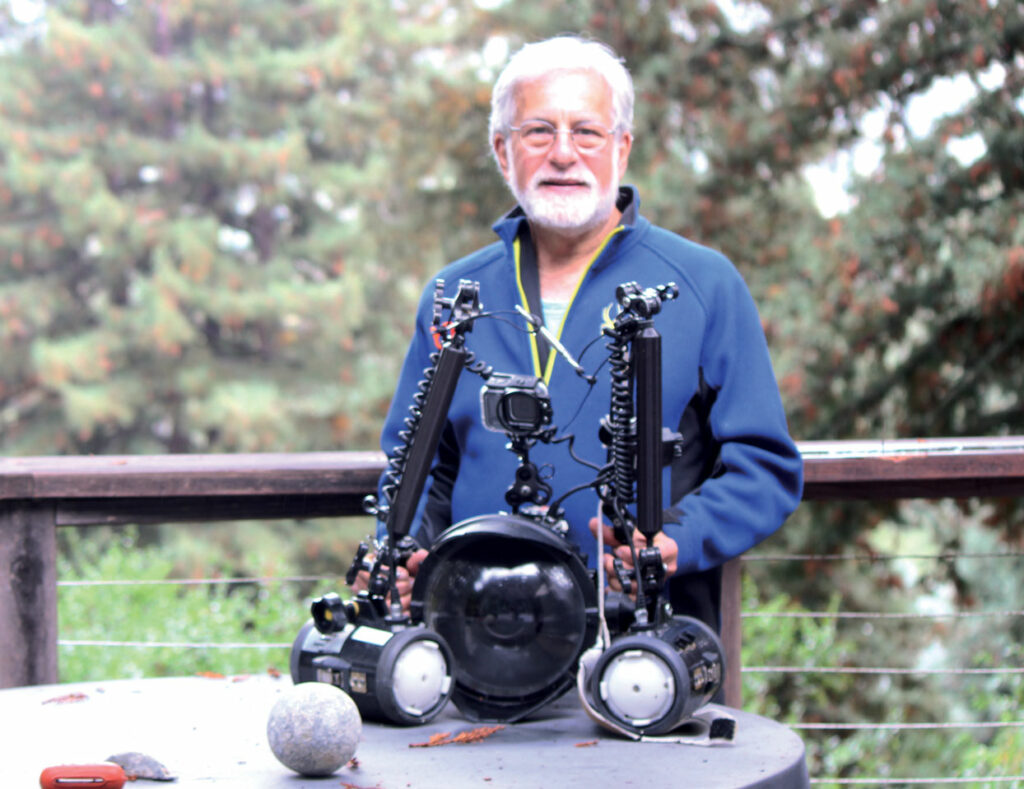 In a house perched on the hillside above, nature photographer Marc Shargel is chatting with San Ramon residents Christina and David Verespey, who brought their son Josey, a UCSC student, along for the tour.
"We've been friends with Marc for 30 years," Christina says. "I just love to see his work."
Shargel disappeared to gift Josey, who's studying computer game design, a weight belt for diving.
After returning to the south-facing deck, Shargel demonstrates his underwater photography rig as a faint rainbow emerges from the mist.
"Last year I had my best Open Studios of all time," he said, admitting this year's been a little more uneven—with a couple days that were relatively quiet. "Today it's been a pretty good crowd."
Nevertheless, it's always an amazing opportunity to showcase his passion for conservation and describe his process.
"I've lost count how many years I've done Open Studios," he said. "When I first started out, I didn't expect I would develop a following of regulars who would come back every year."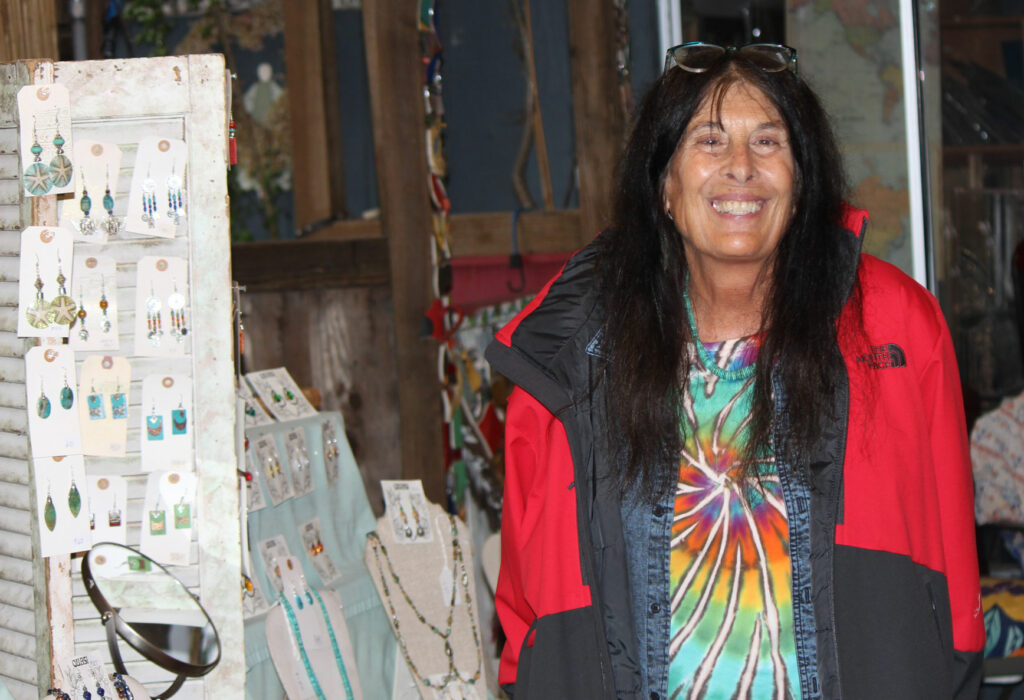 Up in Boulder Creek, Christine Charter Moorhead hosted jewelry creator Dyann Paynovich at her glass studio.
"I travel all over the country doing art shows," Charter Moorhead said, reflecting on how nice it is to have one literally at home. "It's where I create all the art and the magic happens. It's been a wonderful journey."
Of course, it also meant the day was bound to be punctuated by some classic San Lorenzo Valley moments.
On Sunday that included a sudden CRACK! from the nearby canopy, as a large branch tumbled down and blocked Big Basin Highway.
The Open Studios crew formed a party and together were able to quickly clear the road.
"We had more people last weekend, but more people bought this weekend," Charter Moorhead reported. "And it's great because I get to meet new neighbors, old neighbors."
Teaming up with Paynavich was a way to give people an extra reason to head deep into the Santa Cruz Mountains.
"Because we're the farthest on the map," she said. "We're not that far, but people say, 'Oh, Boulder Creek, it's so far.'"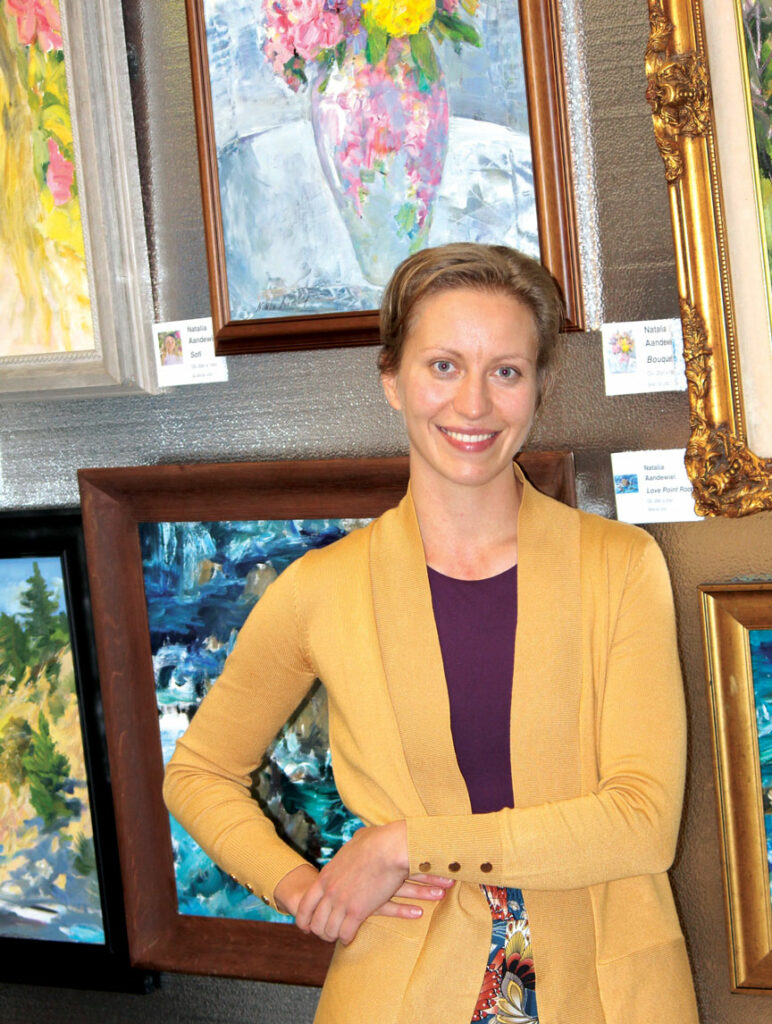 Way down in Capitola, Ukrainian artist Natalia Aandewiel, reflected on how she originally wasn't sure she'd be able to join in the fun.
After helping her family escape the war in Ukraine, they had to evacuate the place they were living in Scotts Valley during last winter's storms.
"That place got flooded," she said. "Then we found this place. When I saw the fence, I thought, 'This is perfect for Open Studios.'"
Painting has been key to navigating her recent cancer diagnosis.
"I don't think I could manage without my art," she said. "It definitely helped me heal."
But she also credits the community, too.
"So many people were praying for me," she said. "I never ever had such a deep impact and feeling. I felt God's presence, and just such an inside feeling of hope and care—and that I'm not alone. It was so powerful. I never experienced something like this. It comes from outside but it affects my inside."
Open Studios proved to be one more venue where Aandewiel could further that connection with new friends, customers and fellow artists.
"You really feel like a part of a big family," she said. "It's wonderful to connect with people who come, and encourage, and enjoy."