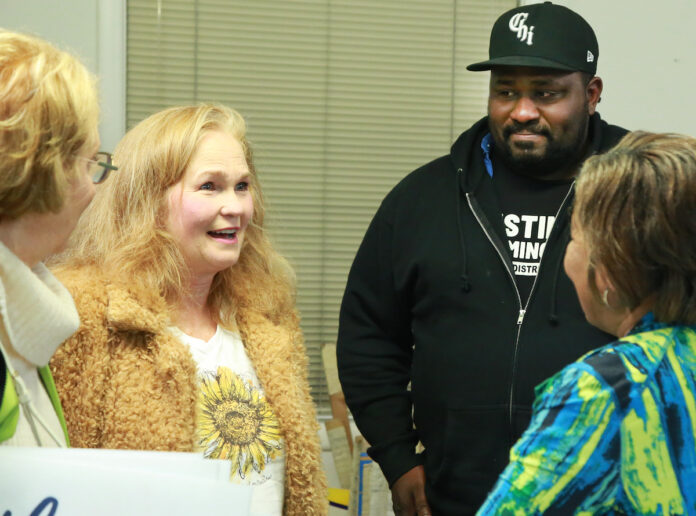 Former Santa Cruz County Clerk Gail Pellerin appears poised to become the first woman from Santa Cruz County to hold a seat on the State Assembly, with early returns showing 62.67% of Santa Clara County voters supporting her run for the 28th District, and nearly 79% doing so in Santa Cruz County.
Pellerin said that the vote will not be certified for 30 days, and that she was staying cautiously optimistic.
"I'm grateful for all the folks that came out to vote," she said.
If she keeps her lead, Pellerin added, she will have "made history."
"And while I would be the first, I will certainly not be the last," she said.
Pellerin's opponent is Republican Liz Lawler, who currently serves on the Monte Sereno City Council.
The new 28th Assembly District, a product of the recent decennial redistricting process, still represents north Santa Cruz County, but no longer counts mid-county or the southern coastal region as part of its footprint. It now branches out to the east, covering Los Gatos, Morgan Hill and various communities around San Jose.
3rd District Supervisor
The race for 3rd District Santa Cruz County Supervisor, pitting Santa Cruz City Council members Shebreh Kalantari-Johnson and Justin Cummings against one another, is turning out to be close. Kalantari-Johnson leads Cummings 52.25% to 46.75%, according to early voting results available Wednesday morning.
Cummings says he isn't worried about opening in the trail position: there are still votes to be counted, especially from last-minute voters and mail-in ballots.
"It's far from over," Cummings said Tuesday night. "I've been reminding people of when I first ran in 2018. At the beginning of the night, I was in sixth place. I think by the end of that first night, I was in fourth. But by the end of the week, I was first." 
Cummings expects to be popular among those last-minute voters, who he thinks might tend to be the younger university students. Those votes might not be counted until later this week, ahead of the second round of polling results that will be released Friday.
The victor of this race will make history. Cummings would be the first Black man elected to the Board of Supervisors, and Kalantari-Johnson would be the first woman of color to serve.
Currently, the board is made up of five white men. Along with Santa Cruz and the North Coast, the 3rd District seat also represents Bonny Doon and other small communities west of Felton.
Congress
With all of California's precincts partially reporting, incumbent Democrat Congressman Jimmy Panetta seems poised to hold onto his position, having garnered 67.3% of the vote over his Republican opponent Jeff Gorman.
With such a lead unlikely to change appreciably before the votes are certified next month, Panetta was nevertheless reluctant Wednesday to claim victory before the final votes are counted.
Still, the three-time congressman said he is looking forward to continuing his agenda in the newly redrawn 19th Congressional District, which has given him 55% new voters as San Jose, San Lorenzo Valley and parts of San Luis Obispo County have been added to his constituency.
Both the 19th Congressional District, and the 20th, which he previously represented, have similar concerns, he said.
"There's a lot of beauty, so it's ensuring that we're continuing to protect our environment and reduce our carbon output," he said. "We have a lot of bounty, so our agriculture is still an important part of who we are in the 19th District, and being on the House Agriculture Committee I have to make sure the federal resources are there."
Panetta also said he plans to continue focusing on affordable housing.
"Making sure that people can continue to live here and that we can house our most vulnerable, and ensuring there are continued federal programs for homelessness," he said. "And making sure we can adjust the tax code accordingly for more low-income housing development and middle-income and workforce housing development as well."
Panetta also touted his recent accomplishments, most notably helping to secure the final federal funding needed for the Pajaro River Levee project this year in Watsonville.
Panetta said the overall election results—which show Democrats doing better than predicted—are a sign that the current policies are working.
"I think it demonstrates that good governing is good politics, and what we saw out of this administration with the current Senate and current Congress and the way it's made up and the majority in place, you saw policies that were passed that actually are about affecting people's lives," he said. "We provided people with that evidence that we are about the people and not the politics."