I would be remiss if I didn't write about the problems we all have had since the January storms here in our valley; particularly about our food markets where I purchase almost all of the food I cook, photograph and then write about in this column.
I feel that if I am going to share the photos and recipes, the ingredients should be from our valley, where you as readers of my column have easy access to, as well as supporting our local businesses. Businesses who are undergoing serious problems caused by the storms, which have created road closures creating delivery problems; produce rotting in rain-soaked fields, and workers unable to reach their places of employment.
Remember, dear readers, prior to all of the above, Covid-19, with its problems, still hangs over us. And we are still in the season of winter, with the possibility of more rain ahead.
I realize that the head of iceberg lettuce I am about to buy will most probably have a few more brown spots than usual, and the tomatoes and zucchini may be a little wrinkled from being in a delivery truck longer than usual due to our roads. Shelves in our grocery stores may be empty of those cans that are usually found there, and special orders may no longer be taken.
I will make sure I purchase anything I need from our local businesses and will eat in our local restaurants, being thankful they have managed to stay open. If I can afford to, an extra dollar or two will be added to the usual tip.
I am cooking a luncheon for friends and have decided I would try out my Vietnamese cooking skills with a simple soup that has become very popular…Pho.
Pho (as in duh) can be made with either beef (Pho bo) or chicken (Pho ga); I've decided on both as one guest does not eat beef. This causes me no problems as I always have beef and chicken stock in my freezer and the vegetables and condiments are the same for both soups.
My refrigerator's vegetable drawer always has leftover bits and pieces of veggies that I haven't yet used, and wrinkled or not, they will go into the broth of the Pho I am cooking this week. The nutrition value of Pho is enormous with all of the different vegetables and meats that can be incorporated.
During these cold winter's days, now is the best time to make your stock for both beef and chicken dishes. Roasted beef stock is that flavorful cup of au jus for sandwich dipping, and the chicken stock is used as the base for your soups and gravy, taking that roasted chicken, mashed potatoes and stuffing dinner to a higher level.
Popularity of Asian cooking has grown, so much so, that most markets have shelves devoted entirely to ingredients for those dishes. And here in Santa Cruz County we are fortunate to have many Mexican and Asian Markets where both canned and fresh produce and meats are readily available, as well as spices and noodles unique to those dishes.
I believe it is important for you to know that I only cook and give you recipes that I make and will eat…I am not into fried crickets, nor cooking sheep's head stew. If I don't recognize it, I don't cook or eat it!
Yesterday, on my way home from the market, I noticed the long row of the golden Daffodils that appear each spring alongside Highway 9 and the corner of the Glen Arbor bridge have just begun to rise above the rain-soaked earth, seemingly to proclaim that winter along with its problems will soon be over. As Winnie the Pooh said, "It doesn't hurt to keep looking for sunshine."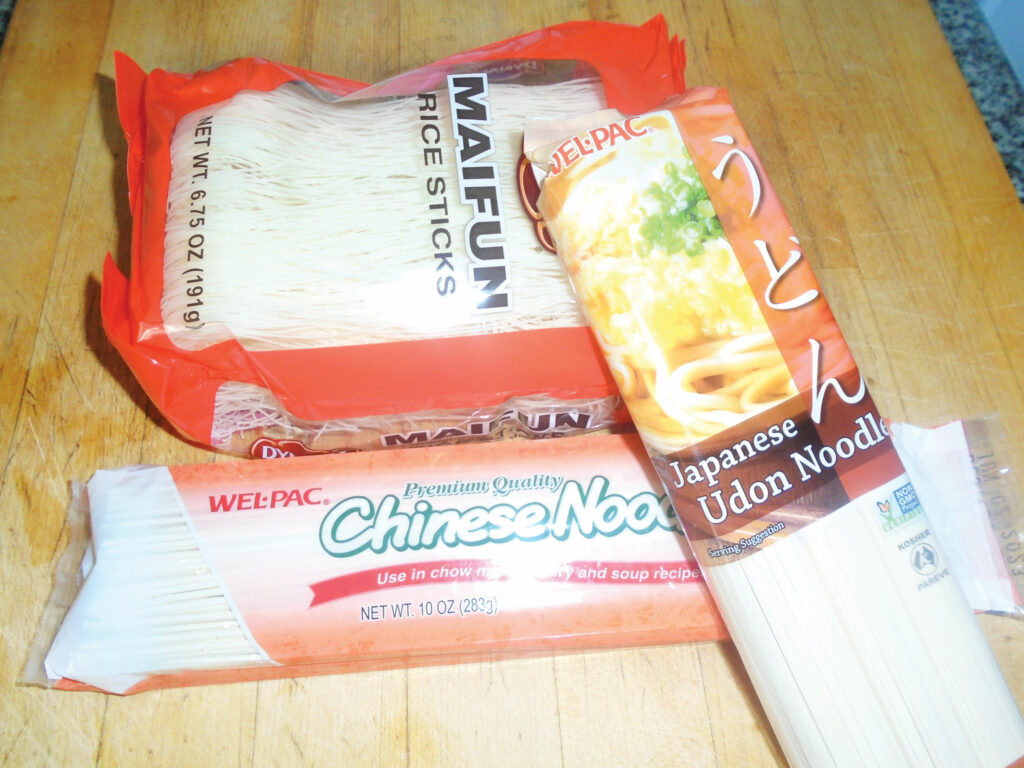 Pho ga
2 quarts of Chicken Stock. If using canned, add 2 Tbsp. of Chicken flavor Better than Bullion to enhance the flavor.
2 cups of diced chicken (left-over Costco roasted chicken can be used)
Pho bo
2 quarts of Beef Stock. If using canned, add 2 Tbsp. of Beef flavor Better than Bullion.
4-6 ounces of uncooked paper-thin sliced Sirloin or Tri tip steak, uncooked.
Prepare any Asian noodles according to package instructions. Drain and set aside. I use Chinese flat noodles or Japanese Udon Noodles. Rice noodles are equally good.
To either of the broths above add:
1/4 tsp. coriander
1 dried whole clove
1 ½ Tbsp. fish sauce
½ tsp. soy sauce
¼ tsp. red chili paste
1 cinnamon stick
Bring broth with spices to a boil.
For both Pho bo and Pho ga, add 2 quarts of any combination of the following vegetables into the simmering stock: Bok choy, Eggplant, celery onions, carrots, bean sprouts, Napa cabbage. Bring to a boil and turn down to a high simmer and cook until vegetables are fork tender.
In a bowl, place chicken or beef along with vegetables. If using beef, place the beef on top of the vegetables when pouring in the boiling hot broth into the bowl. This will cook the paper-thin sliced beef to the perfect point of doneness. Add reserved noodles to each bowl. Garnish with diced scallions or cilantro.
I always have a glass (or two) of Asian Sapporo Beer along with Pho bo. Oh so good!
---
Colly Gruczelak, a Ben Lomond resident, loves people and loves to cook. Contact her at [email protected].