Growing up in the 1940s, every household in my family included a chicken coop in the backyard. And when families came together for holidays there was always talk about the price of "scratch," which was their name for chicken feed and the price per pound they were receiving from the local butcher shops that would pay them for their "dressed out" chickens.
The '40s were the war years, years when our young men were being drafted, along with those men who enlisted on their own volition, wanting to fight for their country. Farms, factories, manufacturing plants, downtown businesses…all were without their traditional labor force, all were in military camps being trained to fight for our country.
Immediately, women dropped their traditional roles from being a housewife, to that of replacing those men in their roles…they called themselves "Rosies" the Factory Girls. Those women who had taken jobs in the more dangerous bomb-making jobs were called "Canaries" as TNT was toxic and would turn one's skin yellowish orange. There were over 1 million of these courageous women who would leave the safety of their homes each day to work in this ugly job.
The women who were home-bound with children and unable to work outside of their homes, many raised vegetables and chickens, canned foods for their home use, leaving the store-bought foods to be sent overseas to the troops.
I remember my aunt hand-making my dresses from the 50-pound sacks the chicken scratch was packed in. These sacks were white with flowers and other designs, a very clever way to make use of everything possible during those meager years.
I spent an evening this last Memorial weekend, going through a photo album that holds pictures of my chickens I raised 20-some years ago. My Hubby Norm and I had just moved into our new home that was built on two acres of land in Newbury Park, Calif. We were somewhat in the country and zoned for chickens and a limited number of farm animals, much to Norm's dismay. Norm, having been raised in suburban Chicago, always felt those animals should be in a zoo.
Once those baby chicks grew into adulthood, my idea of being a "farm girl" was no longer a rosy picture. The henhouse had to be kept clean and those piles of "you-know-what" had to be dealt with. Not to mention the eggs that were piling up in my fridge.
I was given the ultimatum by Norm that this venture of mine had to stop, and stop it did.
Today, I smile when purchasing a dozen eggs that I shall make into a frittata, remembering those fun years, years that I would give anything to be able to relive.
Memorial Day, a day of remembering those war years, and in fact, a day to remember those years we lived as children, of our family members and past friends, and a day to be thankful for those service men and women, who have given their all, in order that we can live as we do today.
If you have a backyard chicken coop and are blessed with fresh eggs, a frittata is a delicious way to make use of those eggs.
Frittatas can be made with any vegetables; leafy ones such as spinach, kale or Swiss chard included. Cured meats can turn this dish into a brunch or dinnertime as well.
Great for wrapping in foil and reheating on a barbecue at a picnic.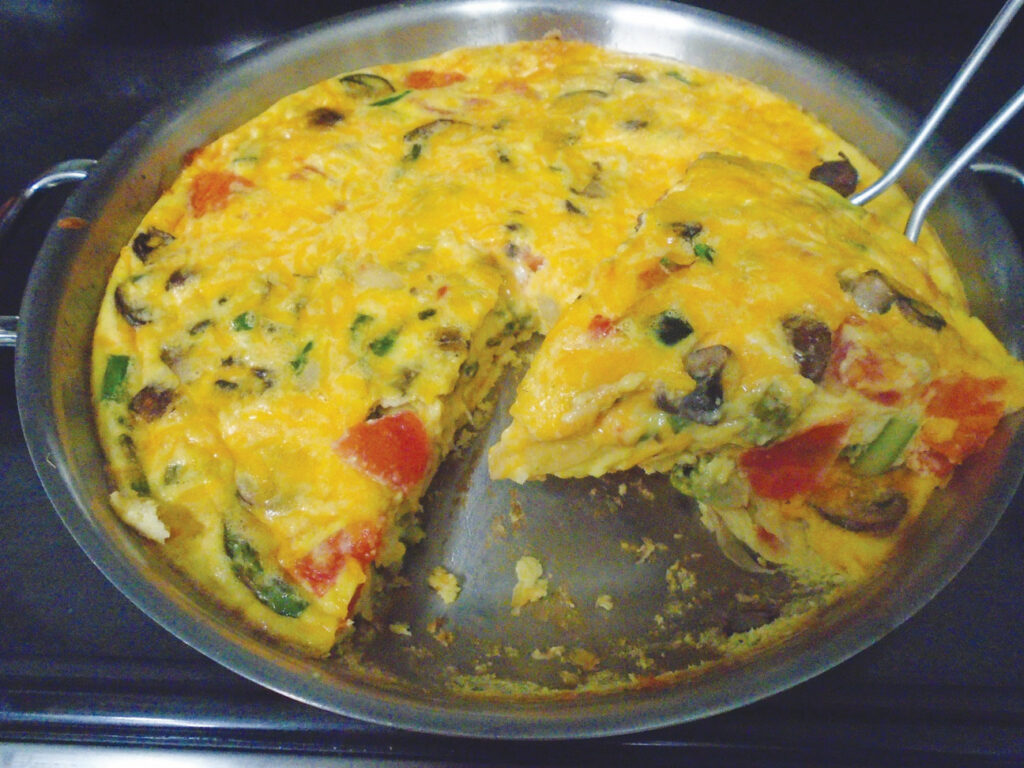 How to Make Frittatas
Preheat oven to 425deg.
12 Eggs
3 Tbsp. heavy cream (or full-fat half-and-half-, sour cream or yogurt)
½ tsp. salt
1 cup crumbled or grated cheese.
3 additional Tbsp. grated cheese for topping
3-5 cups diced vegetables and greens.
1 clove diced garlic.
1 Tbsp. olive oil
Crack eggs into a mixing bowl. Add dairy of your choice and salt. Whisk. Just until the whites and yellows are well-blended. Add cheese.
In a 12-inch oven-safe pan add the olive oil and vegetables. Cook until vegetables are tender. If adding meat, add ½ cup now.
Whisk eggs once more and pour over the vegetables. Stir briefly to distribute mixture evenly over pan.
Top with reserved cheese.
Cook on stove top over medium heat for 30 sec. to one minute until outer edge turns lighter in color. 
Transfer pan to oven. Bake 7 to 14 minutes until eggs are puffed and appear cooked and the center of the frittata jiggles just a bit when you give it a gentle shake.
Cool a bit and then with a sharp knife, cut and serve.
---
Colly Gruczelak, a Ben Lomond resident, loves people and loves to cook. Contact her at [email protected].