In recent weeks, North County educators have highlighted positives in data emerging from standardized tests taken since the end of the pandemic.
But they also highlighted how Covid-19 dealt a serious blow to learning in this idyllic corner of California, with bad marks in math and English, and challenges faced by economically disadvantaged and disabled students.
"We have some really shining spots here," said Alexandra Friel, Scotts Valley Unified School District's director of curriculum, instruction and assessment, while acknowledging the significant challenge ahead to address the negatives in the report. "We want to continue to make small changes to support students."
Friel was rolling out a highly anticipated California Assessment of Student Performance and Progress (CAASPP) report card, during the Oct. 24 regularly scheduled Scotts Valley Unified School District (SVUSD) board meeting.
Scotts Valley remains well above the state average in math, English and language arts, in the evaluation, which is based on tests taken by third through eighth and 11th graders each spring.
The data shows that just over half (53%) of the group of SVUSD students who were in third grade in 2016 were doing well in English class, back then. That had jumped to 79% by the time these learners were attending fifth grade, before dropping slightly the following year.
But now—as they've moved into the home stretch of high school—just 62% of them can say they did well on the big English test, held a few months ago.
District-wide, the number of students meeting or exceeding math standards in Scotts Valley's public-school system took a tumble, from 67% in 2018 to 58% this year.
But that was still above the 42% of San Lorenzo Valley Unified School District (SLVUSD) learners measuring up in the subject. Just 17% of Pajaro Valley Unified School District (PVUSD) students are meeting math standards.
That same group of third-grade kids from 2016 (where around 2/3 of them were up-to-standard in math prior to the pandemic) is now finding well below half of them (42%) are doing well as they move into 12th grade mathematics studies—if they decide to pursue more classes in the subject at all.
Overall, half of SVUSD students were doing OK in science, although administrators cautioned that the science test was relatively new and teachers were still working out the kinks of teaching the material.
And while 64% of SVUSD students were found to be succeeding in language arts, that was better than 54% of SLVUSD students (and far beyond the 26% of PVUSD students) meeting or exceeding the minimum goal.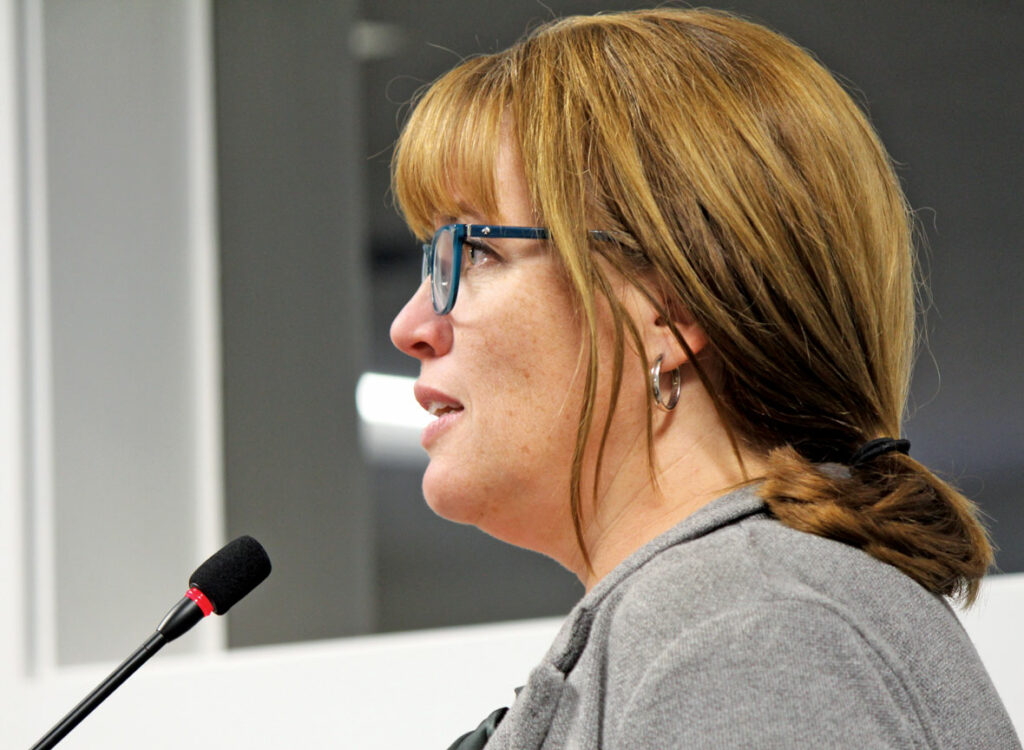 Within the SVUSD data, serious disparities are evident.
For example, when it comes to language arts classes, a quarter of people who are in the process of learning English are meeting or exceeding standards, compared to only 7.14% of the 28 students who fall into this grouping at SLVUSD.
Just 42% of economically disadvantaged students (at SLVUSD it's just over a third) and 27% of disabled students are achieving this grade.
Of the Hispanic subgroup in Scotts Valley public schools, 52% are meeting or exceeding language arts standards (it's 39.52% at SLVUSD), compared with 72% of kids who are of two or more races.
It's a similar picture in SVUSD facilities for math instruction.
Only a quarter of English-learners (compared to 13.79% at SLVUSD), a third of economically disadvantaged students (for SLVUSD it's a quarter) and 24% of disabled students are meeting or exceeding the expectation in math this year.
And while 36% of students of two or more races aren't meeting the standard, 59% of Hispanic students didn't reach the State's bar.
However, SVUSD officials said the data actually showed a 10% jump in the number of socio-economically disadvantaged students doing well in English. And English-learners are making important strides in the subject, too.
Scotts Valley officials say they're going to spend more time on Special Education curriculum and will provide staff with more training in culturally responsive teaching.
SLVUSD administrators note while educational achievement across subgroups might not look great, rates have remained relatively constant, at least compared to last year.
Superintendent Christopher Schiermeyer told trustees that these represent a small number of pupils, and so getting just a few kids from nearly meeting the standard to achieving State minimums could improve the District's performance drastically.
Importantly, there's a major demographic shift going on, as there was a large increase of both economically disadvantaged (from 280 to 315 taking the language arts test) and Hispanic or Latino (growing from 135 to 167) students in San Lorenzo Valley classrooms.
There were more students from well-off and white households, too, but the growth wasn't quite as significant.
The District is implementing the Lexia "CORE 5" curriculum for K-5 and the company's "Power Up" program to boost literacy.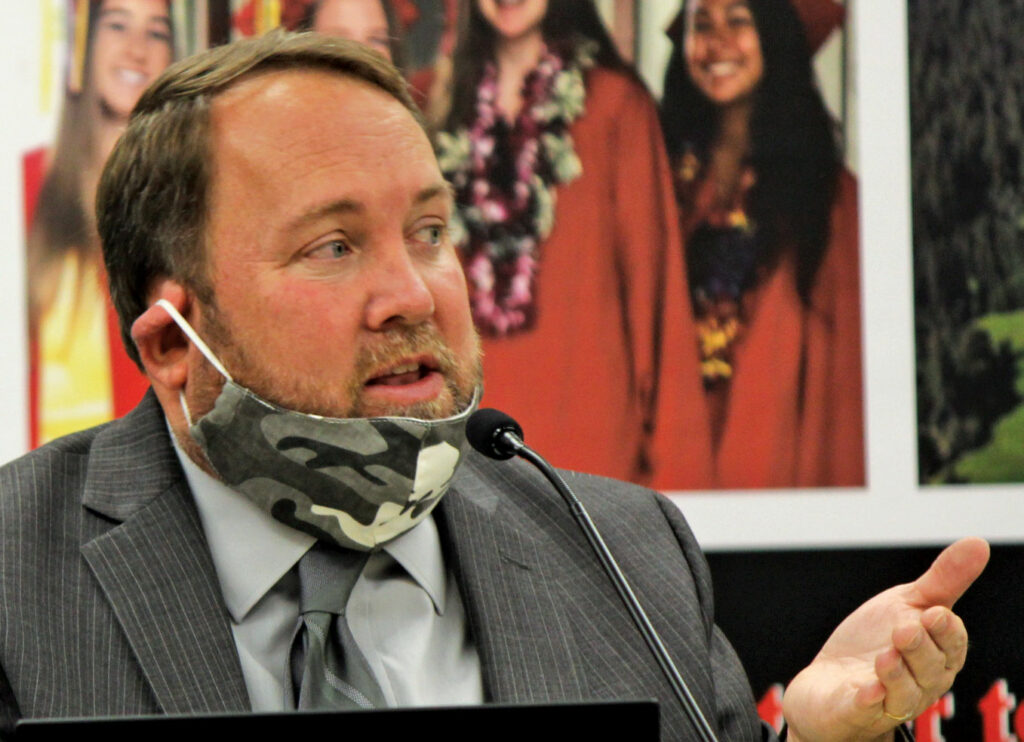 SLVUSD is running a mathematics pilot program called "iReady" at Boulder Creek Elementary and SLV Middle, and providing professional development in teaching the subject for middle and high school teachers.
Administrators at SLVUSD point out they are still ahead of both statewide results and the average across Santa Cruz County schools by around 10 points in English, math and science. It was at the SVUSD board meeting where the SLVUSD math numbers really came into focus.
"Everybody you can see is struggling," said Friel, showing a comparison of various schools. "We are looking pretty strong."
Trustees were directed to the statistic indicating just 11% of San Lorenzo Valley High students were succeeding (compared to 42% at Scotts Valley High) in math.
"I'm not sure what happened in San Lorenzo," Friel said. "I'm hoping it was just a fluke for them."
CAASPP data shows 28.2% of SLVHS students are meeting or exceeding standards in math, not 11%, said SLVUSD officials when questioned about this figure by the Press Banner.
SVUSD officials told the newspaper this datapoint was incorrect and has been updated.
Meanwhile, the neighboring public high school district in Los Gatos-Saratoga earned the top math scores in the state in the same test (73.34% of juniors there met or exceeded standards).
Happy Valley Elementary School students' English results came back with scores more than 20 percentage points higher than those from Brook Knoll and Vine Hill elementary schools.
Friel suggested it might not be a bad idea to "peek" at the nearby District's education workplan.