Scotts Valley has tapped a civil engineer who lives in town to take the reins of its second-largest department.
As the new public works director and city engineer, Chris Lamm will be in charge of engineering, recreation, wastewater treatment and building projects, as well as the maintenance of streets, parks and facilities.
"Yeah, it's absolutely remarkable," said City Manager Tina Friend. "You do, literally, a nationwide search—really focusing all over California—and then your No. 1 person is in your own backyard. I think it's really wonderful."
As part of two decades in the private and public sectors, Lamm most recently served as assistant public works director in Menlo Park, managing land development, utilities and capital improvements.
"He has exceptional experience," Friend said, pointing to how helpful it will be to have an engineer in-house. "He's going to fill a gap there. His experience is really just perfect for what we need."
Lamm holds a bachelor's degree in civil engineering from Santa Clara University.
He's helped raise money to fight cancer as a triathlon coach for Team in Training, with the Leukemia & Lymphoma Society's Silicon Valley & Monterey Bay chapter.
He'll start work Aug. 9 and will fill the hole being temporarily plugged by longtime local official Scott Hamby, who came out of retirement to run the public works department.
That's just weeks before Friend signs off (her last day is Sept. 3) and moves to Coronado to become the city manager there.
She knows the word "unprecedented" is a cliché, but says it's a pretty appropriate way to describe her tenure in Scotts Valley.
"It was just such a unique and unusual point in time," she said. "The issues we dealt with were just unbelievable."
The city faced cratering finances due to the pandemic and navigated an evacuation during the CZU Lightning Complex fires.
"We're a small city, but I'm so proud of how we came together," she said. "So, I'm going to miss Scotts Valley dearly."
Friend says she's glad to be able to set the community up with an able hand to help steer it back to prosperity.
"I will be cheering on Scotts Valley from my new city," she said, noting Lamm brings with him management techniques developed across multiple states. "You know, when you move cities, you learn in every place. You see a different way of working on things."
After Friend's last performance review, the council approved a pay increase from $16,577 a month, to $18,276 a month—or about $219,000 a year, according to proposed minutes posted for approval this week. But she beat out 65 other people for the Coronado job, which comes with a $250,000 salary. She was appointed unanimously.
Former mayor Randy Johnson, who still sits on the City Council, says he wishes Friend well.
"Tina's been exemplary," he said. "She's been steadfast in her work ethic. She's been exceptional in her problem-solving."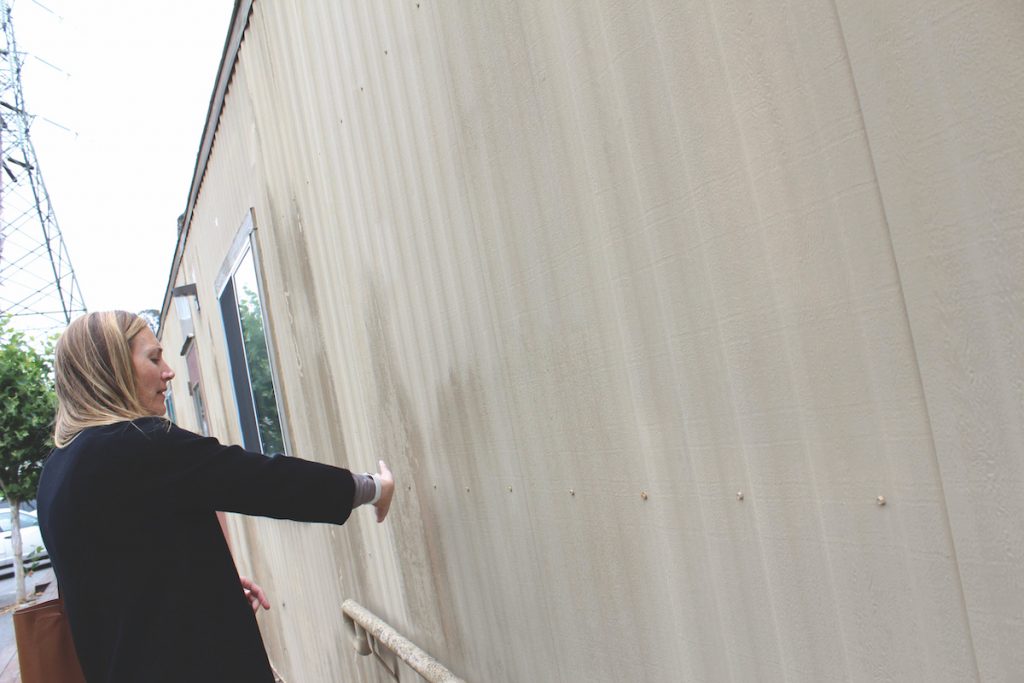 Friend says she'll be excited to see Lamm bring to fruition the projects she helped lay the groundwork for.
"The public works director here wears many hats and balances a lot of priorities," she said. "You're talking about parks maintenance, and streets and roads maintenance, and our (Capital Improvement Projects), and our transportation, and our wastewater treatment utility."
This year the wastewater department expects to spend $1.3 million on a variety of renovations, from a $250,000 aeration-basin upgrade, a $110,000 dump truck, $200,000 in pipeline improvements, and $265,000 to fix pumps in the "tertiary" treatment unit that cleans water for irrigation.
Lamm will also oversee the $974,100 slated for Bean Creek Road repaving, a $365,000 Mt. Hermon Road median upgrade, and $105,000 for Pinecone Drive drainage work—all in the 2021-22 fiscal year.
The $50,000 in Skypark tennis court improvements on tap is just a small part of a larger rebuilding of the community's Parks & Recreation department.
"Recreation was absolutely gutted during the pandemic because we couldn't provide our services," Friend said, recalling how hard it was to lay off nearly the entire department. "Without the services, we couldn't support our staffing."
One big change—made possible by American Rescue Plan funds—will be the construction of new offices for the public works department.
The current building is easy to identify because it's "the one that looks like a wrecking ball should smash through it," Friend said, on a recent tour of the grounds. It looks like a 50-year-old trailer. Friend says she's glad their employees were able to relocate temporarily to the recreation department's admin offices at Skypark.
But now, Lamm will get to build that department back up, and watch as his department gets new digs.
"We had to contract and make hard choices and say 'No,'" Friend said. "And now it's gonna turn around and be the time for 'Yes.'"
"So, having that light shine on the city again is going to be so wonderful."