On Monday morning, as I wound my way up Highway 9 from Santa Cruz to Henry Cowell Redwoods State Park, Ralph Nader was discussing—on KSQD 90.7 FM's airwaves—how the notorious drug Thalidomide has returned to the market in a new form. It's now being prescribed to cancer patients—for astronomically more than the original medication ever cost, he and a guest bantered.
I arrived at the Nature Store in the day use area of the park to discuss a different sort of wellness approach—the innovative "Redwood Rx" program.
This collaborative effort from Mountain Parks Foundation and California State Parks is encouraging people to get out into nature through a slate of activities that melds aspects of the hippie ethos with modern principles of ecology, social science and biology.
"We are in our inaugural year and we are learning a lot," said Brenda Holmes, executive director of Mountain Parks Foundation. "I know State Parks is looking at it as a pilot project for expanding to other places."
The schedule includes the four-part Yoga in the Redwoods series (Aug. 11, 18 and 25 and Sept. 1), a mindfulness mini-retreat (Sept. 14), a writing workshop (Oct. 4), a men's retreat (Oct. 7) and outdoor art opportunities (Oct. 22), among other offerings.
Holmes said Redwood Rx is meant to help local residents and visitors alike manage stress, overcome isolation, boost immunity and stave off depression while realizing a deeper appreciation of Henry Cowell and Big Basin Redwoods State Parks.
"Our goal is to invite people to come into nature in our two parks and feel the benefits themselves," she said, highlighting a particular class scheduled for Oct. 26. "We offer yoga at sunset up at the observation deck."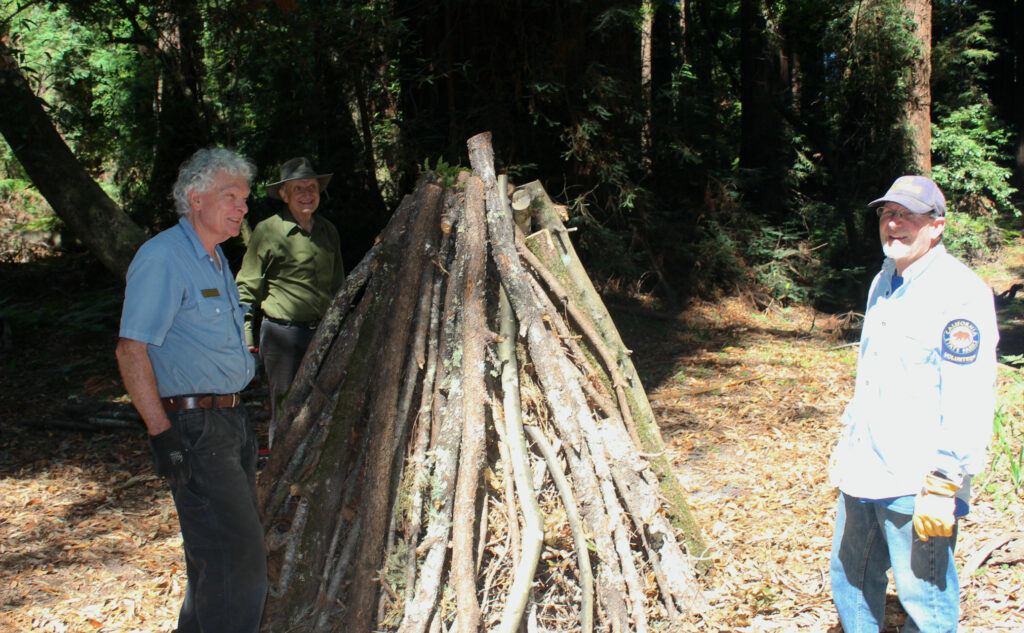 Holmes actually completed the treetops-and-sunset drawing behind her desk during one of two evening art excursions.
"What we're learning is there's a huge hunger for this," she said. "So, we're going to have a growing catalog of classes."
If it sounds like she's discussing a continuing education brochure, that's because, in a way, she is. In fact, a doctoral student at the Stanford Ecology Lab worked with Holmes and Elizabeth Hammack, a former State Parks' interpretive manager who continues to assist as a member of the Mountain Parks Foundation Board, to develop this year's list.
Nancy Parker, a 75-year-old State Parks docent stationed just outside the Nature Store, said she hopes the Redwood Rx program will instill in others the joy she feels while volunteering at Henry Cowell.
"Just being in the park renews your spirit and your soul; and then, if you can do creative activities at the same time, that increases the richness of the experience," she said.
That's why she loves teaching school children about nature.
"One of the things that I find so important is, in this time we have such busy lives and we become removed from the natural world, my passion is to get people excited and love the natural world—and the redwoods," Parker said.
She added, "You oughta come to one of our star programs," referring to the weekly sky-gazing sessions held at 8:30pm Saturdays through Memorial Day weekend.
Down the trail, a family from the East Bay city of San Ramon gathered for a picture in front of a massive trunk that dwarfed them all.
Ylin Zhu, a 16-year-old, was enjoying the family jaunt to Felton ahead of returning to the high school where she works on the student newspaper. She stood next to her younger sisters Scarlett, 10, and Kristy, 6, and her father, Hugo, who'd turned 50 the day prior.
He'd been drawn to the park by the stories of its awesomeness from a recent visitor—and the social media posts he'd seen.
"I looked at the pictures and thought, 'Wow, it's cool here,'" he said.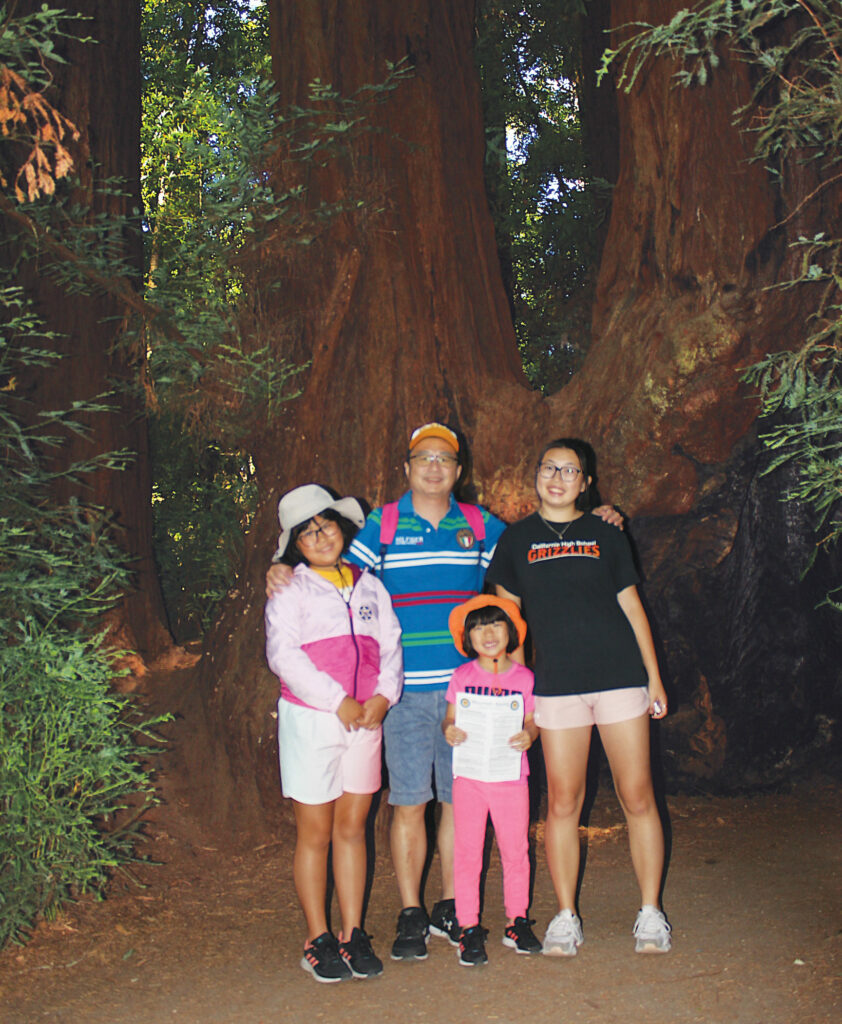 It's this sort of excitement about nature that Holmes hopes Redwood Rx will inspire in other first-time guests, no matter their age or income level.
"I believe it's the wave of the future," she said. "We're probably going to be needing to get some more paid staff to do this."
Big Basin recently played host to a group of veterans for a backpacking session.
As their first season will wrap up in October, Redwood Rx organizers are already looking ahead to next year.
Mountain Parks Foundation is currently in talks with the Scotts Valley Senior Center to create a class of some sort—perhaps mindfulness, visual art or writing—to add to the 2024 calendar.
Holmes wants people to know that parks aren't just for active pursuits like hiking, cycling or mountain climbing.
"What we're saying is just being here, just sitting down—maybe with your shoes off under a redwood tree in a way that's meaningful to you…it has huge value," she said, referencing the more meditative classes they've created. "That's a new way of relating to nature."
For a full list of classes, and to register, visit mountainparks.org.