On Wednesday, the Federal Emergency Management Agency said it had already assisted around 100 residents at the Disaster Recovery Center in Felton, which was set up less than a week earlier.
But it was also cautioning locals affected by recent storms to keep their guard up for criminals who may attempt to impersonate their inspectors.
"What we want to focus on is taking care of the vulnerable," said Tiana Suber, a spokesperson for the agency, adding red flags are if someone arrives unannounced, doesn't have a badge or asks for money upfront.
A week earlier, a meeting was held at Highlands Park Senior and Community Center in Ben Lomond, where residents got the opportunity to share concerns with and get updates from a variety of government and business officials about how the San Lorenzo Valley will emerge from the crisis brought on by an unprecedented number of atmospheric rivers.
Teresa Alvarado, vice president of Pacific Gas and Electric Company's South Bay and Central Coast regions, said the company had completed more than 850,000 power restorations in the past few months, more than the entire population.
"It just speaks to the recurring nature of the outages," she said, adding that 76% of the jobs were completed within 12 hours. "The bad news is some of them have lasted for days."
PG&E distributed hundreds of grab-and-go bags, including blankets and charging devices.
"We've also tried to really improve our communications," she said. "We have improved the ability to send you text alerts."
She also shared plans to transfer wires to an underground conduit at Boulder Brook Drive at State Route 236, and along Fern Rock Way—also by 236—and said they're planning to do the same in the Big Basin Redwoods State Park area.
She acknowledged that instances of customers being billed for power they didn't use have happened, but promised the charges would be reversed.
"Finally, I just want to again offer that I am local; I will continue to be local," she said. "I feel for all that you have gone through. Count on me as a partner."
Fifth District Supervisor Bruce McPherson stated the obvious when he said "nature hasn't been nice to us—by a long shot," while inviting Caltrans Central Coast's Zeke Dellamas, an emergency manager, up to the microphone.
"I know how hard it has been on this community," Dellamas said, acknowledging the Glen Arbor Detour along the very section of Highway 9, off which the meeting was being held, due to a landslide. "It seems like we've worked the bugs out."
Dellamas said he wasn't sure how quickly traffic would be moving, given that the flow is still one-lane-at-a-time there.
"I didn't want to come sliding in late," he said, adding this didn't end up being an issue for him that evening. "Now we've got to look at the long road ahead of us to rebuild."
Caltrans is spending $18.25 million in the San Lorenzo Valley area out of $21.45 million in six total emergency contracts (and contractors) in Santa Cruz County (with Watsonville-based Granite Construction taking the lead in SLV).
"That's a lot of work," Dellamas said. "Most of it happened up in the Valley."
One of Caltrans' maintenance workers was injured by a falling tree, while another was hurt by falling debris, he said, lauding their efforts—which elicited a round of clapping from the hall.
Knowing how the failure of the roads Caltrans is responsible for during the natural disasters disrupted the lives of local residents left a question mark in the head of Dellamas that day.
"I wasn't really sure how well I'd be received," he said. "I'm happy to have a friendly audience here."
He walked through the agency's other rehabilitation plans: by the former Jaye's Timberlane property—now the site of the Veterans' Village, the Riverdale Slide above Boulder Creek, at post mile 20—a legacy of damage sustained in 2016-17, and above SR 236 (where a retaining wall needs to be established), among other projects.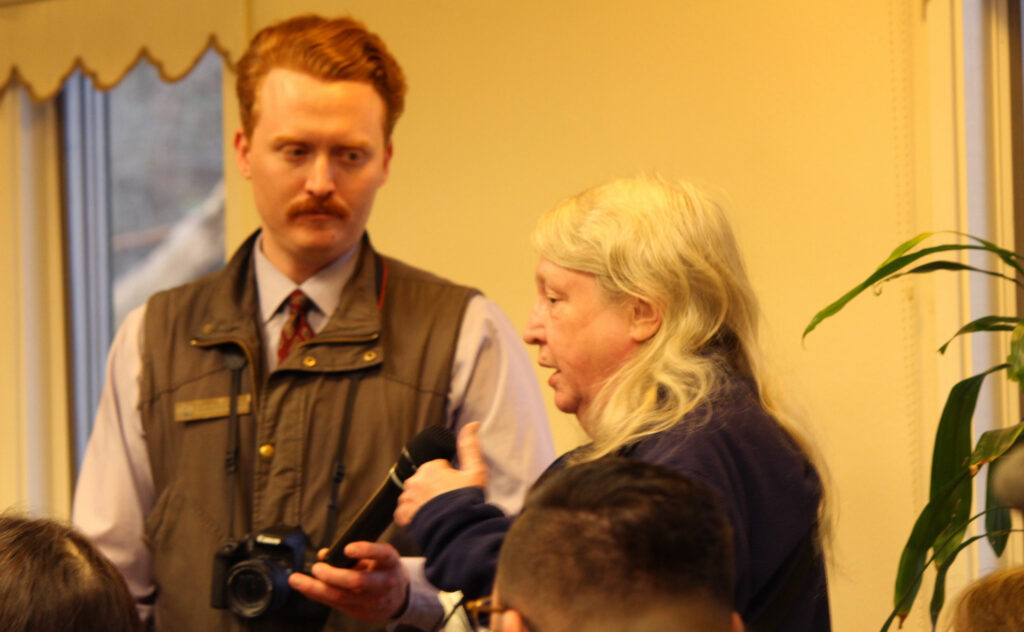 Catherine Wilson, a 78-year-old Boulder Creek resident who lost two houses in the CZU Lightning Complex fire in 2020, stood up to explain her electricity plight.
Wilson said she told PG&E in June, when the permits for her house were in order, that she needed to be connected to the power grid. But she shared that 10 months later, she still hadn't had any luck with getting a worker out to actually complete the install.
Wilson said she's supposed to be on supplemental oxygen at night, but she doesn't want to run a generator.
"I don't know when we're going to see anything going to happen out there," she said. "There's a little something to work on."
Alvarado promised Wilson she'd try to figure out what went wrong. The power company rep told the Press Banner she wasn't just giving lip service to the woman's plight.
"I am committed to following up on Catherine's concerns," she said. "That's my job at PG&E."
But a recurring theme at the meeting was how lack of power and connectivity to phone and internet service during emergencies plagued the San Lorenzo Valley during the storms.
Dave Reid, a Santa Cruz County representative, noted that local residents can opt to get their power from Central Coast Community Energy instead of PG&E if they want.
Santa Cruz County Public Works Director Matt Machado said the County recently issued Comcast 40 encroachment permits in a swath that includes San Lorenzo Valley and Ben Lomond.
"They're designing them in key locations throughout the Valley," he said, noting the County's preparing to approve a second round of permits soon.
Congressman Jimmy Panetta said one puzzle piece to getting better telecommunications security in the Santa Cruz Mountains has to do with residents allowing towers to go up, adding there could be money in the Infrastructure Investment and Jobs Act to help pay for that to happen.
Dean Ackemann, of Lomond Terrace in Ben Lomond, said overall he was satisfied by the meeting given the circumstances.
"It was nice," he said. "There were so many different agencies represented. I think they were giving the best information they have at this time, even though some of it was lacking—just because it's so fluid in some cases."