Even as his life slipped away, Ben Lomond native Alex Fritch gave his wife Terra one final gift: A goodbye.
"It's the biggest gift," she told the Press Banner, describing how they got to embrace in the hospital. "He grabbed my hand. He cried. And then he took his last breath."
Fritch, a 49-year-old father of three, was one of 10 people killed—including the gunman—in the mass shooting at the Santa Clara Valley Transportation Authority light rail yard in San Jose on May 26. Terra Fritch said the days since the shooting have been a blur of interactions with mental health professionals, union reps, press and the FBI. She's also been planning for her 18-year-old son's high school graduation. But she says she wants Alex's "legacy to be accurate."
"He was very much a Santa Cruz Mountain boy," she said.
Now, San Lorenzo Valley friends are remembering the San Lorenzo Valley High School alumnus "He was a quiet, sarcastic, funny dude," said Ian Harris, who knew Fritch from their days at Quail Hollow Elementary School. "He was always the same guy." Harris, a stand-up comedian who now lives in Los Angeles, said that even though the topic of gun violence comes up almost every week on his politics podcast, it didn't make him any more prepared to deal with the loss. "I actually do expect it to happen to me or someone I know," he said. "But when it actually does…It's brutal."
Luke Pabich, who works at a winery in Soquel, says he grew up on the same street as Fritch.
"I've just been processing it," he said. "It comes in waves." At first, 50-year-old Pabich—reached on his way to catch a flight to play a show with his band Good Riddance—was under the impression Fritch might recover. He decided to send a "long-winded" text anyways. "I really, really wanted to express to him what his friendship meant to me," he said. He learned the bad news the following morning.
In the text, Pabich said he reminisced about their younger years. "We would build forts—sorry, it's a little bit hard," he said, his voice breaking. "We would do just a lot of creative things together." Like the time they broke into a sand quarry by where they lived. "We would bring skateboard decks, and we would basically try to ride down the sandhills on planks of wood," he said.
An empty lot offered up the perfect dimensions for a backwoods incarnation of a football stadium. So began the NFFL—the Neighborhood Field Football League. Fritch was the speedy, athletic one. Padric Fisher was the slightly pudgy one. Pabich was the starting quarterback on their real football team, the Ben Lomond Broncos. Harris taped together a makeshift trophy out of a paper cup and a plastic football. "He mighta made it, but I don't know if he had the idea," jibed Fisher, 50, who now lives in the Central Valley. They would also play a Capture the Flag-like game called "Army," Fisher noted. Terra Fritch said she's heard about the delights of playing "Army," adding, as far as the NFFL is concerned, "He talked about that all the time."
In high school, Fritch met a Boulder Creek boy named Rick Tahira, now a 50-year-old Aptos resident. "My mom would drop me off [at school] because I didn't have a car yet," Tahira said. "We would just sort of warm up and hang out around these radiator heaters." Chatting about music before school turned into jam sessions afterwards.
Pabich and Fritch, inspired by punk and thrash metal, learned to play guitar together. Danny Bauer set the rhythm on drums, as the friends practiced as a "joke" bedroom band called the Death Moshers. "We just made stupid songs about stupid things," Pabich recalled, adding they never even tried to play a show. "We were horrible."
Fritch's wife said she got an earful about the Death Moshers. "He loved it," she said. "He was so happy about it." Pabich would go on to play in hardcore band State of Grace, and later in Fat Wreck Chords group Good Riddance. But his first concert experience was an Iron Maiden show with Fritch, back in 1983.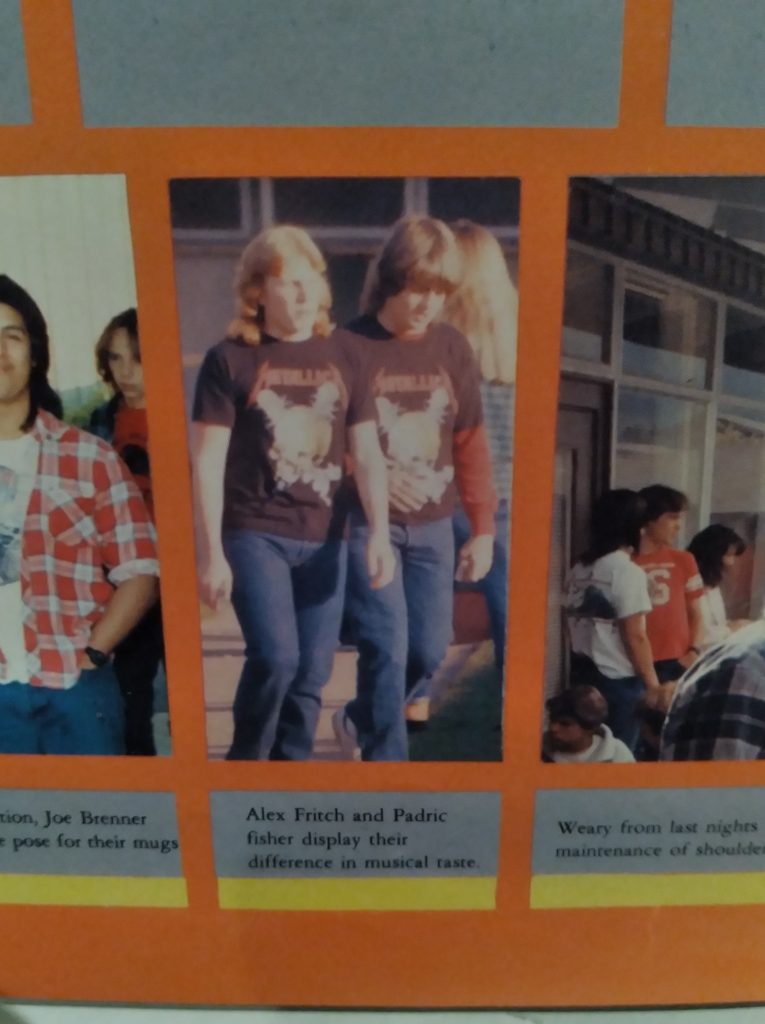 Tahira says the picture he has in his head of Fritch is of him revving his 1967 Camaro RS to 100 miles per hour as they headed to all-ages metal club the Stone in San Francisco. "We would have the Misfits in the tape deck," he said. "He liked to sport around in that car." Fisher was immortalized with Fritch in the school yearbook, when they showed up to class after a Metallica show wearing the same merch. "We were wearing identical shirts," he said. "We were like, 'Whatever—we got to go to the Metallica concert.'"
Fritch long gave away hints of a future with the public transit agency, all the way back to dissecting toys early on, Fisher said. "He always had a good mechanical aptitude," he said. "He was a much better mechanic than I was." Fritch even rebuilt the engine in his Camaro, but ultimately sold the car to support his first child, daughter Stephanie.
When he met his wife at a cowboy bar in San Jose, it was love at first sight. "I asked him to dance," Terra said, noting he left swiftly, afraid he might say something awkward. "He was a little too intoxicated." Their first real date began in Cupertino and continued all the way to Santa Cruz—sparking a relationship that lasted for 20 years. They were supposed to renew their vows on the beach in Hawaii later this year. "We would have lasted another 20 if he was still here," she said. "He was my best friend." They ended up having two children together: Atticus, now 18, who Fritch had been proudly supporting through his gender transition to male, and Justin, now 16, the stoic one of the family. "We're surrounded by tons of friends that love us to pieces," Terra said. "We've all been in counselling."
The San Lorenzo Valley crew pursued different interests as high school progressed, but reconnected after graduation. Harris had moved into a Scotts Valley Motel apartment, where Fritch was a fixture. The parties were "off-the-chain," Tahira remembered. Scotts Valley police thought they were drug dealers or something, he recalled.
"They were actually staking out the motel," he said, remembering how he and Fritch toasted an officer on duty. "We pulled back the curtain and raised a glass to the cop outside." Now those memories are bittersweet, Tahira said. "I feel like someone has robbed me of a friend and an opportunity to say how much I love him," he said.
Eventually, the friends went their separate ways, again. Harris moved to LA to pursue a comedy career. It led to appearances in Jimmy Kimmel Live! sketches and on an episode of "Bones," where he supplied the voice of John F. Kennedy. Pabich embraced the touring life, but he'd still end up hanging out with Fritch, every so often. "Every time I would see Alex, I would just feel like I was myself," he said. "I have very few relationships like I had with Alex." Meanwhile, Fritch was busy creating a stable family environment. He managed Scotts Valley Sprinkler and Pipe, before getting a job at a Ford dealership, and then with the VTA.
At the end of 2016, when Harris filmed his second comedy special, he chose the Rio Theater in Santa Cruz as the shooting location. "That was a big moment for me," he said, tearing up, thinking about how so many of his San Lorenzo Valley friends—including Fritch—were able to make it out. "He came all the way from San Jose." Tahira said it was cool to have the gang back together—for what turned out to be one final shared experience. "That was the last time we would hang out face to face," he said. "We were sharing a fantastic moment." Terra remembers it well. "Watching Ian perform was amazing," she said. "It really brought a lot of joy to Alex."
Tahira said it makes sense that not all of Fritch's friends will take the same gun-control lessons from the mass shooting as he does. "I understand their view," he said, before adding that he believes it's time for an update to how the country approaches the issue. "It shakes you to the core, and then you go, 'We need to go in a different direction as a society.'" Pabich knows his thoughts on the matter—as a member of a famously socially-conscious rock group—are already crystal clear. He emphasized that he's not trying to use his friend's passing as a political platform, but said he feels 75% sad and 25% angry. "Every day there's senseless acts of violence," he said. "We watch it on the news and it bums us out. But we go on with our day, and it kind of becomes the world we live in—until it hits you close to home—like this. Then it's obviously infuriating."
Authorities have identified the shooter as Samuel James Cassidy, a 57-year-old San Jose resident that in the days after the deadly shooting has been described as a "highly disgruntled VTA employee." Cassidy killed himself after the massacre. Santa Cruz resident Michael Rudometkin, 40, was also one of the victims.
Fritch's wife feels like the authorities should have done more to halt the shooter before the mass killing. "He was red-flagged," she said. "Let's be honest, the ball got dropped." But she embraces the idea that improving America's firearm reality can be a nuanced affair. "Alex and I are very liberal people—we also believe people should have the right to own guns," she said. "It doesn't need to be all or nothing." Now, her son Atticus is writing a letter to California Gov. Gavin Newsom, in the hopes his dad won't "become another statistic." Terra said she wants Rudometkin's wife Gloria to know she's there for her if she ever wants to talk. "It would be my pleasure," she said. "This is a club that none of us want to be a part of."
---
Terra Fritch has set up a GoFundMe account to help support the family. Visit, bit.ly/3fCIBLX to donate.