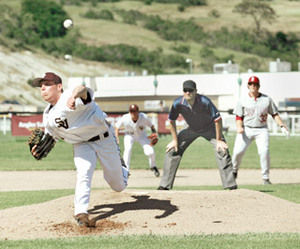 The Scotts Valley High School varsity baseball team clinched first place in the Santa Cruz Coast Athletic League with a hard-fought 4-3 win over Santa Cruz High on May 8.
With heavily scouted left-hander Robbie Erlin on the mound, the Falcons (10-1 SCCAL) were the favorite against the Cardinals (7-3).
However, Erlin got off to his roughest start of the season. The southpaw gave up three singles and a walk in the first inning, and the Cardinals took an early 2-0 lead. The two runs ended Erlin's streak of 45 scoreless innings.
"Forty-five scoreless innings is a lot, but baseball is a game meant to score runs, and that's what Santa Cruz did," Erlin said.
But the pair was all the Cardinals would get out of Erlin, who allowed only two more hits and no more runs while striking out nine in his six innings pitched.
Scotts Valley battled back in the third inning when senior shortstop Jordan Scott reached third base on a close play and Erlin knocked him in with a single. Sophomore Brett Levy drove in two more runs later in the inning, giving the Falcons a 3-2 lead.
In the sixth, Erik Bagley scored an insurance run on a hit by Nick Mannina, increasing the Falcons' lead to 4-2.
Erlin was replaced by senior right-hander Kyle Shipe after tossing 100 pitches in the first six innings. Shipe gave up base hits to the first three batters and allowed one run to score with no outs, cutting the lead to one. But Shipe's confidence wasn't shaken.
"I knew if we tied we would win the game," he said. "As long as we didn't get behind, I was confident,"
The Cardinals executed a sacrifice bunt, moving the tying run to third base before Cardinals slugger Gino Delucchi hit a high-speed line drive to first base.
Erlin, then playing first, caught the ball and made a perfect throw to third baseman Taylor Toccalino, turning the double play to end the game.
The victory gave Scotts Valley sole possession of first place. After
beating Santa Cruz, the Falcons capped the regular season with wins over
St. Francis, Aptos and Harbor.
The outright victory in the SCCAL is the first for the Falcons, who shared the league title in 2006 with Soquel and Santa Cruz and in 2007 with Aptos and Santa Cruz.