Last year, Scotts Valley was the envy of Santa Cruz County and South Bay regions, holding a Fourth of July parade when almost no other locale was able to pull one off. This year, as communities like Boulder Creek brought theirs back, now that Covid-19 death rates have dropped, when Scotts Valley went to book vendors, they were already locked down.
So the community decided to go all-out, adding their fireworks display at Skypark, but on July 3 instead.
The parade started with a flyover of nine airplanes, flying in separate groups at first and then coming together to spew white trails in formation.
Young athletes whipped candy at people they knew on the sidelines, farmers waved from tractors and children cheered and waved small United States flags.
Morgan Cianciarulo said her husband Joey has been looking forward to the parade for a while.
"He's so cute," she said. "He gets extremely excited over things like this."
Steve Waters, 71, who lives in unincorporated Santa Cruz County, said he liked seeing the guy on the motorcycle ride over the car.
"I've always waited for that," he said, adding he also enjoyed the airplane fly-by and seeing his grandchildren marching with the LightSpeed Martial Arts Academy group. "I think they did a good job of bringing everybody out together."
The event drew Alex Sorci back from San Jose, where he lives.
"I grew up here," said the 33-year-old. "I really enjoyed it."
It was the first time his friend Jenna Lorenzano, 32, had ever been to Scotts Valley. She called the parade "wonderful" and said it gave her the sense that the city is the "quintessential suburb happiness town" type of community.
"I'd come back for sure," she said.
Ruth Backstrom was visiting from Durham, North Carolina.
"It was great to see the people so excited," she said. "There were a lot of people in the parade."
Lucas Kish, 8, from Aptos, was another fan of the two-wheeler hijinks.
He said it made him "amazed and curious."
Younger brother Conor Kish, 6, admitted he ended up with less candy than Lucas.
"He had more pockets," he said, adding, "The planes were really cool."
Tyler Hawes, 20, said the parade is shorter than it used to be, but still packs quite the punch.
"You see random faces you've seen through the years," he said.
Boulder Creek Bash
The next day, Boulder Creek welcomed people from far and wide to take in floats, listen to music and chow down on pancakes during a fundraiser at the fire station.
Campbell resident Matthew Garber, 32, says he learned of the festivities via a sign he spotted while mountain biking in the area.
"It was killer," he said. "It was awesome."
His wife Natalie, 32, said she's glad they headed to Boulder Creek for the Fourth of July.
She grew up in the Santa Cruz Mountains and thinks it'd be a great place to call home, again.
"You got a glimpse of the community," she said of the parade, noting she liked the children's theater entry. "We want to move down here."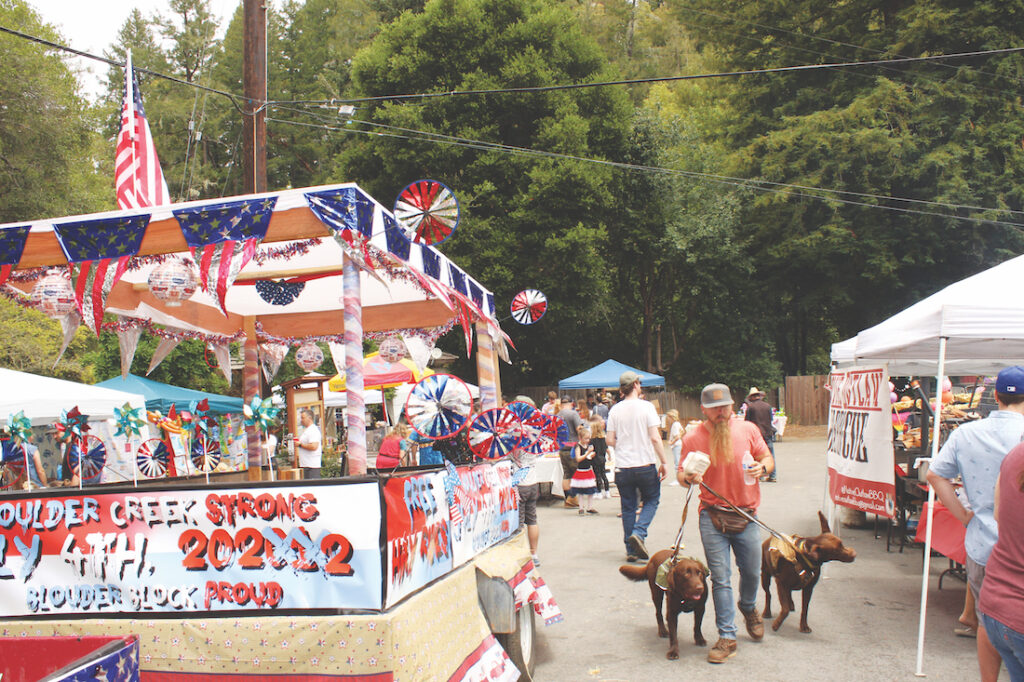 Adam Weiskal, 41, said the Boulder Creek Fire Protection District's pancake breakfast was stellar. His brother works for Central Fire but still volunteers at the Boulder Creek station.
"They do a great job," he said. "The kids love the pancake toss."
He was talking about the private event where contestants put a gross mixture of concoctions in pancake batter, hardening it into discs that will hopefully soar farther than those of opponents. It's a dollar per entry and the winner usually donates their winnings back to the department.
Firefighter Ben Slaughter, 25, was in charge of organizing the breakfast.
"I've been doing it for the last five years," he said. "This one was the one we were probably the most excited about."
Bingham says Slaughter had been rallying the troops for the previous week.
"He runs a tight ship," he said, of the post-lockdown event preparations. "I'd say we were the most nervous and most excited for this pancake breakfast."
They reported a moderately good haul, and said the money will be used to fund rescue equipment and medical supplies.