Last year it was facing rising property crime and low staff morale, this year the Scotts Valley Police Department has been bringing on so many new recruits it's hard to keep track.
"How many people have I hired this year?" Chief Steven Walpole, Jr. responded when asked. "So many."
After double-checking the precise number he revealed the tally: six officers and one new dispatcher.
The latest two were sworn in on Aug. 18.
One was Taylor Ramond, who grew up in the community and left a restaurant job to take on the duties of a dispatcher.
"She's a soccer coach for the girls' team at Scotts Valley High School," Walpole said, adding she'd previously been employed by the city of Scotts Valley and helped with its after-school programming. "It was a great fit."
Ramond will now undergo 16 weeks of training as other dispatchers show her the ropes.
Walpole says he expects the biggest challenge for her may be growing accustomed to shift work.
"We work either from 7am to 7pm, or 7pm to 7am," he said. "Those midnight shifts can be difficult to adjust to."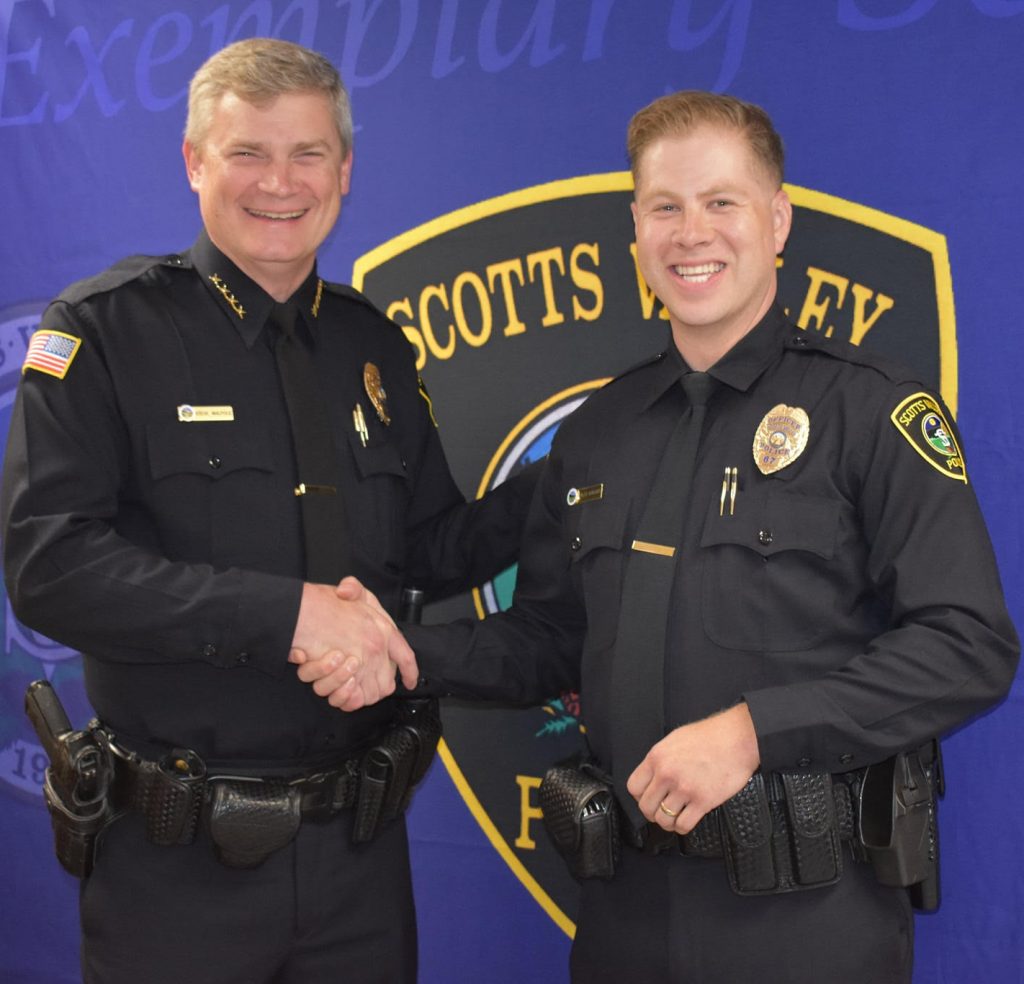 The newest officer, Tyler Buscher, had recently graduated from the police academy and started a job at a Monterey County law enforcement agency. But after a few weeks he made the switch to Scotts Valley.
"He just came on his own naturally," Walpole said, adding Buscher liked the idea of working with peers he'd trained with. "He was friends with the officers that he had worked with in the academy."
At the Aug. 18 regularly scheduled council meeting, the city authorized the department to hire an additional captain.
Earlier in the month, it voted unanimously to rejig the compensation structure for this position, after a study showed detective sergeants could make more than their captain, their supervisor, when overtime was factored in.
So, elected officials hiked the captain pay by 15% (from $8,389 to $9,647 per month for the bottom level; and from $11,243 to $12,929 per month for the highest level—costing taxpayers approximately $34,000 to $39,000 annually, plus some extra benefit costs).
The recent hires show recent pay raises pay off, Walpole said.
"It's great having forward progress and rebuilding our ranks," he said. "It's nice to see the light at the end of the tunnel."
Including the new captain authorized by the council, the department plans to hire four more people—three officers and a dispatcher—before it's at full strength, according to Walpole.