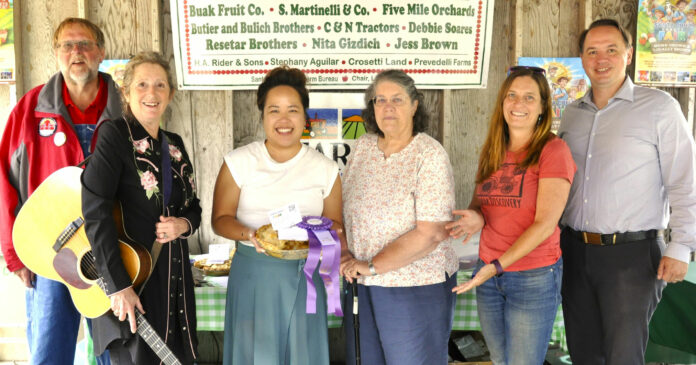 The Santa Cruz County Farm Bureau's 46th Annual Apple Pie Baking Contest was held at the Santa Cruz County Fair on Sept. 13.
There were almost 40 apple pie entries, and winners were selected for each of the three divisions—Youth, Adult and Masters.
Rowena Bacher, of Scotts Valley, took the top overall prize by winning "Best of Show."
The Apple Pie Contest judges are different every year. The judges for this year's contest were David Kegebein, community leader and volunteer; John Skinner, general manager of Shadowbrook Restaurant; Jessica Ridgeway, executive director of Live Earth Farm Discovery Program; and Suzanne Suwanda, songwriter/musician for Wildcat Mountain Ramblers.
The winners from each division are as follows:
Best of Show: Rowena Bacher of Scotts Valley;
Youth Division: 1st, Keara McNutt of Watsonville; 2nd, Jordan Multzer of Watsonville; and 3rd, Claire Keithly of La Selva Beach;
Adult Division: 1st, Rowena Bacher of Scotts Valley; 2nd, Jennifer Alberti of Santa Cruz; and 3rd, Laura Speigel of Watsonville; and
Masters Division: 1st, Cherice Titus of Aptos; 2nd, Julie Titus of Aptos; and 3rd, Stephanie Hedgpeth-Lopez of Watsonville.
The Pajaro Valley apple producers, growers and pie lovers sponsor the annual event in cooperation with the Santa Cruz County Farm Bureau. Laura Rider, Farm Bureau member, is the chair for this very popular opening day event.