San Lorenzo Valley High School alumnus and former Cougars baseball standout Tyler Gilbert recently made his first Major League Baseball career start on the mound for the Arizona Diamondbacks.
The left-handed pitcher also etched himself into the history books after he threw a no-hitter in a 7-0 victory over the San Diego Padres on Aug. 14. Gilbert allowed three walks, while striking out five and throwing 102 pitches.
"It's hard to explain, it's just crazy," Gilbert said. "I still don't believe it happened but I'm lucky enough that the defense was making crazy plays and I was making some good pitches. The stars kind of lined up and it's hard to put in words exactly how I'm feeling about it."
The 27-year-old Felton native became the fourth pitcher to throw a no-hitter in his first career start and the first to accomplish the feat since Bobo Holloman of the St. Louis Browns did it in 1953.
Just to put it into perspective how rare this feat is, Bumpus Jones did it in his major league debut with the Cincinnati Reds on Oct. 15, 1892. Theodore Breitenstein threw a no-hitter in his first start for the Browns on Oct. 4, 1891.
There are currently eight no-hitters this season, which matches for the most in a year in both the American and National leagues' history since 1884.
Gilbert became the third pitcher to toss a no-hitter in Diamondbacks history, joining Randy Johnson and Edwin Jackson. But, Gilbert became the first to throw a no-hitter on the team's home field, Chase Field.
Johnson threw a perfect game in 2004 against the Atlanta Braves, and Jackson recorded a no-hitter in 2010 against the Tampa Rays.
Gilbert's family including his parents, Greg and Peggy, were at Chase Field to watch him make his memorable first career start.
"It was a really special moment and that's something that everyone will have in their head for the rest of their life," Gilbert said. "It was the coolest thing that I've ever witnessed and the most memorable."
Greg said it's a personal lifetime experience he'll never forget.
"It was magical, it was surreal," he said. "It was just amazing being able to go out with family and friends."
Family Business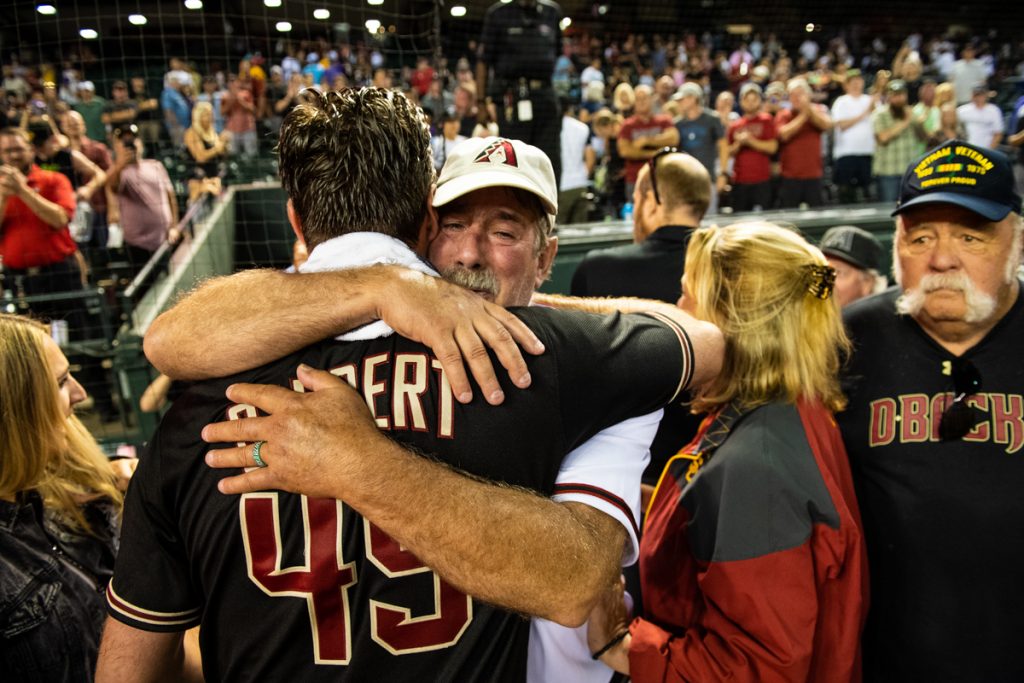 Greg knew in little league that his son was going to make it to the big leagues. Gilbert was called up to SLV's varsity team as a freshman and stayed there for the next three years.
"He had the talent to go and do things that people wish they could do," Greg said.
Gilbert continued his baseball career at Santa Barbara City College and then transferred to the University of Southern California.
Gilbert was drafted by the Philadelphia Phillies in the sixth round of the 2015 MLB Ameteur Draft. He moved up in the ranks going from Williamsport of the single-A New York-Pennsylvania League to Lehigh Valley of the triple-A International League.
During that time, Gilbert has also been doing electrical work in the offseason with Greg who owns and operates Gilbert Electric in Santa Cruz. They recently got the Brookdale Lodge lobby, front office, bar and conference room wired with LED lighting.
"He's helped me through the years when I needed help. I say 'Hey bud, why don't you come to work with me today and learn the trade,'" Greg said. "He showed up bright and early one day, ready to go."
Last year many players, including Gilbert, were sent home after his season in the AAA league was canceled due to the Covid-19 pandemic. In the meantime, he worked with his dad but he knew his baseball career was far from done.
Gilbert worked out as much as he could and focused on getting back this year.
"I came into spring training as ready as I've ever been and this whole year I've just been staying within myself and grinding," he said.
'I'm Ready for This'
Gilbert started the season with the Reno Aces, posting a 5-2 overall record and a 3.44 ERA. Then he received a phone call in the evening after a game against the Sacramento River Cats, the triple-A affiliate of the San Francisco Giants.
Gilbert was filled with excitement but a lot of his teammates were sleeping, so he had to let everyone know the next day because the news came in so late.
"I remember packing my bags up and just being on cloud-nine," he said. "I just kept saying, 'I'm ready for this, I deserve it.'"
Gilbert came out of the bullpen and made his big league debut on Aug. 3 against the Giants. Two weeks later he was making his first start on the mound.
Padres leadoff hitter Tommy Pham drew all three walks against Gilbert, including one to begin the game. Gilbert retired the next eight batters before walking Pham for the second time.
It was around the fifth inning when he realized that he hadn't given up a hit. Gilbert gives credit to the defense that night because they were making plays that were important outs.
"That's kind of a big reason why the no-hitter happened," he said.
Greg said he knew something special was in the making after Gilbert managed to get three outs on three pitches in the eighth inning.
"I said they're going to bring him back out and sure enough he came back out," Greg said.
Gilbert reached the ninth inning and the scoreboard continued to show zeros across the scoreline for the Padres. He got Trent Grisham and pinch-hitter Ha-Seong Kim to strike out looking, giving him two outs.
The next batter was Pham, who was looking to spoil the celebration with a base hit.
"I remember just thinking, 'I'm not walking him, I can't walk him a fourth time. There's just no way, I'd probably get pulled if I do,'" Gilbert said. "I just attacked him as hard as I could. I threw a cutter and it was OK."
Pham swung at the first pitch and hit a sinking liner to center fielder Ketel Marte, which gave Gilbert a sinking feeling until the final out was made.
His teammates stormed the field as he walked off the mound with his right arm in the air and his glove still on his hand.
"My head was going crazy. I was still riding the emotions of the debut," Gilbert said. "Then this happened and it just exploded in front of me."
Now his goal is to stay in the MLB and he'll always be looking forward to the next opportunity to start. Gilbert has a 1-2 overall record with a 2.93 ERA and 20 strikeouts this season for the Diamondbacks.
His next scheduled start is against the Seattle Mariners on Sunday at 1:10pm. Arizona will visit San Francisco for one more series on Sept. 28-30.