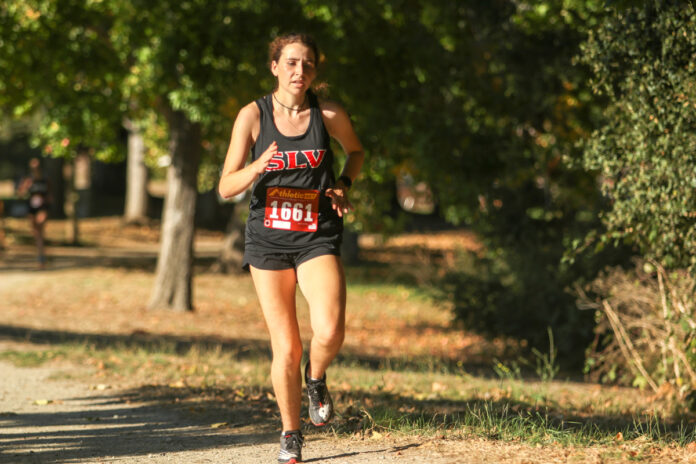 The San Lorenzo Valley High cross country program produced some of the most talented teams—boys and girls—along with some accomplished individual runners the section has ever seen.
Former head coach Rob Collins led the Cougars to 11 league, 12 Central Coast Section and five CIF State championships as a team, while also producing 11 league, eight CCS and three state individual champions from 1998-2016.
The number of participants quickly dwindled following the Covid-19 pandemic that continues to haunt the Cougars up to this day.
SLV junior Ruby Evans hopes to lead a young girls squad that might be small in numbers, especially with no seniors on the team, but quite mighty when it comes to race time.
"Our freshmen this year, they're killing it," she said. "We have Beth [Gabrielson], she's almost catching up with me now."
Evans said it's sad not having at least one senior on a roster of eight girls. Still, they continue to make the most of it and are enjoying each race as SLV passes the midway point of the season.
Evans placed 19th in 16 minutes, 22 seconds in the small schools Division III-V at the Artichoke Invitational in Half Moon Bay on Oct. 7.
Fellow teammate freshman Beth Gabrielson (16:09) finished just ahead of Evans in 12th to help the Cougars place fifth as a team with a score of 157.
Orea Pollock (17:56) took 42nd, followed by junior Naomi Seastrom (19:13) in 56th and freshman Stella Gurlach (19:15) right behind her in 57th.
Evans said this year feels like they're in between a rebuilding year and adding to a foundation that was left behind from last year's group. The girls team lost a chunk of their seniors, such as Haven Finley, Kaitlin Seigle and Colleen Murata, who was a CIF State Championship qualifier.
"I'm looking forward to getting more freshmen next year, too," Evans said. "I'm also really thankful for Naomi [Seastrom] and Orea [Pollock] for still sticking with it because we only have that junior group."
SLV head coach Bill Johnson said Evans is just realizing what her potential is on the course and he's not surprised that Gabrielson already looks like a natural.
"They're a really fun group and really fun to be around," Johnson said. "Looks to me like we've got some good kids coming up."
The young pride of Cougars are learning how to overcome adversity. Just last week they battled against league contenders Aptos High on a scorching Oct. 5 that saw temperatures go past 90 degrees.
Evans was proud of her teammates, injuries and all, who managed to finish the race in such miserable weather conditions.
"I think it's mainly just keeping the vibes positive the whole time and just making sure everyone is having a good time and then also just reminding people to keep pushing yourself," Evans said.
SLV senior Joshua Gabrielson said the boys' season got off to a great start, so far. This year's group of 24 is mostly composed of underclassmen with just a few seniors, yet there's plenty of optimism.
Johnson said the boys team might be young, yet they're already buying into the system.
"There's some talent there, but we're not going to burn up the league or anything," he said. "But there are teams that we can beat."
Other key returners include junior Cian Ryan and sophomore Daniel Peabody, along with newcomers in freshmen Miles and Chase Hash.
"Throughout this year, I have enjoyed the energy that the group possesses," Gabrielson said. "We have a bit of an underdog mentality when facing against bigger schools in invitationals."
Not to mention they also compete in the SCCAL, which is a competitive league as always. Gabrielson—who last year was a CCS track and field qualifier in the hurdles—said it isn't uncommon to see the winner of a big invitational represent the area.
He mentioned the challenging league meets prepares the Cougars later in the season at invitationals and a possible trip to the CCS championships when facing teams outside the league.
Gabrielson said the mindset was always to train and race hard heading into the upcoming SCCAL Championships in November. Moving forward, he just hopes to see the Cougars continue gaining momentum.
"While I may be gone next year, I can see that the younger runners will make our team great if they continue to put in the work," he said.
SLV will host Harbor High in the teams' final league meet of the season on Oct. 19 before heading into the SCCAL Championship at Pinto Lake Park in Watsonville on Nov. 2 at 4pm.
Falcons continue to roll
Scotts Valley High senior Ashlyn Boothby placed sixth overall in 17:25 in the Bill Buettner Championship Race at the Asics Clovis Invitational in Fresno on Oct. 7.
Boothby had to race without her fellow Falcons teammates who placed fifth as a team in the small school division race.
"It's hard because Ashlyn [Boothby] wants to run with her team," Scotts Valley head coach Todd Hoffman said. "But she ran really well. Smart race, a tough race. I'm really proud of her."
Ava Decleve, a sophomore, led the charge for Scotts Valley in the small school race with a second place finish in 18:37.
Behind her was sophomore Jenni Brownfield (20:30) in 37th, freshman Hanna Shoehorn (20.39) in 43rd, Violet McCutchen (21:03) took 59th, Dylan Turzak (21:25) placed 68th and Lili Myers (22:16) was 94th.
"Pretty much everyone on the girls team set a PR [personal record], lots of grit, as a team they were really excited," Hoffman said.
Senior co-captain Diana Alivov (22:19) had a strong finish in her first race back after suffering a leg injury. She passed 36 runners on the last mile.
"To see the smile on her face and see the confidence in her coming back, that was a great, great moment," Hoffman said.
Hoffman said this point of the season is about keeping everyone in tip-top shape. Plus, the seniors are dealing with college applications and visiting campuses.
"There's just so much going on for these kids," he said. "It's just trying to keep everyone healthy, happy."
Scotts Valley senior Ben George (16:12) took 14th to help the Falcons boys' team place fifth in the small school division race.
Mason Lantz, a senior, placed 16th in 16:18, followed by senior Eli Granados (16:58) in 43rd, sophomore Aaron Weiss (17:11) in 53rd, freshman Jackson Stull (17:50), senior Alex May (19:00) and sophomore Nate McKeon (21:21).
Spencer George has been sidelined with an injury, yet he continues to show up to support the group.
The Falcons have yet to compete in a race with what they consider a full varsity team. For most teams, injuries could derail a season.
That's not the case at Scotts Valley as Hoffman believes it's beneficial for others, especially the underclassmen.
"Those kids have to come up and run a varsity race," Hoffman said. "They have to get the experience to run in that type of race…They're learning, you can see confidence coming up."
Scotts Valley will host a pizza party for Senior Day and the final dual meet of the regular season against Santa Cruz on Oct. 19 at 4:30pm.
"Make it just a huge party for both teams," Hoffman said.