A woman suspected of committing at least one arson, and possibly as many as five others, was arrested Feb. 28, Santa Cruz County Sheriff's Office spokeswoman Ashley Keehn announced.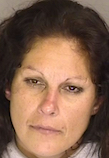 Tanya Posey, 39, was charged with felony arson. She was booked into Santa Cruz County Jail in lieu of $50,000 bail, jail records showed.
Posey has an address in Santa Cruz, but is known to be homeless, Keehn said.
According to Keehn, California State Park rangers and sheriff's deputies have responded to five suspicious fires in the Felton area since mid-January, and believe that Posey is connected.
She was contacted in the area of Henry Cowell State Park shortly after a fire was intentionally started. She was arrested for starting a different fire on Jan. 19 on the 300 Block of Felton Empire. The other fires are still under investigation.
Anyone with information about these cases, or who saw or heard Posey talk about igniting these fires is asked to call detectives at 454-7640 or 454-7096.