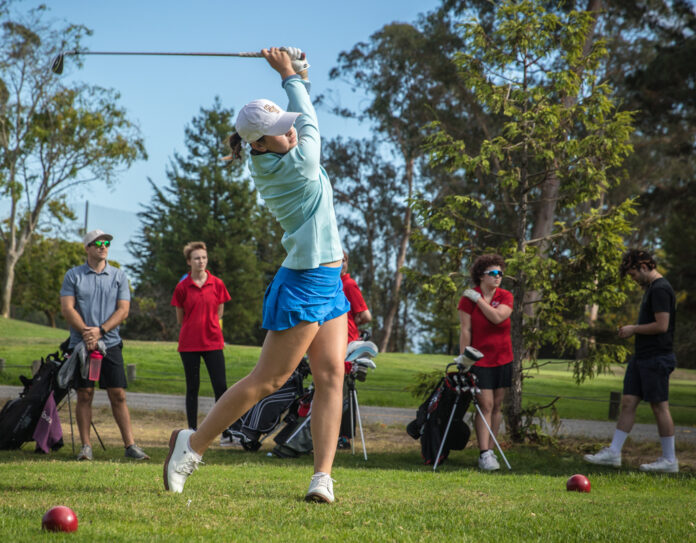 Scotts Valley High sophomore Ashley Gettleman was once again lights out for the girls' golf team in 2023.
The standout golfer posted a 2-over-par 72 in 18 holes at the Santa Cruz Coast Athletic League Championship at DeLaveaga Golf Course on Oct. 24, earning her medalist honors in back-to-back seasons.
The Falcons also repeated as team champion and their top six players advanced to the Central Coast Section Championships at Laguna Seca Golf Ranch in Monterey on Oct. 31.
"I think we were pretty solid the entire season, pretty consistent," Gettleman said.
Scotts Valley junior Maisey Chard shot an 82 to take second place, followed by San Lorenzo Valley High's Ivy Hatch-Rooks (102) in third.
The Falcons beat Soquel High in the regular season finale on Oct. 17 to stay unbeaten at 10-0 in SCCAL play and en route to their sixth straight league crown.
"They embody the spirit of golf, etiquette and just courteous, all-around good sportsmanship," Scotts Valley coach Anders Ohlsson said.
One of the reasons for the Falcons' success is that other teams haven't had low handicap players such as them. Ohlsson said the best ones are maybe around 15 to 20, and then it goes up from there.
Ohlsson also believes golf programs took a big hit during the Covid-19 pandemic, causing the numbers to drop dramatically. Harbor and Santa Cruz high schools didn't have a team last year.
But there's plenty of hope after Harbor made its return this season with a group of brand new beginners to the sport.
"Some of them have never swung a swing club before but they're interested in learning the game, which is super cool," he said. "The league isn't super competitive like football is… We're pretty laid back and relaxed and I think they like it because you're teaching them a game that they're hopefully going to take with them for the rest of their lives."
As for the Falcons, their girls golf program didn't shut down and they were able to rebuild quickly. They were also fortunate enough not to have players make the move from golf to flag football, which was offered as a sport for the first time.
"It's all about getting new players in as freshmen and keeping them there for all four years," Ohlsson said.
Gettleman said the program has lucked out by having some of the best golfers in Santa Cruz County attend Scotts Valley. She also gave credit to all the coaches including former head coach John Surbridge, who led them to success.
"We've always been fortunate to have someone that actually knows what they're doing," Gettleman said.
Gettleman is a scratch golfer—a golfer who shoots the same score as the course rating or better—and dropped from a 1.5 to a .3 index, which Ohlsson said is extremely good.
Gettleman, who is sponsored by Pasatiempo Golf Club, is on the golf course year round and competes in at least three tournaments per month.
"Golf is kind of a game of that, one week your swings are working, the other week your putting is not working," Gettleman said. "It's just trying to keep it all on balance."
In 2022, the SCCAL didn't have five teams which is the required minimum for the league champion to qualify for the CCS Championships.
Gettleman and former teammate Elana McGrew—who graduated this past school year—still qualified as individuals. Gettleman and McGrew finished with an 82 and 88, respectively, in the section finals.
Gettleman was in first place for a while but a crazy rain storm got the best of them. The goal going into Tuesday's CCS Championships was to shoot a 72 and perhaps set the school record.
"I don't want to put too many expectations and then play absolutely awful," Gettleman said.
Gettleman saw her season come to an end after she shot an 85, failing to qualify for the NorCal Championships at Berkeley Country Club in El Cerrito on Nov. 6.
The top three teams (Valley Christian, Stevenson, Harker) and top four scorers not on those teams advanced.
The top-four includes Leland's Lexie Lowe who shot a 72 , followed by Saratoga's Millie Wang (73), Los Altos' Camille Thai (73) and Pioneer's Katelyn Chang (75).