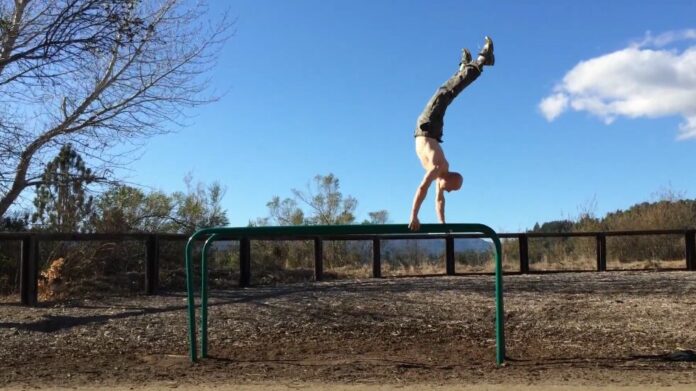 Fans of American Ninja Warrior will recognize Kevin Bull, 36, and David Campbell, 42, as among the hit NBC obstacle course TV show's top competitors. 
For the uninitiated, the series (which enters its twelfth season next month) features a rotating cast of challenging athletic obstacles— but the real stars are the impressive amateur athletes who come to face them. These competitors, called "ninjas," arrive prepared with self-styled personas and nicknames, meant to help them stand out among the tens of thousands who submit audition tapes every year. Think American Idol meets American Gladiators, with a dash of Wipeout thrown in for good measure.
Over the years, both Campbell and Bull have established themselves as consistent fan favorites. On last year's Los Angeles qualifying episode, both men flew across agility obstacles with names like "The Shrinking Steps," and "Diamond Dash," then launched themselves up the course's fifteen-foot wall, in the night's second- and third-fastest times. Along with what commentators describe as their "need for speed," the two athletes share another attribute: both are Scotts Valley natives. 
"In those early days, it was really an advantage to be from Scotts Valley, because of the variety of terrain that we had," says Kevin Bull, who has competed on American Ninja Warrior every year since walking on in 2014. "It was a huge benefit to our training for the show, because you have people around the country who don't have access to things like that."
Bull, who graduated from Harbor High School in 2003, was an All-American decathlete, pole vaulter, and sprinter at California State University, Stanislaus. After graduating in 2008, he returned to his home in the wooded outskirts of Scotts Valley.
"Growing up in Scotts Valley was really amazing, and I didn't realize how amazing it was until I left," he says. "Scotts Valley is a great mix of things. I grew up slightly outside of city limits, so I'm in the mountains, and there are lots of trees and woodlands. It was a great place with lots of different areas to explore and lots of trees to climb, which I enjoyed doing."
Back in town and looking for work at the height of The Great Recession, Bull found his college degree wasn't worth very much. He started working construction, then found a position at Wachovia (later Wells Fargo) in Scotts Valley, where he was employed for three years.
"And then… I kind of took my chances, I threw myself to the winds. I left Wells Fargo without another job in mind, and I was either going to become a Ninja Warrior, or go back to college and get my graduate work done. Fortunately, I became a Ninja Warrior," he says.
For audio engineer David Campbell— who by then had already been competing on the show annually since its inaugural season, earning him the nickname "The Godfather"— natural terrain wasn't enough. In his first audition tape, Campbell can be seen jumping over parked cars near Skypark and dangling from ledges around the Kings Village Shopping Center. 
In 2008, still not satisfied with the makeshift obstacles around town, Campbell built a near 1:1 replica of the eight-story obstacle course he had once competed on in Japan— only this one was in the backyard of his brother's Soquel home. He held training sessions there, and for a few years in the early 2010s, Scotts Valley became a sort of mecca for the ninjas who competed (or hoped to compete) on the show. 
"It's the biggest and most elaborate replica in the country. There's some other pretty good ones, just not quite as sophisticated in the design," Campbell told the Santa Cruz Sentinel in 2011. "One of the benefits of the course is that it gives you confidence… you've already seen so many of the obstacles before."
In 2012, Campbell's brother moved away, and the local course came down— but not before it had spawned an entire niche industry of "ninja gyms."
"He was the first to build a course for training on, in his backyard. And that, of course, has turned into the many ninja gyms that have gone up around the nation, where people have built courses so people can train" shares Bull. "Many ninjas do make a living with their gyms, as being connected to their personal brand."
The draw of ninja gym management is what drew Bull away from Scotts Valley in 2017, when he was asked by Palo Alto-based CircusTrix to manage a sprawling new trampoline and obstacle course gym in Thousand Oaks. A year earlier, Bull had signed an endorsement deal with the same company, in an arrangement the International Business Times heralded as "The 'ninja' equivalent of Bull getting his own line of sneakers."
Although Bull left the CircusTrix gym in 2019, and now lives and works in Marin, he says he's still working to advance obstacle athletics, and sees the sport becoming mainstream. NBC showrunners say they received over 77,000 applications in a recent season, and outside competitions organized by groups like the National Ninja League (NNL) are drawing new athletes and thousands of spectators.
Before the lockdown began, Bull visited Scotts Valley, where he helped David Campbell in the early stages of rebuilding what is now "a very large and extensive course." Last spring, top ninjas once again flocked to Scotts Valley for training sessions at Campbell's secluded outdoor obstacle gym.
As with sports like baseball and basketball, the 2020 Ninja season was initially cancelled due to the pandemic. NBC announced a modified program earlier this month: an indoor, tournament-style team event will temporarily replace the outdoor individual competition. Among the 100 competitors invited to compete are two familiar names: Kevin Bull and David Campbell.
Will a Scotts Valley native bring home this year's million dollar prize? Or will another forest-hardened athlete emerge to join the town's pantheon of ninjas?
Season 12 of American Ninja Warrior premieres on September 7 8/7c on NBC.