Councilmember Derek Timm has teamed up with recording plug-in company executive Allan Timms in a bid to unseat Vice Mayor Jim Reed, who Timm has sparred with on several occasions over the past year.
Timm and Timms have secured the support of Mayor Donna Lind and Councilmember Jack Dilles, for their campaign, which kicked off with an event at Bruno's Bar and Grill on Sept. 15.
Councilmember Randy Johnson hasn't endorsed anyone yet.
"I've worked together with every council member in a very positive way," Johnson said. "I want to make sure that cohesion remains intact."
But Lind says it's time for change. She told the Press Banner she believes that Timms, a political neophyte, will be more involved in Scotts Valley municipal business than Vice Mayor Reed—one of outgoing San Jose Mayor Sam Liccardo's closest aides—has been.
"Jim's job as chief of staff is super busy," Lind said. "We need somebody who can carry the load and be present."
Lind says she couldn't help but notice that when Scotts Valley recently held a special meeting, Allan Timms attended while Reed didn't.
"Allan showed me he's willing to work," she said, adding, "There's a lot of reasons," why she isn't supporting Reed—although she didn't go into detail.
Timm and Reed have increasingly been at odds since Timm, who was mayor last year while Reed was vice mayor, nominated Lind for mayor in December instead of him.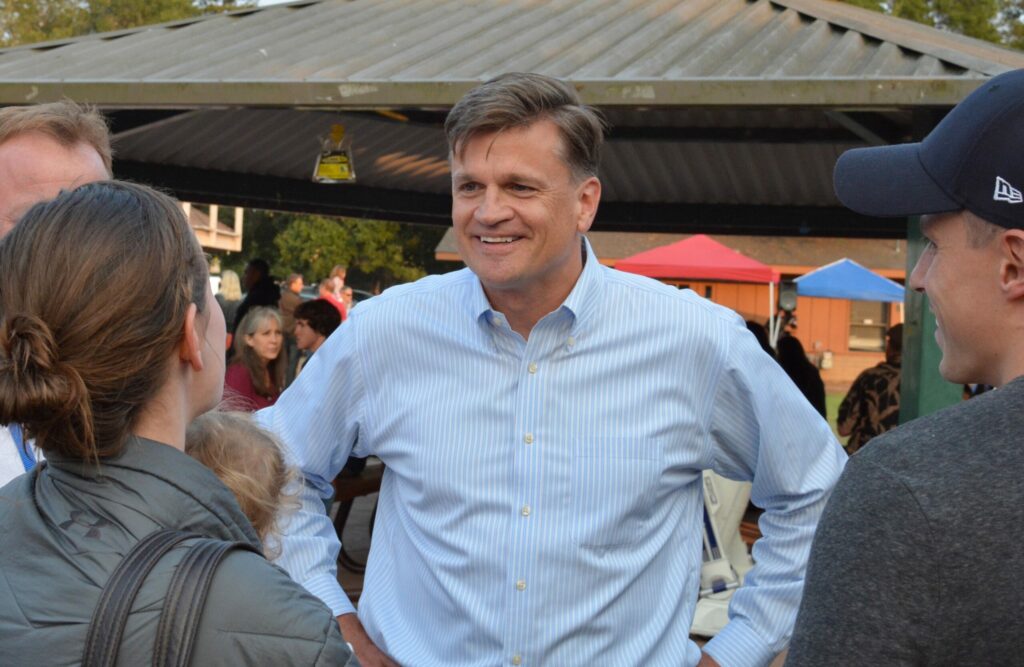 Johnson attempted to have Reed named mayor for 2022, in a bid that failed when Timm's nomination of Lind succeeded first. Reed was instead reaffirmed as vice mayor.
During that council meeting, Reed claimed it was Timm who'd asked him to pass Lind over for the opportunity to get in line for the mayor's chair, on a previous occasion.
Since then, things have continued to sour.
In May, when Timm tried to fast-track a vote on a policy to allow the Pride Flag to be raised for nearly the entire month of June, Reed took issue with city "transparency," as staff asked for a majority of council to indicate they supported the move.
And when that policy came up for debate, Reed and Johnson raised concerns about expanding the flags the city can fly (although Reed put forward a motion that didn't succeed that sought to enshrine the rainbow flag—and no others—as a new banner Scotts Valley would be able to raise).
Reed said he worried the policy might be used by groups, such as the Ku Klux Klan, to force the city to fly their flags. Johnson said the policy could open the door to pro-gun flags flying.
Johnson and Reed ultimately did vote with the rest of the council to support Timm's motion for a new ceremonial flag policy.
But the evening gave Timm the opportunity to cast Reed in a homophobic light, something Reed says isn't fair.
He accuses Timm of not being willing to look at different ways to achieve the same objectives—since, after all, Reed's the one who pushed for the rainbow to become an official Scotts Valley symbol (which Timm voted against).
"It's not credible in my opinion to argue that putting the Pride Flag at the same level as the U.S. flag is not sympathetic to LGBT issues," Reed said. "The concerns that Councilmember Johnson and I raised were around legal protections and what approach would tie us up in court."
Timms, the senior v.p. of engineering at music tech firm Universal Audio, moved to the United States from Britain in 2014. He says his interest in participating in local government was sparked by the citizenship process. He became an American earlier this year.
Timms says the Pride Flag debate was one of the catalysts that caused him to pull the trigger on a run for office.
"He didn't do the research," he said of Reed's positions on the issue. "It was just a disaster."
Timms says he has business skills that will allow Scotts Valley to move in a positive direction.
"I think there's some problems that we have that need solving," he said. "I think there's a real opportunity here to look at it differently."
Reed was also the lone dissenting vote against this year's budget. He balked at giving $50,000 to social service groups, which he says Santa Cruz County should be funding.
He says the money would be better spent hiking pay for Scotts Valley Police Department officers again, noting other jurisdictions have recently offered police salary boosts when they didn't have to.
"We need to get to a situation where every year we keep pace," Reed said, pointing to recruitment challenges. "Especially since George Floyd's murder, the public's views of police officers are generally less favorable than they used to be. That's resulting in fewer people wanting to be police officers."
In an interview with the Press Banner, Councilmember Dilles says he believes the Timm and Timms slate will bring fresh energy to the council.
"They are both collaborative and inclusive in a very positive and respectful way," he said. "They are committed to confronting other challenging issues facing the city like housing, economic development, maintenance of parks and streets, facility improvements, public safety, and properly managing the city budget."
Dilles adds he thinks if the Timm-Timms slate is successful, it will improve teamwork amongst staff and council members.
Johnson blames the deterioration of council relations on the lack of in-person interactions during the pandemic.
He says he's looking forward to meeting with all the candidates in the coming weeks to see who—if any—will get his endorsement.
"You want the values and the priorities that have worked well in the past," Johnson said. "And you also want a type of vision, moving forward, that maybe recognizes new realities and new ways of thinking."