Live Oak resident Abigail Andromacha-Atha headed up into the mountains, arriving in Boulder Creek around 11am last Saturday.
She was there to sell her Andromacha Beadworks creations as part of a radio station fundraiser—one of two local concerts that brought in funds to support key infrastructure and communications systems in the San Lorenzo Valley that day.
"It's nice to see all the mountain mammas," Andromacha-Atha said. "I think it's a sweet little scene."
Both the KBCZ Music Fest and the Boulder Creek Fire Department show that followed were focused on building the capacity of agencies that have proved critical in recent natural disasters through family-friendly entertainment.
Speaking from where her booth was set up, just outside Junction Park, Andromacha-Atha said she, for one, was having a blast—even if it wasn't exactly a festival of Burning Man proportions.
Just then, Kelly Pruden, the events coordinator for Boulder Creek Recreation and Park District, passed by. She explained it took about four months to put the whole thing together, including arranging the bands, creating the posters and reaching out to vendors.
It was a little hectic, she noted, because BCRPD has so much going on during the summer.
"Every moment there's always something," she said, but added, "It ends up falling together beautifully."
The music fest couldn't have happened without the help of the station's DJs, Pruden explained.
"They are the main volunteers," she said. "It's great to see all the DJs coming together to make this event happen."
The lineup included Joe Kaplow, the Dylan Rose Band, Jake Nielsen and Harry and the Hitmen. It was a free show, but donations were accepted.
"It helps the station be able to have the proper gear," Pruden said. "It keeps the station going."
She noted she'd definitely been enjoying the performances, including Nielson.
"He does so many good covers," she commented, adding they took the time to make sure people of all ages could enjoy the entertainment. "We try to make all of our events comfortable and family-friendly."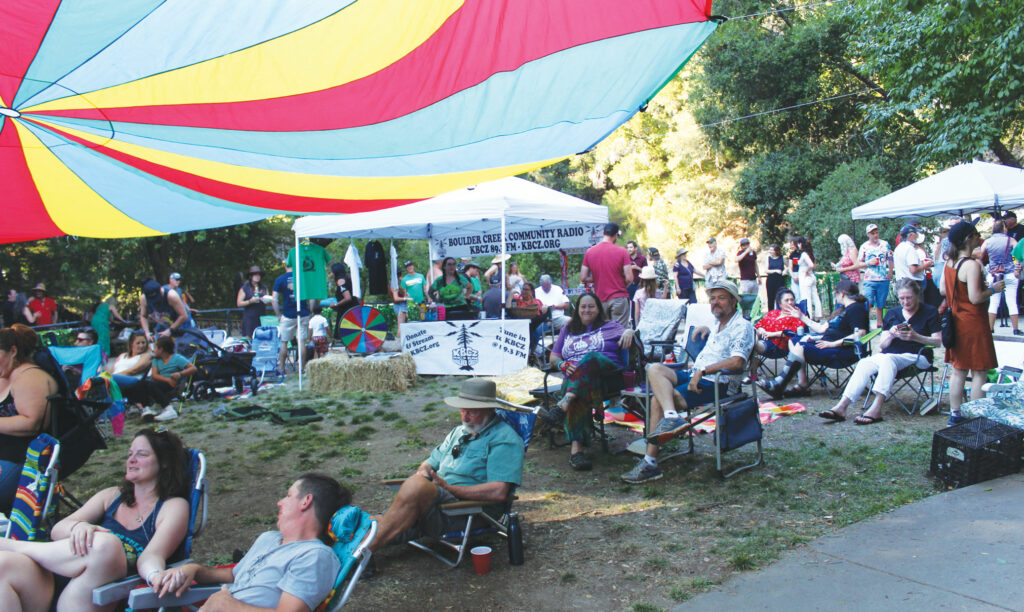 The significance of a local station like KBCZ was underscored during the winter storms that wreaked havoc up and down the San Lorenzo Valley in the first part of the year. In many cases, it was the only way for people to learn what was happening, as power outages plagued the region, knocking out the internet.
"It's all real-time information," Pruden said of the medium's usefulness during emergencies, noting some people were likely able to tune in thanks to the receivers they'd distributed after the CZU Lightning Complex fires. "We handed out a bunch of solar-crank radios."
Deane Egerton had come to San Francisco from New Zealand for a business conference with his wife and son in-tow. They'd been looking for a fun weekend activity to take part in. They picked a visit to Boulder Creek because they liked the sound of the town's name and struck Americana gold.
"It just turned out to be good timing with the event on," Egerton said. "It was a complete fluke."
His 8-year-old boy Emmett jumped off the cliff on the other side of the river and splashed into the water below.
"It made us feel like we were experiencing the true America—not all the touristy stuff," he said.
His wife Penny agreed.
"It's great music," she said, adding she was a fan of the overall vibe. "It was a nice surprise for us."
Jolene Singer-Muse, 68, was also enjoying herself.
"I'm a newbie here," she said, sharing that she recently moved from Colorado to Santa Cruz to be near the ocean and look after her grandchildren. "I'm a retired nurse."
Her only complaint was she wished there were more food options for vegans. But she was into the community-style festival, she stressed.
"I love the size of it," she said, thinking back to ones she experienced in her younger years. "Our fairs used to be like this."
Plus, she was down with the funky tunes.
"This is lovely. This is family," she said. "I think all fairs should be this size, no bigger."
Mary Lockwood, 36, said she really enjoyed one of the folksy medleys that had just been performed, while Nils Weedon, 37, of Boulder Creek, had seen Harry and the Hitmen several times but thought this was one of their best performances.
"They let loose more than I've seen them do in a long time," Weedon said. "It was a lot more jammier."
In other words: an excellent contribution to the Boulder Creek cultural landscape.
"This has been great," Weedon said. "It's absolutely wild and totally fun to see this kind of event in the middle of Boulder Creek."
The drummer, 40-year-old Harry Murphy, said he's guilty of closing his eyes a lot while playing.
"The times that I did open my eyes, I felt it was a really cool scene," he said. "It's a really great crowd and a vibe here."
The energy may have been helped along by the product from Discretion Brewing, Steel Bonnet Brewing, Santa Cruz Scrumpy and Castoro Cellars, or the eats from River Dogs of Boulder Creek, S.C. Eatery and Island Time Shave Ice.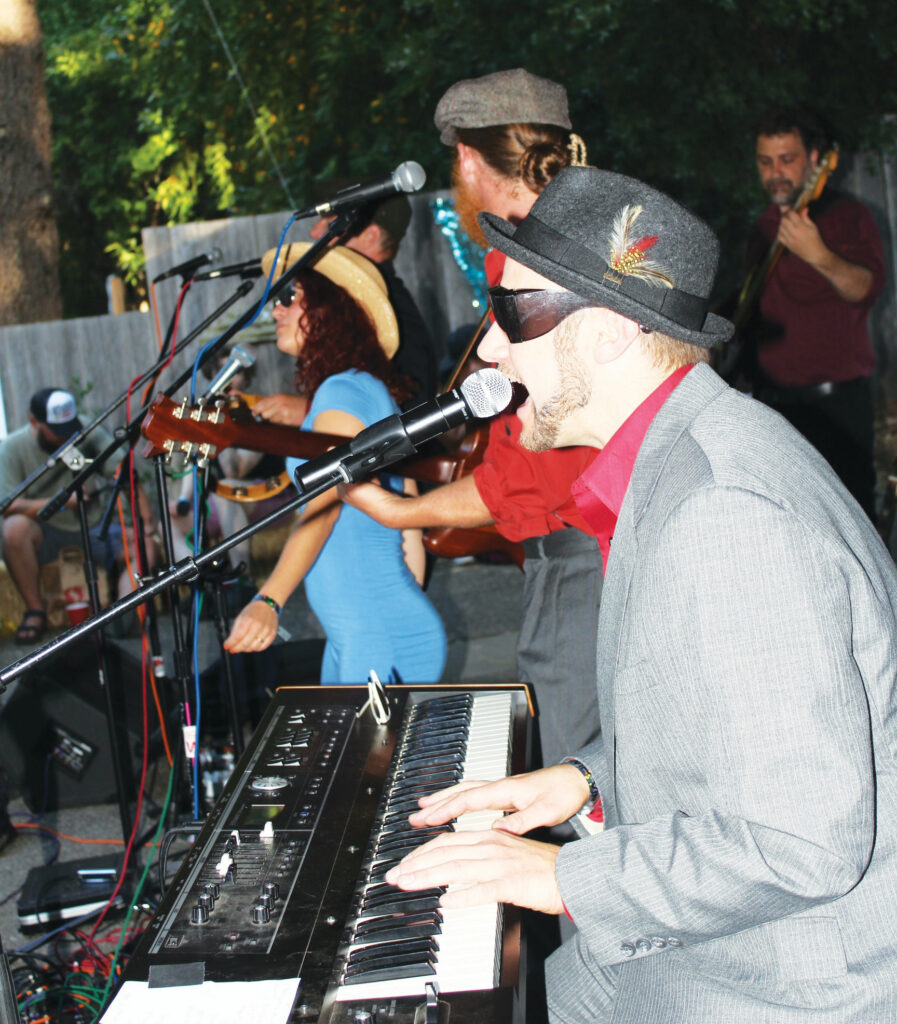 BBQ raises cash for lifesaving gear
As the KBCZ Fest was winding down, just up the road the fire department's BBQ was kicking into high gear.
Given that the Boulder Creek Volunteer Fire Department was formed in 1892 (with the Boulder Creek Fire Protection District started 31 years later), community support has long been more than lip service. It's an integral part of keeping the fire hall running.
Nancy Leonard noted on the department's Facebook page that she'd spent many a Friday night "dancing away" as a teenager.
And this year, that tradition continued with Dirt Rakers, Sugar by the Pound and the Swag Tones.
Willow Band, 24, was the firefighter tasked with putting it on. They started working on the event six months ago, taking care of all the little details, like arranging a bounce house and contracting a facepainter.
The event was being held to collect money for Boulder Creek Fire Department Inc., the primary fundraising group for BCFPD.
Band said they purchase things like a mechanical CPR device that assists firefighters by delivering high-quality chest compressions to patients suffering sudden cardiac arrest.
"We bring it up to the call and we can take the device out and put it on someone," she said. "It's not putting one of our firefighters at risk."
They've also gotten "edraulic" extrication equipment, better known as the Jaws of Life.
"That's a super awesome upgrade for us," Band said, noting three engines are now outfitted with the battery-powered gear.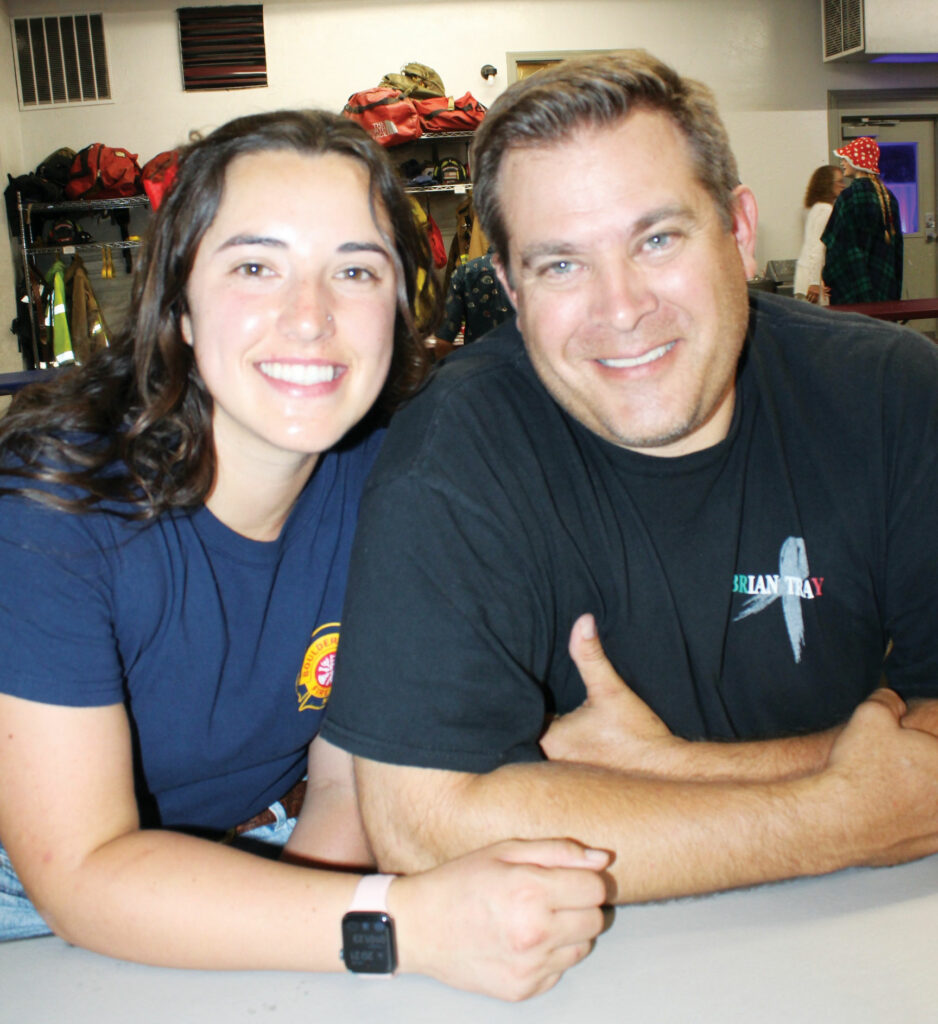 Chief Mark Bingham said older machines used mineral oil and were harder to work with, given that it was a hydraulic system.
"Now we don't have to have the pump," he said.
"It frees up space, and it frees up time," Band added.
Firefighters dished up delicious food, including chicken flavored with a delightfully acidic flourish, and Legend Theatrical provided technical production support at no cost.
Band said it was fantastic to see the community gather in support of the department.
"I love seeing this many people here," she said. "I've had to go to the store like five times, because we've run out of things."
There was even a table set up where attendees could see the BCFD Inc.-purchased items with their own eyes.
"We're able to show people what their money is going towards," she said. "We're going to have better equipment, faster response times."