Spring is an opportune time for students in the performing arts to share their talents, and both Scotts Valley and San Lorenzo Valley high schools got in on the act as they traveled afar to strut their stuff in national competitions.
***
Members of the Scotts Valley High School Band and Choir group traveled to Southern California to participate in the annual Anaheim Heritage Festival. This festival featured 20 middle and high school bands and choir groups from more than five states.
According to parent chaperone Heather Warner, none of the SVHS students had ever participated in a competitive event, but their efforts earned them a place in the silver category.
"This was a tremendous accomplishment and a true testament to their hard work and their exceptional teacher/director, Lacey Coenen," Warner said.
The trip was made possible by the generosity of the Kiwanis Club of Scotts Valley, which provides financial support to local organizations.
"Each year we host Music at Skypark, a series of summer music concerts featuring local bands and food vendors in order to raise money for the high school music programs," said Marshall Wolf, Branch Manager for the Scotts Valley club. "We donate approximately $20,000 a year to help fund the Scotts Valley school district music programs to fund teachers, equipment, uniforms and special trips like the Anaheim Showcase that the band and choir group recently attended."
While funds are given to the school once a year to allocate expenditures across all music programs at the school, organizers for this trip reached out to the Kiwanis team for approval to invest those resources into the Anaheim Showcase.
"The response was a unanimous yes," Wolf said.
With nine SVHS students in attendance, the band and choir groups performed together, and all said that having a strong classroom community and building friendships was key to their success (a lot of practicing helped too).
"We went into this expecting to get silver, and that's what we got. Taking advantage of every tool that was available to us helped as well. I had colleagues watch our performance, we self-assessed the same grading rubric the judges used, and I recorded students so they could see what the audience sees," said Lacey Coenen, teacher and director.
In addition to visiting Disneyland and California Adventure, the students enjoyed building community and making new connections.
"Our students learned a lot from this experience. They were performing in a new space with equipment they weren't used to, so they had to be flexible and quickly adapt to a new situation. Students were inspired when they got to watch other choirs perform, and they learned that music truly is subjective; what one person thinks might be different from what someone else thinks," said Coenen, who prides herself on running an inclusive troupe, regardless of participants' past musical experiences.
"There really is something for everyone," she beamed.
***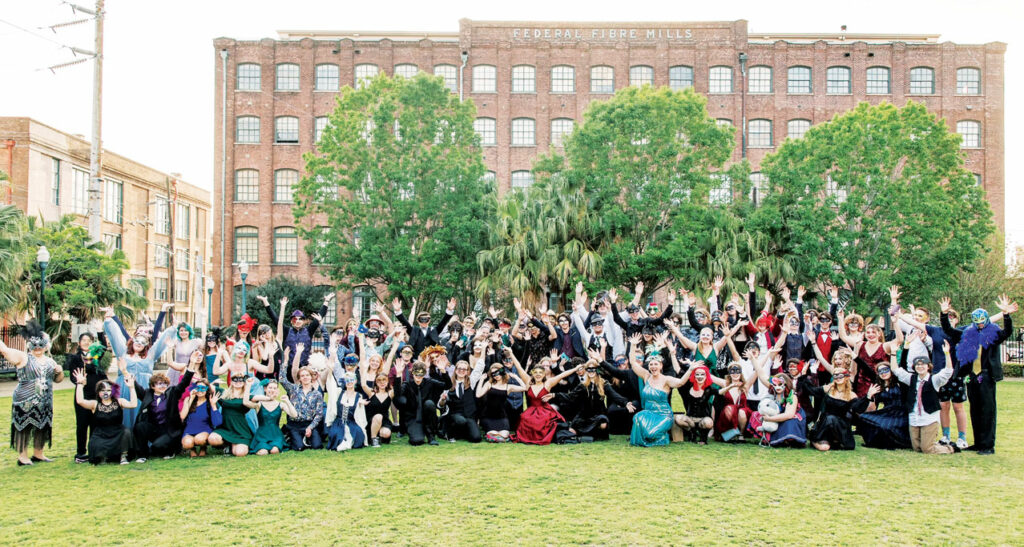 Just up the road, San Lorenzo Valley USD Musical Director Carey Liston found herself battling the elements in late March as she gathered her own group of musical high school students for a trek to New Orleans to participate in the 2023 Heritage Worldstrides Music Festival.
Atmospheric river number 12 had struck the San Lorenzo Valley, resulting in closed roads, downed power lines and restricted communication; some attendees couldn't even get home to grab their suitcases before heading to the airport, resulting in last-minute hotel stays and shopping trips. The show must go on, though, and Liston made it happen.
"The community of SLV is amazing," Liston said. "The storm the day before the trip trapped students and families. It took a huge effort for many just to get to the airport. Parents and students helped each other; the trip started with enormous community support and ended with my music students feeling honored, valued, successful, as we built an even stronger community."
The bumps in the road ended on Bourbon Street as the 98 student participants from San Lorenzo Valley High School scored big in the competition, earning the Sweepstakes for Total Program; the group also took the gold for their choir and wind ensembles, and silver for their concert band performance.
"My students were exposed to so much amazing music talent, art and culture. They performed well and made me so proud. We can learn so much outside of the classroom walls. Traveling broadens our perspectives and introduces us to new people and experiences," said Liston, who took her students to landmarks like Preservation Jazz Hall and the old French Quarter.
Other experiences included taking a river boat down the Mississippi River and a swamp boat excursion to visit the local alligators.
Liston's students were equally jazzed about the trip.
"I was exposed to a different style of music that I am not accustomed to, and it was everywhere. We saw how jazz was shaped through history and we saw the cultural elements that shaped New Orleans. I loved the parties, the Bayou Barn and Masquerade Ball. I loved singing and dancing with my friends and the new ones I made. This New Orleans music trip was the best part of my high school experience," said Liston's sophomore daughter, Lilly Liston.
Senior Cassidy Musard added, "The history and culture of New Orleans was present everywhere you looked and in everyone you met. Unlike anywhere in California, New Orleans celebrated such a diverse culture and complex history to an extent I had never seen before and was exhilarating to be surrounded by."
"Experience is the world's best teacher. This performance opportunity not only exposes students to a new city, new culture, but it builds community within our ensembles and solidifies our bond with our ensemble members. Our music groups become a family," Liston said.
Want to support local music instruction? To invest in Scotts Valley schools, visit Scotts Valley Educational Foundation at svef.net; for San Lorenzo Valley, visit SLV Foundation for Education at slvfoundation.org.