CAPITOLA—The Wharf to Wharf Race is back in action this weekend in Santa Cruz County for the first time since 2019.
On Sunday, participants will be able to gather around Beach and Cliff streets near the Santa Cruz Wharf for the 50th running of the event.
The race is scheduled for an 8:30am start.
Wharf to Wharf Race Director Scott McConville said it feels great to have things back in person despite some of the ongoing concerns with Covid-19, which is what put the race to a halt for nearly three years.
"It is different, it's not back to normal, yet," he said. "This is kind of Step 1 and we're going to do as good of a job as we can to make people feel comfortable and have a good time."
After a scenic six-mile run on rolling hills and the seaside streets, the runners will sprint downhill to the finish line at the Capitola Wharf near the Capitola Village.
And to be on the safe side, race officials implemented Covid-19 policies including a 10% reduction for in-person field registration that was capped off at 14,000 people.
According to the Wharf to Wharf website, the race will adhere to Santa Cruz County and California Department of Public Health guidelines for outdoor events.
Hand sanitizer will be available in every portable restroom and volunteers will need to wear gloves at water stations and goody bag distribution.
Race officials also extended start line corrals to allow participants more space while waiting for their wave to start and one way flow at the finish line to discourage people from gathering.
The annual Wharf to Wharf race is typically run on the fourth Sunday in July.
Thousands of participants throughout the country, and the world, get together for what some consider "The best little road race in California."
However, a virtual race was held for the past two years after race officials decided it still wasn't safe for large gatherings.
Participants had their bibs mailed to them and they had to run or walk a six-mile race on their own, tracking their results with a GPS device, the ASICS Runkeeper app or manually.
McConville has been the race director for nearly a decade since taking over the gig in 2013. He said not being able to have a race never crossed his mind.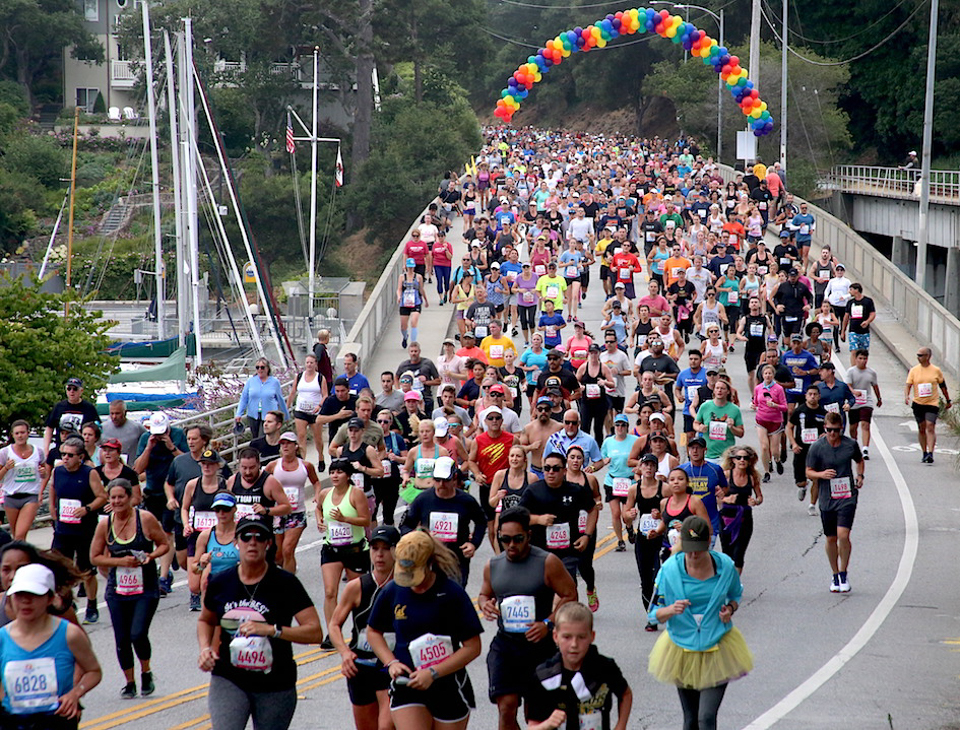 "This is the first time that we've gone through anything like this," he said "Our race hasn't experienced anything other than a small route detour based on construction that was ongoing on a certain part of the course."
McConville said the biggest thing about the situation was they were able to still have a virtual component that allowed them to fund their chartered mission.
He said at the time, lots of people were expecting or were used to the transition of doing things on their own.
The only downside was they weren't able to raise as much as they'd normally do, especially when they had just 15,000 virtual participants combined in two years.
"It was half the normal size, yet, we managed to stay afloat and supported all of the organizations during Covid," McConville said.
They lost about $100,000 each year by not having the in-person race. McConville said luckily they're a solvent organization and over the years they've built up a fund to be able to survive something.
"Never did we ever talk about a pandemic," he said. "The things that we thought about surviving was an earthquake…something really catastrophic."
Wharf to Wharf has contributed more than $6 million to Santa Cruz County youth sports programs and the running community.
The last participant to win the in-person race was Anthony Rotich in 2019. He crossed the finish line in 27 minutes, 32 seconds to edge Simon Chirchir (27:34) of Kenya, Amanuel Mesel (27:34) of Eritrea and Wilson Kibogo (27:35) of Kenya.
Some of the local finishers include Scotts Valley's Nick Heath (30:02) in 14th and Watsvonville's Giovani Zacarias (30:15) in 17th.
Vicoty Chepngeno won the women's race in 30:03 well ahead of runner-up Margaret Wangari (30:33) of Kenya and Pamela Cherotich (31:19) of Kenya.
Karlie Garcia (32:01) of Lincoln, Calif. placed fourth and Claire Green (32:27) of San Luis Obispo rounded off the top-5.
Aptos' Marissa Ferrante (33:01) placed seventh and Abbey Meck (36:03) of Santa Cruz was a top-25 finisher.
McConville said that other running events across the nation were getting delayed or canceled. He mentioned they had trouble getting back on their feet once the pandemic slowed down.
So, they figured out a way to generate revenue in order to support the organizations for the next couple of years.
The decision was to go virtual and he thought it was the correct one.
"We're not going to kick the can down the road," McConville said. "We're going to make sure that we can still support these tools that rely on our contributions."