About 170 students were evacuated from a science camp at the YMCA location in Boulder Creek Wednesday afternoon.
The remote camp is only accessible by a small bridge that authorities worried could fail in the stormy weather.
Students from Silicon Valley and the East Bay were taken from the Camp Campbell site to the Scotts Valley Community Center starting around 2:30pm, a spokesperson for Santa Cruz METRO said.
Things had gotten a bit hectic in the San Lorenzo Valley earlier in the week, with some trees and wires down, but emergency activity had calmed down by Wednesday, said Tyler Dawson, a firefighter with the Ben Lomond Fire Protection District.
"It's been pretty mellow today," he said around 2:15pm Wednesday. "It's supposed to be picking up here around 5 o'clock."
But further up the river valley, an evacuation of children—down Highway 9 and back to Silicon Valley—was underway.
METRO sent six buses to collect students from two Albany-area schools and pupils from the San Jose region, said Danielle Glagola, a Santa Cruz METRO spokesperson.
Though the public transit buses had been on standby the previous night, this was the first time METRO actually needed to evacuate a group, she said.
The call came in for the YMCA camp operation around 11am, she added.
"They're currently packing their bags to load onto the buses," she said, just before 2:30pm. "They're going to be taken to the community center."
The evacuation was coordinated by the Emergency Operations Center.
Mary Ann Lobalbo, a program coordinator with Santa Cruz County Recycling & Trash Services, said the Scotts Valley Community Center had been designated a Temporary Evacuation Point until 10pm for Wednesday and Thursday.
She was prepared to host the children if need be. Their field trip was supposed to last until Friday, she added.
"We were going to entertain them," she said, as the students filed off the buses lugging sleeping bags, Minecraft backpacks and tablets slung over their shoulders around 4pm. "This is the last group I think."
The Scotts Valley Branch Library was also ready to take in the children.
Neither plan would be necessary, as the students were quickly whisked over the hill in coach and METRO buses.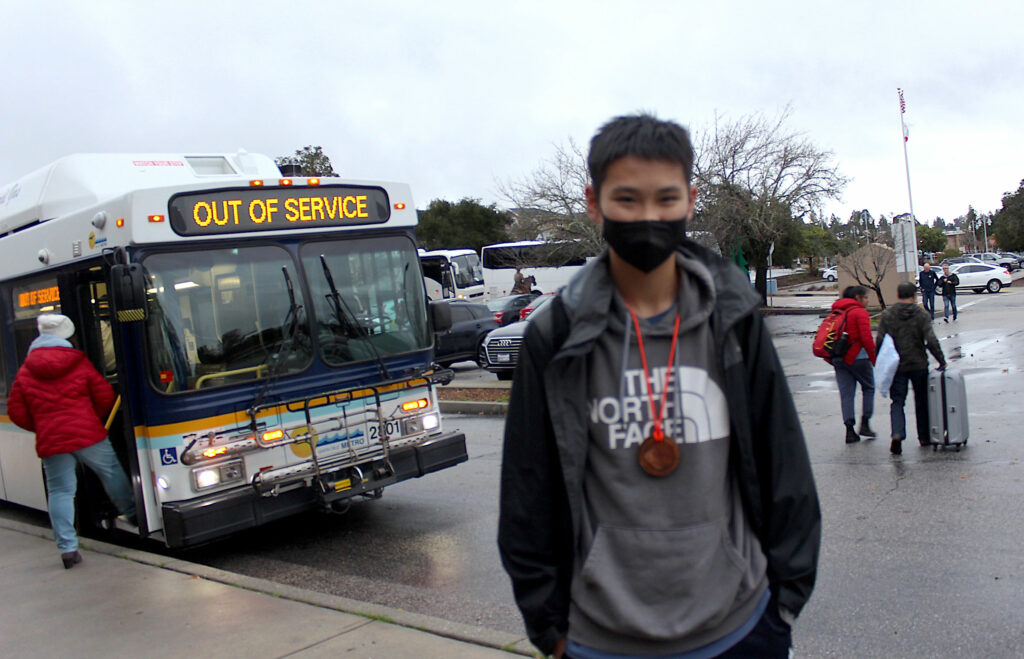 Some parents had driven to Scotts Valley to collect their sons and daughters themselves.
Winnie Nie, from Cupertino, didn't see her 15-year-old son Wilson Wu at first.
Her Homestead High School teen was volunteering at the camp, which had begun Monday, she said, noting he'd never had the chance to do something like this before.
"This is the first time," she said. "It's a very special experience for him, because he's in 10th grade."
When he texted her about the evacuation, she reached out to school officials who told her things were under control.
"They said the children are very safe," she said, admitting she was a little nervous at first.
A woman wearing clothing with a Cornell Elementary School logo got off the bus and asked Nie to help organize the kids into a line, which she did.
Soon enough, Wu—in good spirits—appeared, and the mother and son headed on their way.
Michael Tree, METRO's general manager, said the transit authority had been working around the clock to make sure it was prepared for just such an event.
"We were happy to help," he said.
At press time, METRO had begun an evacuation of 35 residents plus four staff members from an adult long-term care facility in Ben Lomond.
They were headed from Willowbrook Residential Care to Santa Cruz Bible Church on Frederick Street as the rains began to pound harder.