As a leukemia survivor who's aware of his fragile immune system, 53-year-old David Dougherty doesn't often risk heading out into public with his 50-year-old wife, Rebecca.
Caring for an adult son with autism also makes a carefree night on the town an uncommon occurrence for the Zayante couple, who've been married for a decade now.
But on the evening of March 17, they decided to venture out for a nice Chinese dinner at Dynasty Restaurant in Pleasure Point. They only made it as far as the uphill climb on Graham Hill Road just past Roaring Camp Railroads, when a giant dark mass came flying right at them.
"I told my wife, 'Cover your face,'" he said. "And then I yelled, 'Oh s—!'"
They were hit head-on, with their car landing against a tree stump.
Rebecca admits she took the Lord's name in vain.
"You see the grill and the tires just coming right for you towards the windshield," she said. "Soon as it ended, all I could smell was this smoke from the airbags, and it smells like burnt hair in a vacuum cleaner."
Felton Fire Protection District officials confirmed the vehicle heading down the hill into Felton, before 5pm, had crossed the center divider and slammed into the Doughertys' 2017 Honda CRV.
David wonders if the other driver had overcorrected after veering off the almost nonexistent shoulder on that stretch of road, as so many motorists do.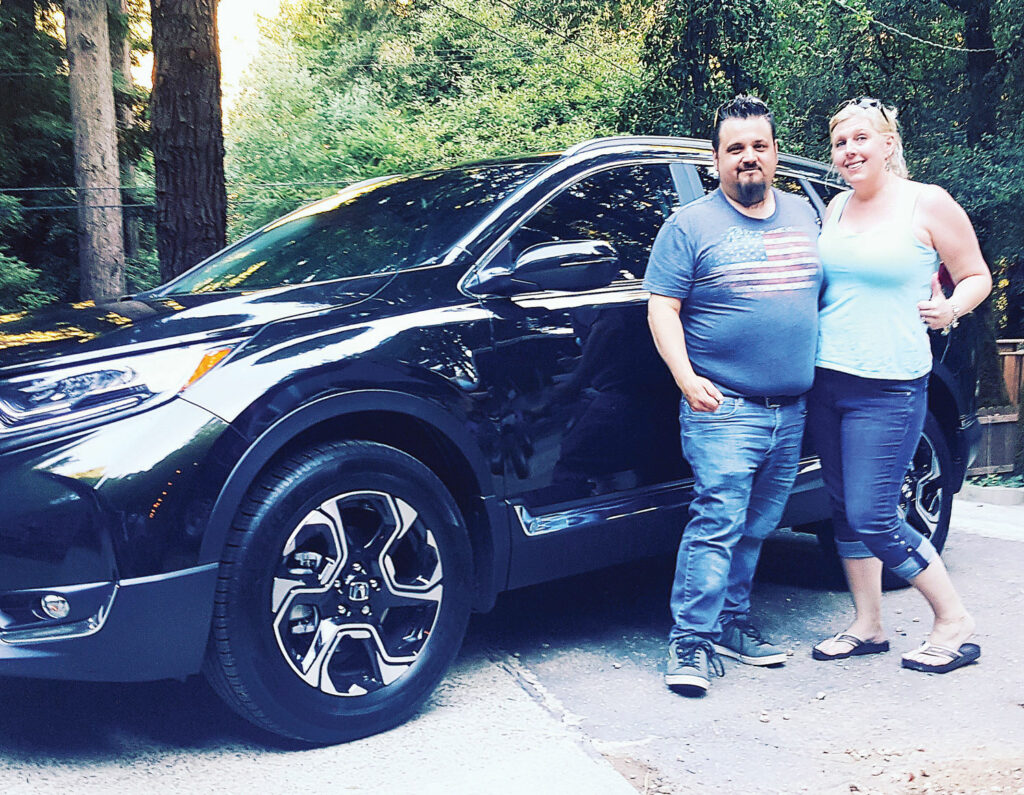 After their car came to rest, David reached for his pocket knife, which he keeps in the center console for just such an occasion. He cut the airbag from the window and climbed through it.
When the first Felton Fire crew arrived, minutes later, they found Rebecca still trapped inside. They used the Jaws of Life to cut open the drivers' side door and she was able to clamber out, said Felton Fire Capt. Ian Jones.
Both patients were transported to the hospital to be treated for minor injuries, he said.
In the moment, they felt anything but "minor" to the Doughertys.
"I was freaking out. I was in complete shock. I felt a lot of pain in my abdominal area right away," said David, remembering how he managed to focus his attention on his wife's plight. "All of that was blocked to make sure she was OK."
At the time, Rebecca thought she might have broken her femur.
"I've never felt that kind of pain in my life," she said. "I've given birth naturally, and it was more painful than that."
The driver of the other vehicle did not require an ambulance transport, Jones said.
The Doughertys rode together to Dominican Hospital.
"They had me sitting in the chair, strapped in, and she was on the gurney," he said. "Because her leg was messed up…Now it's just purple, black and blue."
It wasn't exactly the romantic dinner they had envisioned.
It turned out they hadn't broken any bones, but Rebecca has been in touch with an orthopedic specialist. She says David's been positive through the whole ordeal. After all, he's had a lot of practice.
"He's been through a lot in the last five years," she said. "He's definitely handled it with grace and strength."
They say they might just have to remain homebodies.
"My husband's a great chef," she said. "So, maybe I'll just stay home and have him cook."