Boulder Creek resident Lee Ross wanted a knife since he was 7 years old. His parents got him one after he turned 8.
"I still have the stitch marks to show for it," he says, wistfully, ruminating on the value of a good blade, following a meditation session on a chanterelle foraging foray. "There's things you can do with a knife that you can't do with anything else."
According to Ross, now 65 and the founder of Lee Ross Custom Knives, there are two types of people in this world—knife people, and everyone else. Guess which camp he falls into.
"What a sharp edge can do has always amazed me," he said. "Try to cut hair off your arm without a sharpened piece of steel."
Ross was born in San Francisco and lived around the Bay Area until he turned 11, when his parents decided to move to Oregon. He tried to make his first knife while there. And how did that turn out?
"I was using a piece of aluminum, so not so well," he said. "There was no internet to figure things out back then."
After he got out of the Navy and was working at West Coast Circuits in Watsonville, he got his chance to try again—but this time using tools to get the job done properly.
"With the access to the machine shop, I made a knife and I cast a brass pommel," he said. "I still have the knife."
Hearing Ross describe the minutiae of blade crafting, counterweight fashioning and metallurgy particulars is a joy, like listening to a horse lover talk about dressage, or spending time with a musician carrying on about the pentatonic scale.
He's a wealth of knowledge on the topic. And his precision knife designs speak for themselves.
They aren't cheap—starting around $300. Ross isn't making blades for people looking for an economy experience. He lovingly fashions steel like a "Game of Thrones" blacksmith preparing a character for battle against a White Walker army.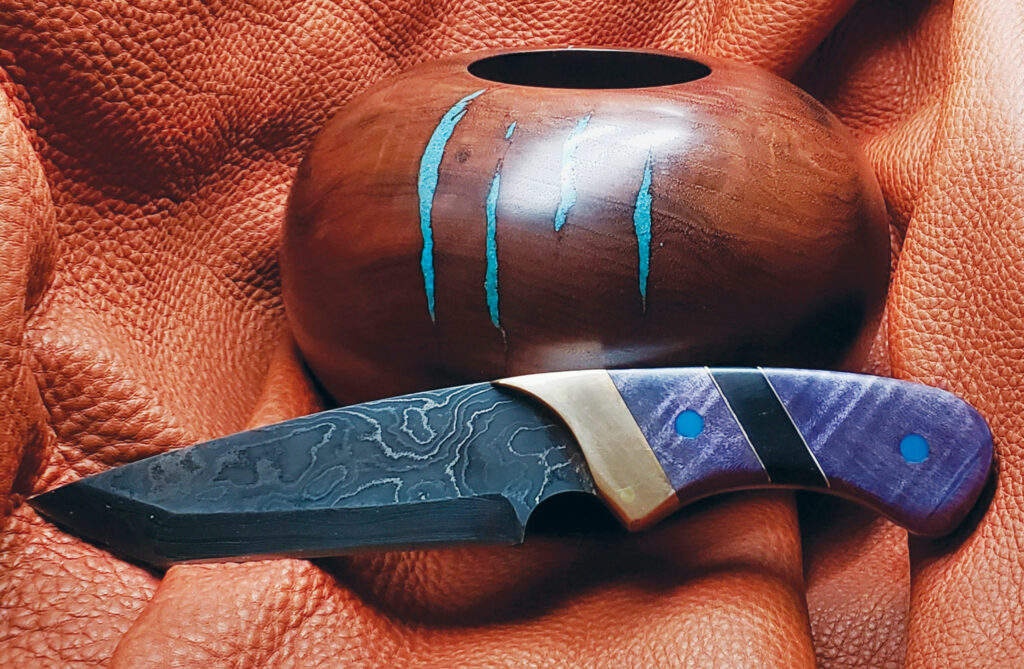 But the truth is, it wasn't until a few years back that his blade-creation abilities blossomed. He credits this new page in his story to the advent of YouTube.
"I discovered you could learn how to make things," he said. "All the information was available—how to heat-treat and how to temper."
One of the skills he managed to perfect, for example, was pattern-welding, a method of making a blade out of different pieces of metal in a way that leaves an interesting design. And don't even get him started on his "Damascus" technique.
"You heat it up to forging temperature," he says, describing his knife-making process. "I know it by color…it's bright orange."
Ross meanders through the steps—"The high-carbon and the high-chromium steel fuse together…then you grind the outside flat"—like a campfire storyteller spinning a yarn.
He once made a knife with stabilized turquoise set in a piece of wood harvested from a walnut tree that fell in Bonny Doon, a few years back. The gem came from Hubei province in China.
"I have a lady over there that I know. She works right outside of the mine. She gets some pieces, and I buy from her," he said. "I would like to go, but not yet."
After all, though his obsession goes back to before he was paid to finely slice meats at a North's Chuck Wagon smorgasbord, his business is still technically in its infancy. He has a few pieces at The Felton Mercantile and plans to deliver a few more soon.
But at a recent art show at the winery up the road he got a big boost.
"I sold everything—immediately," he said. "That gave me the confidence to take the next step forward."
Ross has even gotten lucky with a big organic YouTube influencer marketing bump. He'd been watching videos by the sisters behind the Lumber Capital Log Yard channel (currently with 130,000 subscribers) and caught them wearing a knife he considered woefully inferior.
Ross reached out to see if he could create a custom knife for them that was up to snuff.
After talking to her—and her father ("To make sure I wasn't a creep")—he sent over a knife that soon appeared in one of their videos.
"I sold probably 20 knives out of that," he said, although he quickly adds he's since learned digital marketing doesn't always come so easy.
But that's not a huge concern for Ross. He's not in it for the money.
"I make knives because I love it," he said. "I get lost in it. I have to set the alarm clock at night…otherwise, I'll look up and it's 3am."